Infographies complexes & interactives
Message to the members : please be very careful when you decide to accept new team members. Avoid ones with under 500 pearls already, or even better, wait for me to take the decision. I suppose you want as much as I do to keep this pearltree "clean".
Using Google's Motion Chart to visualize population trends. In my Demographic Dashboard I have a scatter plot that shows the trend towards an aging society.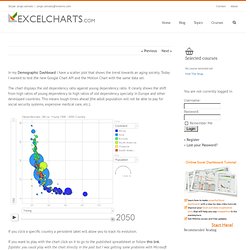 Today I wanted to test the new Google Chart API and the Motion Chart with the same data set. The chart displays the old dependency ratio against young dependency ratio. It clearly shows the shift from high ratios of young dependency to high ratios of old dependency specially in Europe and other developed countries. This means tough times ahead (the adult population will not be able to pay for social security systems, expensive medical care, etc.). If you click a specific country a persistent label will allow you to track its evolution. How to: Comment faire un Google Motion Chart » Article » OWNI, Digital Journalism. Google Motion Chart est un outil puissant et simple d'utilisation qui permet d'interroger facilement un grand nombre de points de données.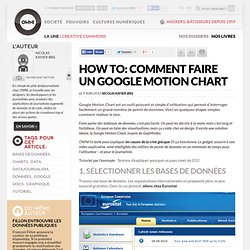 Voici en quelques étapes simples comment réaliser le sien. Faire parler des tableaux de données, c'est pas facile. On peut les décrire à la main, mais c'est long et fastidieux. Quick guide to the Motion Chart Gadget. Motion Chart is a free interactive chart in Google Spreadsheet (an online spreadsheet similar to excel).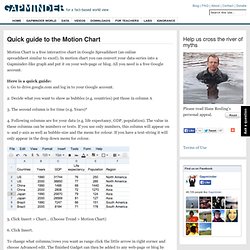 In motion chart you can convert your data-series into a Gapminder-like graph and put it on your web-page or blog. All you need is a free Google account. Here is a quick guide:1. Data Visualization and Business Intelligence from Tableau Softwa. Social Visualization Software Review: Tableau Public - informati. You have no doubt seen a Tableau chart before.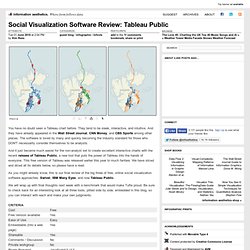 They tend to be sleek, interactive, and intuitive. And they have already appeared in the Wall Street Journal, CNN Money, and CBS Sports among other places. Gephi, graph exploration and manipulation software. Data Visualization Review: Gephi, Free Graph Exploration Software. I do not often get to play with networks, yet I find them fascinating and full of knowledge gathering potential.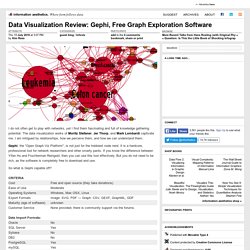 The data visualization works of Moritz Stefaner, Jer Thorp, and Mark Lombardi captivate me. I am intrigued by relationships, how we perceive them, and how we can understand them. Gephi, the "Open Graph Viz Platform", is not just for the hobbiest node nerd. Infographics and charts - interactive data visualization | Infogr.am.
Infogr.am: Another Online Editor of Interactive Infographics. A few days ago, we posted the website Easel.ly, a new web-based service that aims to empower lay users to design infographic-like illustrations within the browser.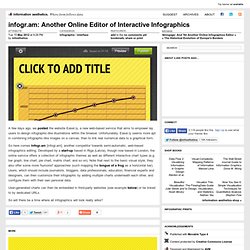 Unfortunately, Easel.ly seems more apt in combining infographic-like images on a canvas, than to link real numerical data to a graphical form. So here comes Infogr.am [infogr.am], another competitor towards semi-automatic, web-based infographics editing. Developed by a start-up based in Riga (Latvia), though now based in London, the online service offers a collection of infographic themes as well as different interactive chart types (e.g. bar graph, line chart, pie chart, matrix chart, and so on). Note that next to the basic visual style, they also offer some more 'humorist' approaches (such mapping the tongue of a frog as a horizontal bar).
---
moktarama Jun 14 2010

Ainsi, on pourra avec ces outils corréler de nombreux paramètres, introduire ceux -ci dans une carte géographique ou d'autres représentations, et permettre au lecteur de manipuler certaines des différentes variables intégrées.

moktarama Jun 14 2010

Logiciels ou outils en ligne permettant la création d'infographies complexes et personnalisées.
---