Infographies complexes & interactives
Message to the members : please be very careful when you decide to accept new team members. Avoid ones with under 500 pearls already, or even better, wait for me to take the decision. I suppose you want as much as I do to keep this pearltree "clean". moktarama Apr 1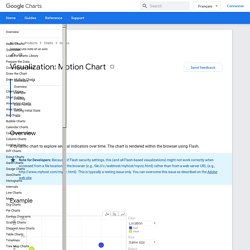 Overview A dynamic chart to explore several indicators over time. The chart is rendered within the browser using Flash.
Visualization: Motion Chart - Google Chart Tools / Interactive Charts (aka Visualization API) - Google Code
In my Demographic Dashboard I have a scatter plot that shows the trend towards an aging society. Today I wanted to test the new Google Chart API and the Motion Chart with the same data set.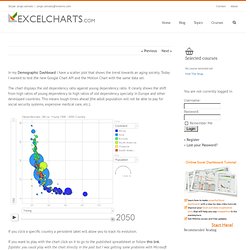 Using Google's Motion Chart to visualize population trends
Google Motion Chart est un outil puissant et simple d'utilisation qui permet d'interroger facilement un grand nombre de points de données.
How to: Comment faire un Google Motion Chart » Article » OWNI, Digital Journalism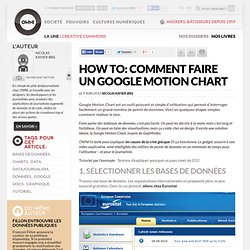 Motion Chart is a free gadget in Google Spreadsheet (an online spreadsheet similar to excel).
Quick guide to the Motion Chart Gadget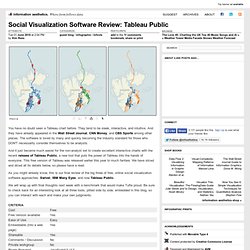 Social Visualization Software Review: Tableau Public - informati
You have no doubt seen a Tableau chart before. They tend to be sleek, interactive, and intuitive. And they have already appeared in the Wall Street Journal, CNN Money, and CBS Sports among other places.
I do not often get to play with networks, yet I find them fascinating and full of knowledge gathering potential.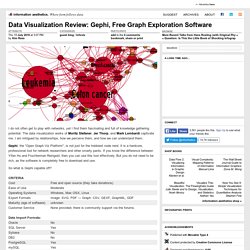 infogr.am: Another Online Editor of Interactive Infographics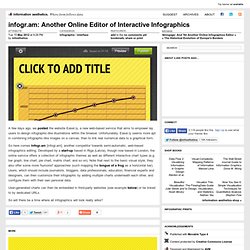 A few days ago, we posted the website Easel.ly, a new web-based service that aims to empower lay users to design infographic-like illustrations within the browser.