Imaginer des possibles
Water Discus Hotel to be built in the Maldives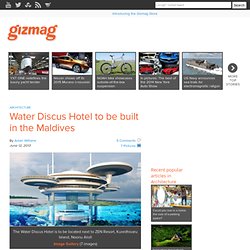 The Water Discus Hotel is to be located next to ZEN Resort, Kuredhivaru Island, Noonu Atoll Image Gallery (7 images) Polish architectural and deep-sea engineering company Deep Ocean Technology has inked a deal with Ridgewood Hotels and Suites Pvt. Ltd. to build its futuristic part-underwater Water Discus Hotel just off the shore of Kuredhivaru Island in the Maldives.
Sometimes, the true scope of a problem can be measured by the wackiness of the solutions that have been proposed to solve it. Take, for example, Beijing's unwieldy, record-breaking smog. Some suggest that Beijing install pollution-sucking electromagnetic fields underground, while others have designed giant showerheads to spritz the city clean.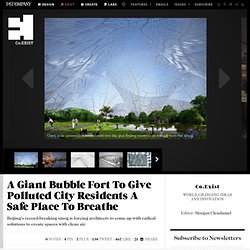 A Giant Bubble Fort To Give Polluted City Residents A Safe Place To Breathe
Les villes flottantes, c'est du sérieux.
Les villes flottantes: la dernière utopie des marxistes de droite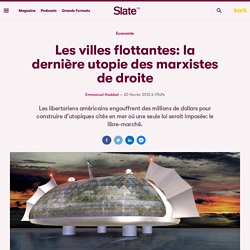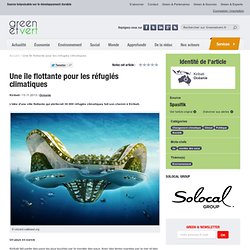 Une île flottante pour les réfugiés climatiques
Kiribati / / Océanie L'idée d'une ville flottante qui abriterait 30 000 réfugiés climatiques fait son chemin à Kiribati. © vincent.callebaut.org
Vincent Callebaut. Il écrit l'architecture en vert - Paris Match
Famous Architects Unveil Amazing Energy-Generating Buildings for the 2017 Astana World Expo!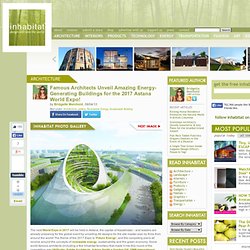 The next World Expo in 2017 will be held in Astana, the capital of Kazakhstan - and leaders are already preparing for the global event by unveiling 46 designs for the site master plan by firms from around the world! The theme of the 2017 Expo is 'Future Energy', and the competing plans all revolve around the concepts of renewable energy, sustainability and the green economy. Some world famous architects (including a few Inhabitat favorites) that made it into this round of the competition are UNStudio, Safdie Architects, Adrian Smith + Gordon Gill, GMP International Gmbh, Zaha Hadid Architects; Coop Himmelb(l)au, J. Mayer H. Architects, Snohetta, and Mecanoo - check out our gallery for a look at their proposals!
The Rotterdam, Netherlands based architectural firm MVRDV have sent us images and information about their winning design for the Gwanggyo City Centre near Seoul, South Korea. From MVRDV: The Daewoo Consortium and the municipality of Gwanggyo announced the MVRDV concept design for a dense city centre winner of the developer's competition for the future new town of Gwanggyo, located 35km south of the Korean capital Seoul. The plan consists of a series of overgrown hill shaped buildings with great programmatic diversity, aiming for high urban density and encouragement of further developments around this so-called 'Power Centre', one of the envisioned two centre's of the future new town. Visit the MVRDV website – here. More description after the images…
MVRDV wins Gwanggyo City Centre Competition
Beautiful, Futuristic Hotel Designed To Cope With Rising Sea Levels
The Maldives may be swallowed up by rising sea levels in the future, but the architects at Deep Ocean Technology will build an underwater hotel to house its inhabitants. Called 'The Water Discus', this futuristic hotel has two circular discs which will house its 22 rooms, along with a restaurant, spas and lounges. The structure above ground will be connected to the structure below via a staircase and an elevator, where a bar and a diving center will also be located. The underwater section is also weighed down by water, and can surface for emergencies and inspections.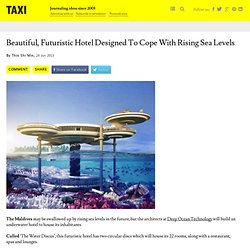 Cave hotel underway in water-filled Chinese quarry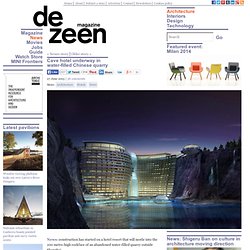 News: construction has started on a hotel resort that will nestle into the 100 metre-high rockface of an abandoned water-filled quarry outside Shanghai. A huge waterfall will pour down from the roof of the 19-storey hotel complex, which will have part of its body built into the cave and two of its floors submerged beneath the water. An extreme-sports facility will be cantilevered over the quarry, offering rock climbing and bungee jumping, and there will also be an underwater restaurant facing a ten-metre deep aquarium. The Songjiang Hotel is designed by UK architecture firm Atkins, who won the competition bid in 2006. Construction has just begun and will take up to three years, although the hotel could open in 2015. Once complete, the hotel will offer around 400 rooms, as well as conference facilities for up to 1000 people, a banqueting hall, restaurants, a swimming pool and a water-sports centre.
Ville du futur : une réponse aux enjeux géopolitiques et écologiques ? | Innovanews
Vendredi 30 octobre 2009, 18:11 | in Environnement Tags : développement durable, écologie, Environnement, Ville Lilypad, une "écopolis" flottante pour les réfugiés du climat - Photo : © Vincent Callebaut Architectures Des cités autosuffisantes, peu énergivores et mobiles.
Twisting Acupuncture Tower for Taiwan-Green Architecture
Home > 3D Architectures > Twisting Acupuncture Tower for Taiwan-Green Architecture Advertisement Twisting Acupuncture Tower for Taiwan-Green Architecture Design1 CentralArchitecture facility where information on all the needs of home and inspiration on house construction. This is a Twisting Acupuncture Tower for Taiwan-Green Architecture. The Architecture is designed Spiral algae-covered membranes and is capable of producing biofuels.
Découvrir les Jules Verne, Gustave Eiffel, Ferdinand de Lesseps de demain est l'objectif affiché des prix de la Fondation Jacques Rougerie – Génération Espace Mer – Institut de France. Lancé en 2011, ce concours annuel s'adresse aux étudiants des écoles d'architecture, d'ingénieurs, de design afin de d'encourager les jeunes esprits inventifs à affirmer leur vocation et réaliser leurs rêves. Parmi 62 candidatures reçues dont une vingtaine de l'étranger, le jury présidé par Claude Parent a décerné trois prix dotés de 10 000 € chacun, et plusieurs mentions. Dans la catégorie « Architecture, technologie et design de la mer », a été déclaré lauréat le projet Lady Landfill Skyscraper – qui renverse la tour Eiffel pour en faire un centre de recyclage flottant des déchets polluants les océans - conçue par l'équipe de Milorad Vidojevic, Milica Pihler et Jelena Pucarevic, architectes diplômés de l'université de Belgrade (Serbie) qui avaient déjà obtenu une mention d'honneur en 2011.
Le palmarès 2012 de la Fondation Jacques Rougerie - Projets
EcoCity 2020 ou vivre dans un cratère russe
Vue aérienne de Mirny (capture d'écran Google Maps) C'est le projet du studio AB Elis Ltd. Ce « complexe » urbain – qui tient plus d'un mall à l'américaine ou des colonies martiennes dans Total Recall que d'une ville – accueillerait des habitations, un centre de recherche, des fermes, une forêt (carrément !)
Innovations - Inspirations-respiration autour des futures villes-mondes
Publié le 12 octobre 2011 «Le paradoxe de l'époque actuelle, c'est que le développement de la ville semble la faire disparaître : nous avons le sentiment d'avoir perdu la ville, alors même qu'il n'y a plus qu'elle » La phrase de l'ethnologue résume bien la problématique de la première rencontre organisée par , fondatrice et directrice d' et , Directeur d'Etudes. est un club interactif de prospective urbaine, d'expression, de réflexion et de synthèse autour des nouveaux enjeux de la ville, qui regroupe sociologues, philosophes, urbanistes français et étrangers, entrepreneurs et annonceurs qui agissent au coeur de la ville : annonceurs, afficheurs,distributeurs, bâtisseurs, opérateurs multimédia, fournisseurs d'accès divers, acteurs du transport et de la mobilité, créateurs, artistes, journalistes, acteurs sociaux…Première manifestation de ce club le 9 novembre prochain : un colloque sur le sujet «Inspirations, Respirations autour des futures villes-monde». Trois thèmes :
Pour celles et ceux qui rêvent de partir habiter sur une île déserte, voici une occasion de le faire dans des conditions paradisiaques (pas comme dans Koh-Lanta si vous voyez ce que je veux dire…). Ce concept vraiment unique porte un nom : Tropical Island Paradise. Un yatch futuriste qui se présente comme une île de rêve (le côté mobile en plus) avec tout le confort d'un hotel de luxe. Le plus impressionnant : un volcan artificiel avec une cascade d'eau qui s'écoule jusqu'à la piscine, bordée d'une plage artificielle, au bout du pont. Juste incroyable.
Yatch Tropical Island Paradise, le yatch de luxe version île paradisiaque
Habiter sur l'eau en itinérance: réalité ou utopie ? ~ Ligne Claire
L'aspiration des hommes à habiter sur l'eau n'est pas nouvelle : objet de désir ou de nécessité, les palafittes, ces maisons suspendues sur l'eau comme sur des échasses, sont représentées dans le monde entier depuis la nuit des temps. Plus exclusive en revanche, la volonté d'associer l'itinérance permanente à la vie sur l'eau ne concerne que quelques peuples d'Asie du Sud-Est. Ce qui n'empêche pas certains projets contemporains d'émerger, à la croisée des utopies sociales et de l'idéal de vie nomade qui donnent son sel à notre époque tourmentée. Sur ce principe d'habitat sur l'eau, la figure de Jacques Rougerie est incontournable. Cet Architecte et océanographe français s'est fait connaître dans les années 70 pour ses habitats sous-marins, mais il a aussi à son actif des réalisations terrestres intéressantes et une dimension utopique intuitive suffisamment rare pour être soulignée.
Cave hotel underway in water-filled Chinese quarry
How Artificial Organics Are Changing Our WorldDesignBuild Source
Architect Proposes "Sea Trees": Floating Wildlife Oases
Masdar Institute | Foster + Partners | Abu Dhabi | Project Portfolio
Ville du futur : une réponse aux enjeux géopolitiques et écologiques ? | Innovanews
The Shapes of Hardcore Architecture
Mumbai's Floating Balcony Pools
Les villes flottantes: la dernière utopie des marxistes de droite
Projet d'îles-cités dans les eaux internationales: utopie sociale ou libéralisme exacerbé ?
Une architecture pour la faune et la flore interdite aux hommes ! » Biomimesis
Sand Dollar Superstructures - Tour plat complète le paysage urbain en le recouvrant (GALERIE)
Whimsical Watery Urbanism - 'City on the Sea' Imagines a Shanghai that Embraces Rising Shores
Corridor forestier - Studio autoroute Noise Barrier / PAIN
Une tour en bambou en projet en Chine
Dix villes flottantes
Lima apartment block planned with 'floating' swimming pools planned by Mexican architects DCPP
Unbelievable Floating Architectural Structures
Koen Olthuis Shares the Idea About Using Water to Combat Global Challenges on TEDxWarwick | E-learning
Unbelievable Architecture Designs for the Future
A l'homme, l'île à consommation énergétique nette zéro au large des côtes Istanbul - Silvia Gugu - La Ville Atlantique
French architecture firm targets China's pollution and population problems with cutting-edge 'farmscrapers' 
Quand les projets d'architecture font faire Wouah !!! - Biomimétisme
Ville du futur : une réponse aux enjeux géopolitiques et écologiques ? | Innovanews
Koen Olthuis, l'architecte qui construit sur l'eau
Taiwan Wind Tower by Decode Urbanism Office Is Covered With Thousands of Wind Energy Generators and LED Lights
Lilypad par Vincent Callebaut : cité flottante écologique et autosuffisante
Optimiser la taille des villes de demain
Détroit, tu l'aimes ou tu la quittes… pas ! | Même pas mal
SR-1352_Rockefeller planet of civic laboratories : futures of cities, information and inclusion
00660372, version 1] La durabilité urbaine au travers des conseils de développement: une démocratie d'agglomération recomposée ou réenchantée?
Penser la « ville monde »
Article - Il faut repenser la ville dans son ensemble - Villes - Le Monde.fr : Supplément partenaire
Un Blog / N. Dévoilé> Amanora Appartement Ville par MVRDV
Robert Neuwirth on our "shadow cities"
CONFERENCE / 24 juin - Le Futur de la ville
How to design better cities with urban interventions and computer code?
Est-ce que la technologie désurbanise la ville
La «capitale verte» montre l'exemple
Train of Ideas: Page d'accueil
European Green Capital | Green Cities Fit for Life
HafenCity Hamburg - Startseite
HAMBURG ENERGIE: Startseite
Panasonic : ville intelligente et écologique
La Fabrique Des Possibles – Tout savoir sur les produits La Fabrique Des Possibles avec la Fnac
Pour une Mobilité plus libre et plus durable
"La Ville 2.0, ville complexe et familière"
La Ville 2.0, plateforme d'innovation ouverte