Healthy eatingx3
Getting The Protein You Need. Photo by Kelly Rossiter Hands down, the number one response I get from people when I mention that my children are both vegetarian is "but how do they get enough protein?
" Getting your daily requirement of protein is actually pretty easy. In fact, if you are eating meat, chances are you are consuming more protein than you need. Eating any kind of balanced diet simply requires a little thought and a well stocked pantry. Unhealthy Eating Habits. There are several key reasons why people develop unhealthy eating habits, most of it can be attributed to lack of planning and awareness.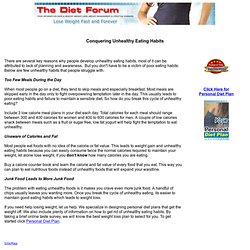 But you don't have to be a victim of poor eating habits. Below are few unhealthy habits that people struggle with. Healthy eating. Healthy diet and exercise suggestions | Change4Life. 8 Daily Foods. Our tech nerdie, aka Kelly's husband, is useful beyond words.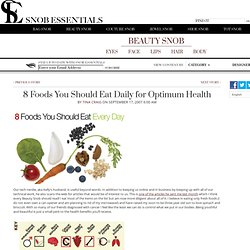 In addition to keeping us online and in business by keeping up with all of our technical work, he also scans the web for articles that would be of interest to us. This is one of the articles he sent me last month which I think every Beauty Snob should read! Newsmap. Calorie Calculator - Daily Caloric Needs. <div class="alert">Hey!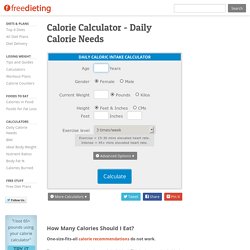 You have JavaScript disabled on your browser. The calculator will not work. <a target="_blank" href=" how to enable JavaScript on your browser. </a></div> BBC NI - Schools - It's Up To You! - Home Page. Cholesterol. Microscopic appearance of cholesterol crystals in water.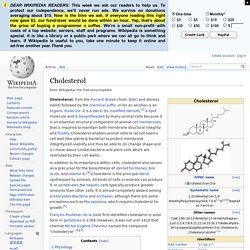 Photo taken under polarized light. Cholesterol, from the Ancient Greek chole- (bile) and stereos (solid) followed by the chemical suffix -ol for an alcohol, is an organic molecule. It is a sterol (or modified steroid),[3] and an essential structural component of animal cell membranes that is required to establish proper membrane permeability and fluidity. Cholesterol is thus considered within the class of lipid molecules. In addition to its importance within cells, cholesterol also serves as a precursor for the biosynthesis of steroid hormones, bile acids, and vitamin D.[4] Cholesterol is the principal sterol synthesized by animals, all cells; in vertebrates the liver typically produces greater amounts than other cells.
Prevent High Cholesterol - How To Prevent High Cholesterol. There's a lot of talk about how to lower high cholesterol levels, but not about what to do in order to prevent high cholesterol.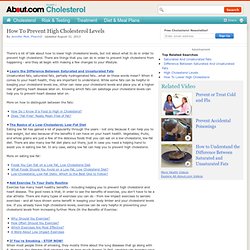 There are things that you can do in order to prevent high cholesterol from happening - and they all begin with making a few changes to your lifestyle. The Basics of a Low-Cholesterol, Low-Fat Diet Eating low fat has gained a lot of popularity through the years - not only because it can help you to lose weight, but also because of the benefits it can have on your heart health. Vegetables, fruits, and whole grains are just a few of the delicious foods that you can eat on a low-cholesterol, low-fat diet. Binge Eating Disorder: Symptoms, Causes, Treatment, and Help.
What is binge eating?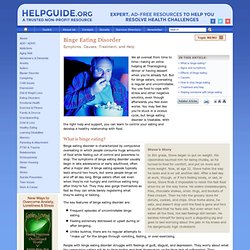 Steve's Story In 8th grade, Steve began to put on weight. His classmates taunted him for being chubby, so he turned to food for comfort, and put on more and more weight. Now, at age 32, Steve hates the way he looks and is on yet another diet. Healthy eating - information from Bupa on healthy eating. The amount and type of food you eat has a major influence on your health.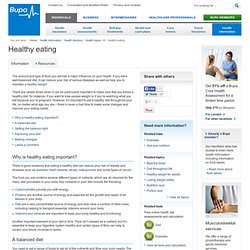 If you eat a well-balanced diet, it can reduce your risk of various diseases as well as help you to maintain a healthy weight. There are certain times when it can be particularly important to make sure that you follow a healthy diet, for instance, if you want to lose excess weight or if you're watching what you eat because you're pregnant. However, it's important to eat a healthy diet throughout your life, no matter what age you are – there's never a bad time to make some changes and improve your eating habits. Why is healthy eating important? There is good evidence that eating a healthy diet can reduce your risk of obesity and illnesses such as diabetes, heart disease, stroke, osteoporosis and some types of cancer. Healthy eating. A healthy diet can help reduce your risk of developing coronary heart disease and stop you gaining weight - reducing your risk of diabetes and high blood pressure.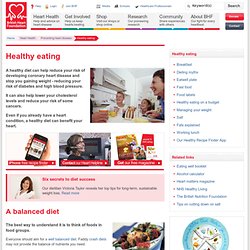 It can also help lower your cholesterol levels and reduce your risk of some cancers. Even if you already have a heart condition, a healthy diet can benefit your heart. Six secrets to diet success Our dietitian Victoria Taylor reveals her top tips for long-term, sustainable weight loss. Read more. Vegan Recipes. Vegan Recipes The recipes listed here are vegan, or easily made vegan (with a minor tweak or two).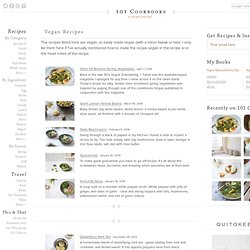 I only list them here if I've actually mentioned how to make the recipe vegan in the recipe or in the head notes of the recipe. Olive Oil Braised Spring Vegetables- April 7, 2014. Easy Tips for Planning a Healthy Diet & Sticking to It. Healthy eating tip 1: Set yourself up for success To set yourself up for success, think about planning a healthy diet as a number of small, manageable steps rather than one big drastic change. If you approach the changes gradually and with commitment, you will have a healthy diet sooner than you think.
Simplify. Instead of being overly concerned with counting calories or measuring portion sizes, think of your diet in terms of color, variety, and freshness. Quality groceries that won't cost the earth. BMI healthy weight calculator - Health tools. WeightWatchers.co.uk - Official Site - Lose Weight the Healthy Way with Weight Watchers. Healthy Living.
Fatfree Vegan Recipes. Vegetarian Recipes. Unhealthy Eating Habits. Healthy eating - Live Well. Again But Slower Dot Com. Exotic Fruit (Explore FP) Eating Healthily. Food groups. Kids' guide to food: Good foods, bad foods and your health. BBC Good Food - Recipes and cooking tips. How Eating Healthy & Unhealthy Foods Affects Your Body. Your body runs on fuel in the form of food, and if the fuel you put in your body is not high-grade, you should not expect your body to give you peak performance. To keep your body running to the best of its ability, it is up to you to feed it healthy foods.
Unhealthy foods may satisfy your hunger, but they may also break your body down in the long run. The foods you eat can influence how you feel and how you look, and they can affect your health. Health: Nutrition. 19 April 2013Last updated at 17:51 The human body needs a balanced diet to deliver vital nutrients What's your idea of a perfect meal? Sushi? A large piece of cake followed by hot chocolate? Even if it satisfies your appetite, it's unlikely to fulfil all your nutritional needs. Nutrition Glossary. Kids' guide to food: Good foods, bad foods and your health.
---