Knee Surgery - After
TOTAL KNEE COMPLICATIONS
Home » Patellar Clunk Syndrome: Complication Following Knee Replacement Surgery
Patellar Clunk Syndrome: Complication Following Knee Replacement Surgery : TotalKneeWeb.com – Simple, Concise Information on Total Knee Replacement & Related Topics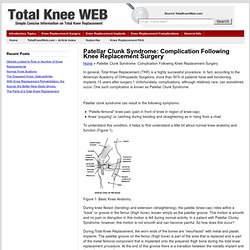 PRE-OPERATIVE PHYSICAL THERAPY .pdf
Copyright 2011 American Academy of Orthopaedic Surgeons
Total Knee Replacement Exercise Guide - Your Orthopaedic Connection - AAOS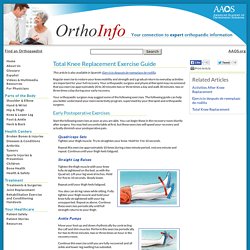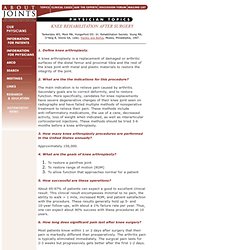 Knee Rehabilitation After Surgery
Tankersley WS, Mont MA, Hungerford DS: In: Rehabilitation Secrets.
Day of Surgery: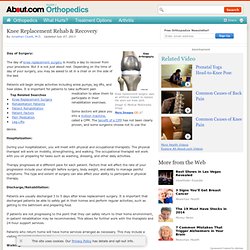 Knee Replacement Rehab - Knee Replacement Recovery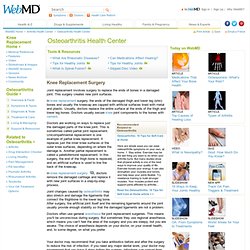 Joint replacement involves surgery to replace the ends of bones in a damaged joint. This surgery creates new joint surfaces. In knee replacement surgery, the ends of the damaged thigh and lower leg (shin) bones and usually the kneecap are capped with artificial surfaces lined with metal and plastic.
Knee replacement surgery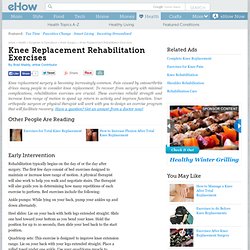 How to Rehab a Total Knee Replacement
Rehabilitation typically begins on the day of or the day after surgery. The first few days consist of bed exercises designed to maintain or increase knee range of motion.
Videos - how to rehab a total knee replacement
How to Rehab a Total Knee Replacement
How to Get Extension Back Into the Knee After a Total Knee Replacement