French Training
Find and share the best free French Training available.
French flashcard sets and study tools. Free French online : Free Spanish online. Learn French Online. Carte du site. NEW!!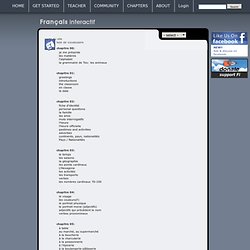 Ask & discuss on facebook support Fi Français interactif carte du site. Frenchie Productions - FrenchPodClass. Languages - French - Ma France - Suggested activities for tutors. Languages - French - Ma France - Video lessons. Learn French with Coffee Break French. Accueil. Learn French With Alexa. Anki - friendly, intelligent flashcards. French. All Access. Technologies. French Language Course Pages. Created by Jacques Léon Page design by Roberth Andersson Presentation...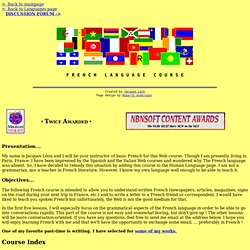 My name is Jacques Léon and I will be your instructor of basic French for this Web course. French I Tutorial: Basic Phrases, Vocabulary and Grammar • Learn French Online • Free French Lessons. If you'd like to download the mp3s, use the DownThemAll add-on for Firefox to download all the mp3s at once instead of right-clicking on each link.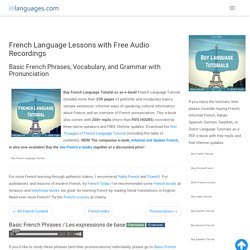 Visit the French mp3s page for the list of all mp3s that accompany the French tutorials. All flashcards and exercises will open in a new window. If you're interested in buying other materials to supplement your French studies, I've recommended some books from Amazon. French Pictorial Vocabulary Guide. Learn French online FREE with French language lessons and unique question generator!
Learn French - Bonjour, Online Free French Lessons to Learn French. Languages - French. Top 10 Sites about French Lessons. Language Learning with Livemocha | Learn a Language Online - Free! Styles - LExpress.fr/Styles - Votre magazine féminin en ligne.
TechCrunch France. ITespresso France : IT Réseaux et Telecom. Flashcards: matching, hangman, crossword, word search, word scra. Des outils web 2.0 pour l'enseignement... - Emob Formation, Parmi le flot incessant de nouveaux sites estampillés qui sortent quotidiennement et que nous rapportent des sites comme Techcrunch , BuzzShout ou Ehub , l'enseignement n'est pas en reste, avec un certain nombre d'applications ...
Nous avions déjà évoqué ça et là les plateformes d'apprentissage ( ) Nuvvo et Chalksite , ou Teacherly qui permet aux professeurs d'enregistrer des relevés de notes en ligne, ou encore Schoopy , Gradebookwizard , Engrade et Schooltool , outils d'administration pour les enseignants. La liste s'est allongée depuis, avec notamment l'apparition des sites suivants : BeanArena : il s'agit d'un LMS ( ) pour les enseignants des écoles américaines. Il permet notamment de concevoir et publier des cours en ligne.
BooksForSchools : bourse aux livres en ligne pour les étudiants. Academium.
---