Foto
The Richat Structure – Earth's Bull's-Eye. Imagine if you were an alien species intent on conquering the earth by force.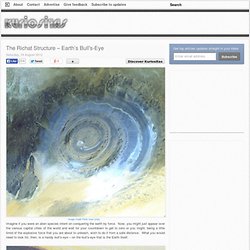 Now, you might just appear over the various capital cities of the world and wait for your countdown to get to zero or you might, being a little timid of the explosive force that you are about to unleash, wish to do it from a safe distance. What you would need to look for, then, is a handy bull's-eye – on the bull's-eye that is the Earth itself. Look no further, alien invader. Fairy Tale Cottages. Okay here is something different.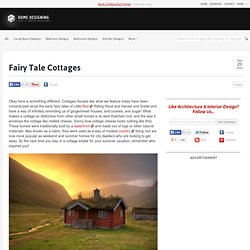 Cottages houses like what we feature today have been romanticized since the early fairy tales of Little Red Riding Hood and Hansel and Gretel and have a way of infinitely reminding us of gingerbread houses, and cookies, and sugar! What makes a cottage so distinctive from other small homes is its dark thatched roof, and the way it envelops the cottage like melted cheese. (funny how cottage cheese looks nothing like this) These homes were traditionally built by a waterfront and made out of logs or other natural materials. Also known as a cabin, they were used as a way of modest country living, but are now more popular as weekend and summer homes for city dwellers who are looking to get away. Amazing Right Moment Captured of Zoo World. The Wall of "I Love You"s in Paris How Olympic Athletes Party in London ????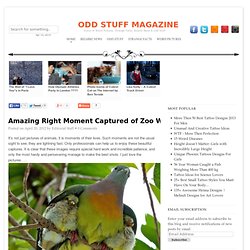 Photo mania of Cutest Cat on The Internet by Ben Terode Lisa Kelly – A Cutest Truck Driver Amazing Right Moment Captured of Zoo World. Rare and very interesting photos. Interesting and very rare photographs, you may never see.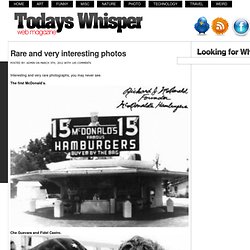 The first McDonald's. Che Guevara and Fidel Castro. Animals Illuminated by the Sun. Streetview. It's Just a Plant. Portrait-Art-Nikolay-Popov-Morning.jpg (JPEG Billede, 1196x1566 pixels) - Skaléret (34. Julia's Photo Blog: Peter Callesen - A Single Sheet of Paper. Tim Burtonesque Stories on Post-it Notes (13 pics) After you've seen the imaginative work of John Kenn, I bet you'll never see post-it notes the same way again.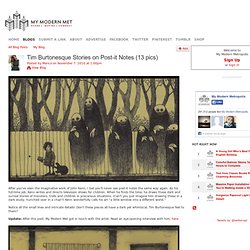 As his full-time job, Kenn writes and directs television shows for children. When he finds the time, he draws these dark and surreal stories of monsters, trolls and children in precarious situations. (Can't you just imagine him drawing these in a dark study, hunched over in a chair?) Kenn wonderfully calls his art "a little window into a different world. " Notice all the small lines and intricate details! Simen Johan. National Geographic Photo Contest 2011 - In Focus. National Geographic is currently holding its annual photo contest, with the deadline for submissions coming up on November 30.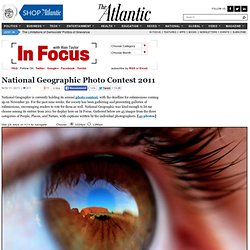 For the past nine weeks, the society has been gathering and presenting galleries of submissions, encouraging readers to vote for them as well. National Geographic was kind enough to let me choose among its entries from 2011 for display here on In Focus. Gathered below are 45 images from the three categories of People, Places, and Nature, with captions written by the individual photographers. [45 photos] Incredible Wildlife Photography | Peachy Green. Wildlife — By Stephanie on January 11, 2010 at 10:58 am Canada goose protects her young Ever have one of those moments when you think to yourself, "Boy, I wish I had my camera?!"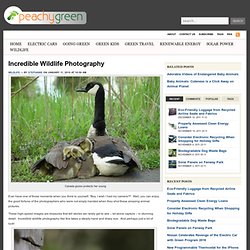 Well, you can enjoy the good fortune of the photographers who were not empty handed when they shot these amazing animal pictures. These high-speed images are treasures that tell stories we rarely get to see – let alone capture – in stunning detail. Incredible wildlife photography like this takes a steady hand and sharp eye. This is What Happens When You Give Thousands of Stickers to Thousands of Kids. This December, in a surprisingly simple yet ridiculously amazing installation for the Queensland Gallery of Modern Ar, artist Yayoi Kusama constructed a large domestic environment, painting every wall, chair, table, piano, and household decoration a brilliant white, effectively serving as a giant white canvas.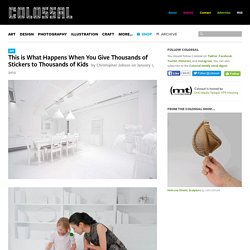 Over the course of two weeks, the museum's smallest visitors were given thousands upon thousands of colored dot stickers and were invited to collaborate in the transformation of the space, turning the house into a vibrantly mottled explosion of color. How great is this? Given the opportunity my son could probably cover the entire piano alone in about fifteen minutes. The installation, entitled The Obliteration Room, is part of Kusama's Look Now, See Forever exhibition that runs through March 12.
Amazing Mystery Photographer Comes To Fame After Her Death. Amazing Tilt-Shift Van Gogh Paintings [16 Pics] Jan 10, 2011 Serena Malyon, an illustrator in her third year at the Alberta College of Art & Design, has taken the classics works of Vincent Van Gogh and added a contemporary twist.
Using Photoshop, Serena has added the 'tilt-shift' effect to Van Gogh's paintings, providing a fresh perspective on these masterpieces. Maybe some HDR photographs of Ansel Adams work is next? :P SOURCES - ArtCyclopedia - Serena Malyon's Illustration Blog. Neonflames. Photographer Turns his 91-Year Old Grandma into a Superhero to Cheer Her Up. A few years ago photographer Sacha Goldberger found his 91-year-old Hungarian grandmother Frederika feeling lonely and depressed.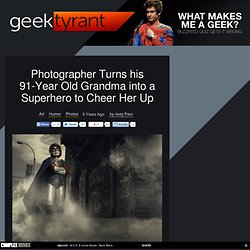 So to cheer her up, and put a spark back into her life, he turned her into a superhero! He took a series of awesome photographs of her wearing costumes in unusual superhero type posses. "Grandma reluctantly agreed, but once they got rolling, she couldn't stop smiling. " Frederika isn't only a superhero in these photos, but she was a real hero during World War II.
Here's her story... Visualizing Light at Trillion FPS, Camera Culture, MIT Media Lab. Home | News | Join Us | People | Projects | Publications | Talks | Courses Femto-Photography: Visualizing Photons in Motion at a Trillion Frames Per Second Team Ramesh Raskar, Associate Professor, MIT Media Lab; Project Director (raskar(at)mit.edu)Moungi G. Stolen Camera Finder - find your photos, find your camera. Looks like good Zombie Portraits by Andre De Freitas. Fun Dog Expressions During Car Rides. Jun 16/11 Fun Dog Expressions During Car Rides If you have a dog you probably know how they just love to stick out their head through the window while you are driving. You have probably spotted other dogs do that as well on the high way. Setdo on deviantART. Photopic Sky Survey. 30 Creepiest Clouds On Earth | Environmental Graffiti. Finally got a Google+ invite. "SOUS TITRE" EXHIBITION / DURAMEN SERIAL on the Behance Network.
21 Images You Won't Believe Aren't Photoshopped (Part 8) It's the sunrise at the North Pole with the moon at its closest point. Drawing on World Issues: These Make You Think. The Pepper Spraying Cop Meme. Amazing Photoshop Creation. Origine-univers-creation-big-bang-550x412.jpg (JPEG Billede, 550x412 pixels) Dream Big by Peter Fecteau. The-Observable-Universe.jpg (JPEG Billede, 3850x1925 pixels) - Skaléret (30%) You can not imagine the immensity of the fuck I do not give. Stunning_photography_14. High Speed Liquid and Bubble Photographs by Heinz Maier.
Portraits. Browsing #everything Popular posts. Shake - Images | Carli Davidson Photography.
---