Flipped classrooms/reverse teaching
Have you "flipped" yet? My colleagues have this week; it's PSSA week in Pennsylvania (PSSAs are standardized tests.). That's not the flipped I meant, however.
Flipped Classroom Resources
Trends in Ed: Misconceptions About the Flipped Classroom Model | EdLab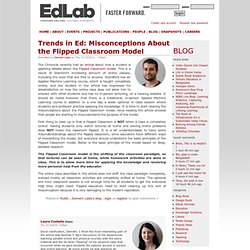 The Chronicle recently had an article about how a student is sparking debate about the Flipped Classroom model . This is a result of Stanford's increasing amount of online classes, including the ones that are free to anyone. Standford has an Applied Machine Learning course, which is taught completely online, and the student in the article has expressed his dissatisfaction on how the online class does not allow him to interact with other students and has no in-person lecturing, on a hacking website.
Stanford University got lots of attention for inviting the public to participate in a series of free online computer-science classes.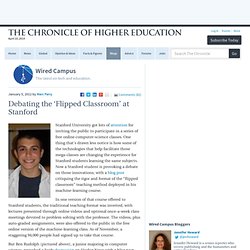 Debating the 'Flipped Classroom' at Stanford - Wired Campus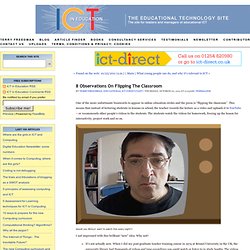 One of the more unfortunate buzzwords to appear in online education circles and the press is "flipping the classroom". This means that instead of lecturing students in lessons in school, the teacher records the lecture as a video and uploads it to YouTube – or recommends other people's videos to the students. The students watch the videos for homework, freeing up the lesson for interactivity, project work and so on.
8 Observations on flipping the classroom
Due to Khan Academy's popularity, the idea of the flipped classroom has gained press and credibility within education circles.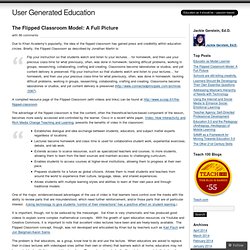 Four years ago, in the shadow of Colorado's Pike's Peak, veteran Woodland Park High School chemistry teachers Jonathan Bergmann and Aaron Sams stumbled onto an idea. Struggling to find the time to reteach lessons for absent students, they plunked down $50, bought software that allowed them to record and annotate lessons, and posted them online.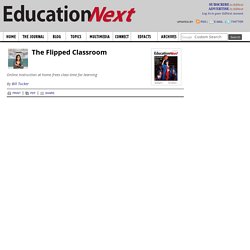 Best Technology For FC
Flipped classrooms may just be the future of education.
Dear Dr. Keller: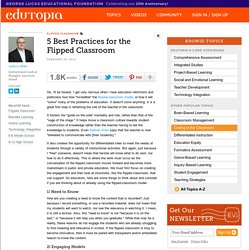 What happens when the students have more control in the classroom?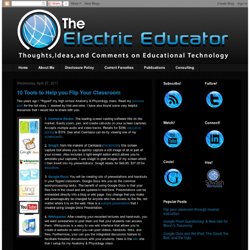 Two years ago I "flipped" my high school Anatomy & Physiology class. Read my previous post for the full story.
Editor's Note: On the heels of our viral posts - over 100,000 views in over 100 countries - about the flipped classroom earlier this year (links below), we asked Jon Bergmann if he could share some of the feedback he was receiving in light of the notable interest about this topic. The timing couldn't have been more perfect since he was about to leave for a conference about you-guessed-it, the flipped class. Here is Part 1 of our three part series The Daily Riff.
Editor's Note: Posts about the flipped class on The Daily Riff beginning in January 2011 have generated over 240,000 views to-date - thanks contributors and readers . . .
MAST - Math and Science Teaching Institute
What's The Best Technology For Flipped Classrooms?