Environment
Species List | Endangered, Vulnerable, and Threatened Animals
Global Greens | The network of the worlds green parties and political movements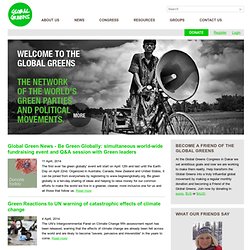 The first ever 'be green globally' event will start on April 12th and last until the Earth Day on April 22nd. Organized in Australia, Canada, New Zealand and United States, it can be joined from everywhere by registering to www.begreenglobally.org. Be green globally is a ten-day sharing of ideas and helping to raise money for our common efforts to make the world we live in a greener, cleaner, more inclusive one for us and all those that follow us.
Union of Concerned Scientists Skip to main content Home About Us Publications News Center Policy Center In the wake of the nuclear crisis in Japan, we have seen first-hand the critical connection between water and nuclear power. In fact, power generation and water are intertwined—producing energy requires water, and providing that water uses energy. Both these processes face growing limits and problems, but a number of technologies offer strong opportunities to address water-related impacts.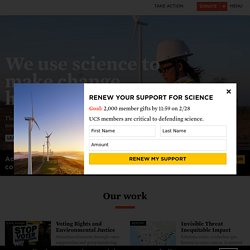 TERI - The Energy and Resources Institute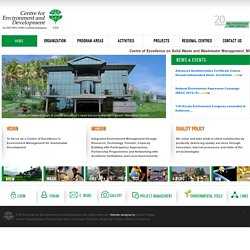 Username Password New user? Browse Organization Objectives
Centre for Environment and Development (CED)
ECOWAS Regional Centre for Renewable Energy and Energy Efficiency
Law, Environment and Development Journal
IELRC.ORG - International Environmental Law Research Centre
WiserEarth.org: La Red Social por la Sustentabilidad
WWF offices and associates around the world
Latest Green Business News | Reuters.co.uk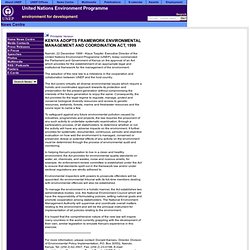 Press Releases December 1999 - KENYA ADOPTS FRAMEWORK ENVIRONMENTAL MANAGEMENT AND COORDINATION ACT, 1999 - United Nations Environment Programme (UNEP)
Nairobi, 22 December 1999 - Klaus Toepfer, Executive Director of the United Nations Environment Programme (UNEP), today commended the Parliament and Government of Kenya on the approval of an Act which provides for the establishment of an appropriate legal and institutional framework for the management of the environment. The adoption of the new law is a milestone in the cooperation and collaboration between UNEP and the host country. The Act covers virtually all diverse environmental issues which require a holistic and coordinated approach towards its protection and preservation for the present generation without compromising the interests of the future generation to enjoy the same. Consequently, the Act provides for the legal regime to regulate, manage, protect and conserve biological diversity resources and access to genetic resources, wetlands, forests, marine and freshwater resources and the ozone layer to name a few.
Home
European Environment Information and Observation Network - Eionet
BIOECON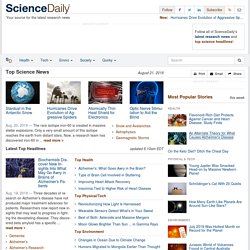 Megafloods: What They Leave Behind South-central Idaho and the surface of Mars have an interesting geological feature in common: amphitheater-headed canyons. Researchers offer a plausible account that all these canyons were created by enormous floods. ... > full story Image Perception in the Blink of an Eye Imagine seeing a dozen pictures flash by in a fraction of a second.
The natural environment, commonly referred to simply as the environment, is all living and non-living things that occur naturally on Earth or some part of it (e.g. the natural environment in a country). This includes complete ecological units that function as natural systems without massive human intervention, including all vegetation, animals, microorganisms, rocks, atmosphere and natural phenomena that occur within their boundaries. And it includes universal natural resources and physical phenomena that lack clear-cut boundaries, such as air, water, and climate, as well as energy, radiation, electric charge, and magnetism, not originating from human activity.
Lists of environmental topics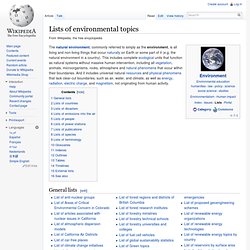 Convention on Biological Diversity (CBD) - National CHM for the Republic of Zambia
Zambia has ratified more than twenty (20) Global Environmental Conventions that play an important role in influencing the country's policies, laws and actions so as to attain sustainable socio-economic development through the environment and natural resources management. In order for key players in environmental protection and natural resources management including the local communities to acquire basic knowledge and understanding on these conventions, there is need to disseminate issues related to different conventions to which Zambia is a party. Zambia lies at the heart of the Miombo Ecoregion and it is listed as the World Wide Fund (WWF) Global 2000 Ecoregion because of its high species richness. The Miombo Ecoregion supports important populations of fauna, particularly large mammals.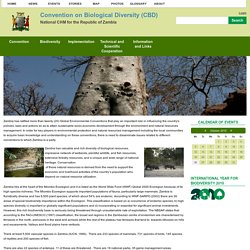 Inspiration Green Home
Green VC: Green Funding Sources
Transform Capital Management Ltd | A Global Impact Investment Bank
EIA - Environmental Investigation Agency
[NA]
Association  :: [Official website] »  KNX  » What is KNX?
KNX: Introduction More convenience, more safety, higher energy savings: The demand for building management systems is continuously increasing. Whether in a single-family house or in an office complex, the demand for comfort and versatility in the management of air-conditioning, lighting and access control systems is growing.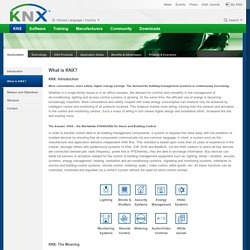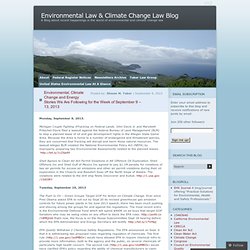 Environmental Law & Climate Change Law Blog
Monday, August 19, 2013 IPCC Says It Is 95% Likely that humans cause climate change. According to leaked reports, the United Nation's Intergovernmental Panel of Climate Change (IPCC), which has been collecting data since 1988, will state that it is at least 95% likely that humans are the main cause of climate change largely from burning fossil fuels. And the numbers are growing: in 2007 the certainty was 90% and in 2001 it was 66%.
Yale Center for Environmental Law & Policy
Monday, December 30, 2013 The Fractured State of Shale Gas Development Regulation By Guest Author, Eric Ellman, Comm. Dir., Yale Climate and Energy Institute Five years into a prolonged recession the economic benefits of shale gas development are compelling...At the local level, however, the potential negatives associated with development are less clear. Tuesday, December 10, 2013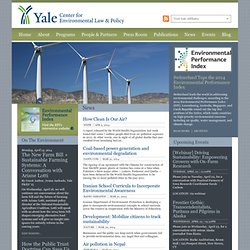 For 17 years, Global Witness has run pioneering campaigns against natural resource-related conflict and corruption and associated environmental and human rights abuses. From Cambodia to Congo, Sierra Leone to Angola, we have exposed the brutality and injustice that results from the fight to access and control natural resource wealth, and have sought to bring the perpetrators of this corruption and conflict to book. Our work has revealed how, rather than benefiting a country's citizens, abundant timber, diamonds, minerals, oil and other natural resources can incentivise corruption, destabilise governments, and lead to war. Through our investigations, advocacy and campaigning, we seek solutions to the 'resource curse' so that citizens of resource-rich countries can get a fair share of their country's wealth.
Smartmeters | SmartMeters.com? Smart Meter News
Africare: Improving Lives, Building Futures
The Center for International Environmental Law
Environmental Law Institute
World Economy, Ecology & Development
GFENV-Global Forum on Environment
The Earth Institute, Columbia University
Asia-Pacific Forum for Environment and Development (APFED)
Earth Policy Institute – Building a Sustainable Future | Home
WELCOME TO ILLEGAL-LOGGING.INFO
Greeneconomyinitiative.com - Investment in Green Economy, Green Jobs and Clean Technologies
The EnviroLink Network