Seeds
Maca Seeds for Sale
Maca Root, also known as Peruvian Maca, Macca, Peruvian Ginsing and Lepidium Meyenii is used in the Andean societies for thousands of years, Maca Root has long been used as a source of healing and nourishment. Along with Damiana (Turnera Diffusa), Maca Root is highly sought after for its aphrodisiac affects. Today, the Maca Root is a much sought after super-food that is used to offset fatigue, increase stamina, boost libido, and is regarded as a highly adaptogenic and powerful food. The Maca Root powder is an excellent addition to drinks like milks, chocolates, smoothies, or even mixed into flour for various desert recipes. With its smooth earthy taste that is a tad nutty with a slight touch of butterscotch, a little Maca powder goes a long way. Germination is in approximately 4 days at 65 degrees F soil temperature.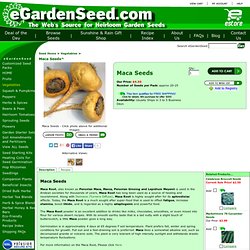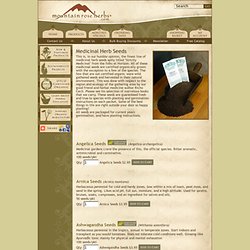 Angelica Seeds (Angelica archangelica) Medicinal gardens crave the presence of this, the official species. Bitter aromatic, antimicrobial and carminative.100 seeds/pkt Arnica Seeds (Arnica montana) Herbaceous perennial for cold and hardy zones.
Home page,Bountiful Gardens website,Bountiful Gardens home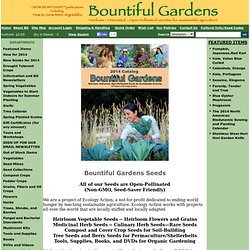 All of our Seeds are Open-Pollinated (Non-GMO, Seed-Saver Friendly) We are a project of Ecology Action, a not-for-profit dedicated to ending world hunger by teaching sustainable agriculture. Ecology Action works with projects all over the world that are locally staffed and locally adapted. Heirloom Vegetable Seeds ─ Heirloom Flowers and Grains Medicinal Herb Seeds ─ Culinary Herb Seeds—Rare Seeds Compost and Cover Crop Seeds for Soil-Building Tree Seeds and Berry Seeds for Permaculture/Shelterbelts Tools, Supplies, Books, and DVDs for Organic Gardening We have developed a simple, sustainable gardening method we call GROW BIOINTENSIVE®.
The Victory Seed Company is a small, family owned and operated organization that works to preserve plant varieties by locating, growing, documenting and offering rare, open-pollinated, non-GMO, non-hybrid, heirloom seeds to home gardeners. Unlike most seed companies, we actually grow seeds on our farm and help to support other small seed farmers by purchasing what we don't grow from our network of growers. We work hard at being the best heirloom seed company and strive to be your main seed source. (You can read what other folks say about us at the Garden Watchdog.) By purchasing Victory Seeds®, you are partnering with us to support our primary mission of preserving heritage or heirloom seed varieties as well as horticultural history.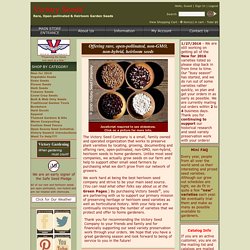 thank you so much! Pleasure to support you, happy to do so, hope to in the future as well. It was great to read all that info on each seed, and tips on planting, collecting seed, etc. Made it easier to make my seed choices.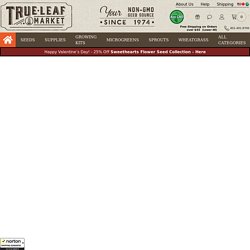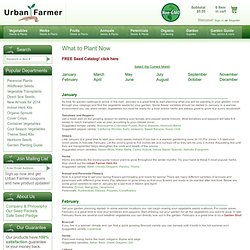 January It's time for garden catalogs to arrive in the mail. January is a great time to start planning what you will be planting in your garden. Look through your catalogs and find the vegetable seeds for your garden.
Seeds - Saving, Trading, Buying