Craft Sites
DIY Soft Bed Headboard DIY Projects. 101 Simple Handmade Gift Tutorials. These simple handmade gift tutorials will make any crafty person's heart sing with joy!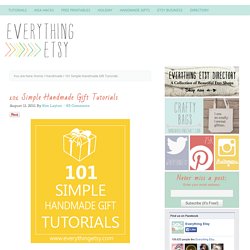 You don't need special skills or a bunch of time because these can all be done super fast! Simple and cute…that works for me! 31 Insanely Easy And Clever DIY Projects. DIY Chan Luu Bracelet « Made2Style. My goal this holiday season was to really try my best to make some homemade gifts.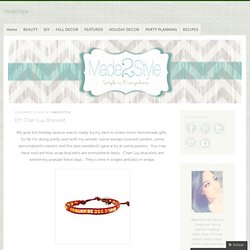 So far I'm doing pretty well with my wreath, some burlap covered candles, some personalized coasters and this past weekend I gave a try at some jewelry. You may have noticed how wrap bracelets are everywhere lately. Chan Luu bracelets are extremely popular these days. They come in singles and also in wraps. Crochet School. Sorry I've taken so long to post this very last post of the crochet school series.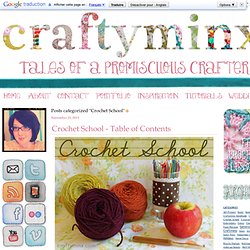 Would you believe me if I said I don't want it to end? Haha That's not the real reason, although it is a little weird to be writing the last crochet school post (for now). I've just been busy designing new patterns and crocheting my butt off for the craft show I'm in next month, Deluxe. I was also waiting for all of you to have time to put in questions you want answered in this post. Let's cover those questions first: How to crochet a flower. I love crochet flowers!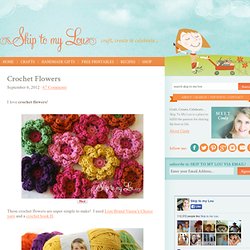 These crochet flowers are super simple to make! I used Lion Brand Vanna's Choice yarn and a crochet hook H. I hope you can understand the instructions. I would love your feedback or any suggestions on wording for the pattern. 20 Awesome Do It Yourself Projects. Thursday, June 14, 2012 4:30 am, Posted by Chris Groves | Internet 20 Awesome Do It Yourself Projects Topics: At Home Project Ideas , Creative DIY Home Projects , Do It Yourself Projects for 2012 , Fun How To Projects , What to Do with Extra Stuff.
Rostitchery: convertible/infinity dress. (this post was originally published on 29 june, 2006, with the title "one seam convertible dress".) have a question?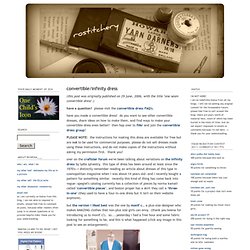 Please visit the convertible dress FAQ's. have you made a convertible dress? Mad in crafts: DIY Fire & Ice Lanterns. The old becomes new: A new variation on the outdoor lantern.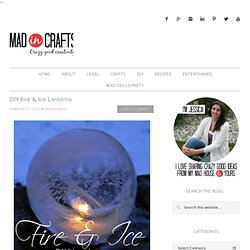 We have had an unusually warm winter in Michigan this year, and while the temps have been nice, I have had to hold off on this project idea until we got a cold snap. We finally got some snow and cold earlier this week, so I was able to try out this fun winter project. I had pinned a product called Globe Ice Lantern Kits a few months back recognizing that I could DIY them at home. S Best Photos of grannysquares. Flickr Hive Mind is a search engine as well as an experiment in the power of Folksonomies.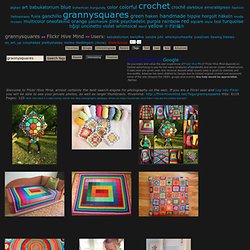 All thumbnail images come directly from Flickr, none are stored on Flickr Hive Mind. These photos are bound by the copyright and license of their owners, the thumbnail links take to you to the photos (as well as their copyright and license details) within Flickr. Because some other search engines (Google, etc.) index parts of Flickr Hive Mind, you may have been led here from one of them. Welcome to Flickr Hive Mind, almost certainly the best search engine for photography on the web. If you are a Flickr user and use Flickr Stats you may have seen people being led to your photos via Flickr Hive Mind (as a Referrer). Make an Edible Candy Bowl | Dollar Store Mom - Frugal Fun - Crafts for Kids.
Today's post is a lesson in improvisation.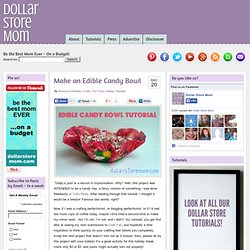 Why? Well, this project was INTENDED to be a candy tray, a fancy version of something I saw done flawlessly at Tutto Bella. After reading through that tutorial, I thought it would be a breeze! Famous last words, right? Now, if I was a crafting perfectionist, or blogging perfectionist, or if I'd had two more cups of coffee today, maybe I'd've tried a second time to make my vision work…but I'm not, I'm not, and I didn't. Braided Doormat. Before you start, practice the braid by making a miniature version of the mat with thinner rope.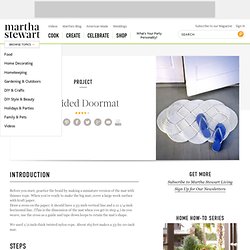 When you're ready to make the big mat, cover a large work surface with kraft paper. Draw a cross on the paper; it should have a 33-inch vertical line and a 12 1/4-inch horizontal line. DIY Rope Bracelet « greeneyed.com. ANNOUNCEMENT: A select number of these bracelets are available for sale here. I know, I know, MORE friendship bracelets. I can't stop myself. Domestic for Dummies: Fall Pinterest Project: DIY Coasters. Is everyone ready for today's Pinterest challenge? I know I'm excited to share my project and can't wait to see what everybody else came up with.
Pinterest in general just makes me tinkle in my pants with joy! So let's get to it! Lately I have been obssessed with games like Words With Friends, Wordosaur, Scrabble and any other word games that make me use my noggin. Perfect Summer Bangle. Here's a fun tutorial on how to make a message bangle that's one-of-a-kind, done in the sun, waterproof and weatherproof.
Even after several trips to the beach, it won't fade or wash off! Essentially, it's the Perfect Summer Bangle. Used in this tutorial: Inkodye Red Prepare. Amazing Exotic Gourd Lamps from Calabarte. If you are looking for creative ways to light up a room, enjoy these Gourd Lamps by Calabarte. Each gourd lamp is made from a gourd brought from Senegal and their exotic design is achieved after carefully selecting dried shells of gourd fruit and drilling patterns into them. Different patterns are designed by carving deeper or shallower into layers of wood. This allows light to pass through each carving, creating beautiful patterns of light on the walls. The gourds are all unique and the perforations differ in diameter, exposing light through its intricate patterns. DIY Doily Lamp. I go by Katie: DIY Tunisian Crochet. Knitting and Crochet Patterns in Art: Extreme Knitting, Banksy Tribute at WomansDay.com.
While some people may think knitting and crocheting are just for grandmas, that couldn't be further from the truth. In fact, in the last few years, there has been a huge resurgence in these techniques, and the projects go far beyond scarves and gloves. Crocheted and knitted artworks have taken the world by storm, both on the street—a movement referred to as "knit graffiti," "yarn bombing" and "urban knitting"—and in modern art circles alike.
Loved for the humanizing quality it lends to everyday objects, the medium continues to attract artists, who have no doubt been inspired by the pioneering works below. "Locker Room" Through his artwork, New York–based artist Nathan Vincent works to gender-neutralize objects associated with overt masculinity. DIY : Sailor's Knot Bracelet  Cascade Yarns. Granny strap 0003. Soccasins.
Free pattern for crocheted Mary-Jane slippers « The little house by the sea. Scrabble Pendant Tutorial! Coats & Clark Free Crochet Projects. 0479. How Make a Kite: Fly Kites Making Plans Directions Home Made Build Plan. 25 Kites That Fly. ...Make your own kite!... 0540.
---