COSAS DE ELECTRONICA
Pictronico
Ciudad de México, Sábado 19 de Abril de 2014 Horario: Lunes a Viernes de 10:00 a 18:30 Hrs. y Sabados de 10:00 a 13:30 Hrs. Antes de realizar tu compra es importante que leas y aceptes las POLITICAS DE VENTA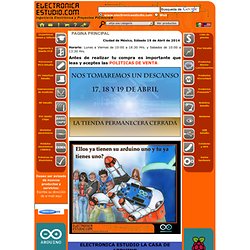 Ingeniería Electrónica y Proyectos PICmicro®
DIY Electronics and Open Hardware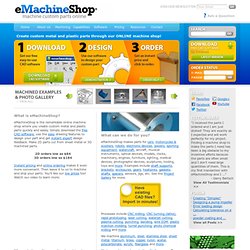 eMachineShop makes parts for cars, motorcycles & scooters, robots, electronic devices, jewelry, sporting equipment, watercraft, aircraft, musical instruments, optical devices, models, clocks, machinery, engines, furniture, lighting, medical devices, photographic devices, sculptures, tooling, toys and more. Examples include shaft supports, brackets, enclosures, gears, heatsinks, gaskets, shafts, spacers, sensors, jigs, etc. See the Project Gallery for more. Processes include CNC milling, CNC turning (lathe), rapid prototyping, laser cutting, waterjet cutting, plasma cutting, punching, bending, wire EDM, plastic injection molding, turret punching, photo chemical milling and more.
MiniRobot
Carrod Electrónica Online
:: RoboDacta - Tu Portal al Mundo de la Robótica Didáctica ::
Products, products, and more products. That's what Fridays are all about here at SparkFun. We have a few new things this week. Check out the video and hear our engineer Shawn explain the new CC3000 shield and breakout board. I'm not kidding here: $50k for the first person to figure out how to harvest Shawn's energy.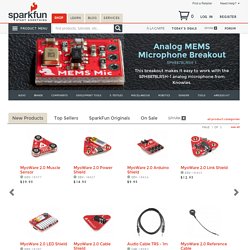 high side mosfet drivers - SPI – Serial Peripheral Interface – Part 1: Getting a Little Shifty | smileymicros.com
Mouser Electronics - Electronic Component Distributor
.: AG Electrónica S.A. de C.V.
Cosas de Ingeniería - Todo lo que un estudiante de ingeniería puede necesitar... y mas!
Robot-Mexico
5Hz Electrónica - Inicio
Decidimos poner a prueba las capacidades de nuestro shield GPS logger y lo enviamos a Tuxtla Gutierrez, Chiapas. Lo primero que pensamos fue enviarlo vía terrestre ya que era muy probable que batallara para obtener señal en un avión. Para alimentarlo empleamos una de las nuevas baterías de 7500mAh y "aprovechamos" el viaje para determinar la duración de la misma. La frecuencia de muestreo que empleamos fue algo exagerada: 1Hz, es decir guardamos un dato nuevo cada segundo. Una vez recolectado el paquete pudimos capturar de manera clara todo el recorrido que realizó el camión de Estafeta desde nuestra oficina hasta llegar al centro operativo de Estafeta ubicado en Santa Catarina.