Blogs & Wikis
Blogs and wikis for education jonnywathen Jan 22
There's a lot going on. Educators seem overloaded with initiatives and expectations. Students appear weighed down by assessment and intervention.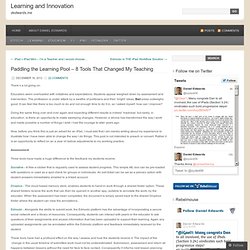 Paddling the Learning Pool – 8 Tools That Changed My Teaching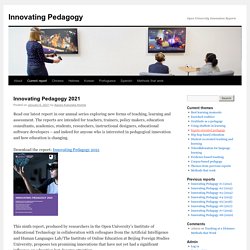 Innovating Pedagogy | Open University Innovations Report #1
The series of reports explores new forms of teaching, learning and assessment for an interactive world, to guide teachers and policy makers in productive innovation. View the Innovating Pedagogy report. This second report updates proposes ten innovations that are already in currency but have not yet had a profound influence on education. You can see a summary of each innovation at the menu on the right.
When Mattias Swenson, Patrik Ring and their three co-founders first decided to launch a startup out of high school, the plan was to work on it for a year and then move on with their lives. Growing up in Stockholm, they said, they didn't know of anyone else who gave up university for entrepreneurship. But more than five years later, they're still at it. And their startup Bloglovin, which is something like a visual RSS reader meets Tumblr for the entire blogosphere, is poised for a new level of growth.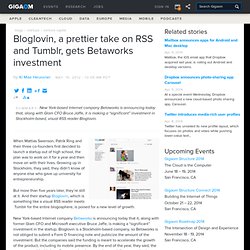 Bloglovin, a design-conscious RSS meets Tumblr, gets Betaworks investment
Health, Social & Childcare « Jonny Wathen's Blog
Health, Social & Childcare « Jonny Wathen's Blog
The Interesting Ways series continues to be a great example of crowdsourcing good quality classroom ideas and it has been a privilege connecting with all of the people who have taken time to add an idea. It is remarkable what can be achieved and created together if you give people the right way to do it. Thanks for all the help so far. Interesting Ways to… Use Google Tools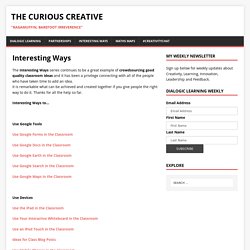 The Design Thinking School | NoTosh
Design Thinking is more than "shop" class and some post-it notes. It's more than simply 'making' things to solve a problem. We've taken the concepts of design thinking that we practice every week with creative companies in fashion, media and technology, and matched them with what the research shows us works for great learning. The result is a process that helps frame learning for which young people have more responsibility, more choice and deeper learning in any given field, from Shakespeare to Social Studies, Physics to Philosophy. We can work with schools on a regular basis through our NoTosh OnTap retainer basis, offering a low day rate fee with no hidden transport or accommodation charges. We can also run a programme to fit in with your school's regular professional development sessions.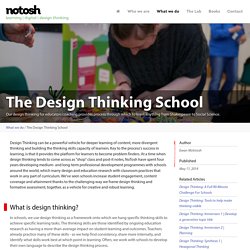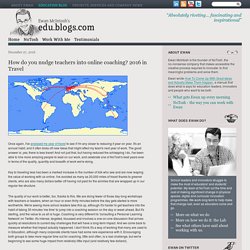 Originally posted on the wonderful NoTosh Facebook page. During my tour of Sweden, I worked with groups of senior education leaders - district directors, politicians, parent and union reps, principals - and sometimes it might even have been the first time that these distinct groups of leaders had sat together in the same room to talk about how their strategies for better learning might actually be put into place. All the discussions and processes we used unearthed fascinating insights, interesting as much as anything for the potential that, until now, had been locked up in their different perspectives of what great learning actually entailed. One such fascinating discussion was with a wide range of education leaders at a 90 minute workshop in Tidaholm, a beautiful city a couple of hours out of Gothenburg.
Ewan McIntosh | Digital Media & Learning
Welcome to Mobile Technology Enhanced Learning In a world were technology underpins communication and collaboration it is imperative that we equip our learners with the skills and confidence to effectively utilise technology throughout their lives. This portal aims to facilitate continuous professional development for mobile technologies. Showcase/Best Practice
MoTEL Academy
Learning Innovation
HandheldLearning's Presentations on SlideShare
Hi. I'm Di Dawson – an independent trainer and consultant who can help you with all manners of e-learning, pedagogical advice for successful online training and I can advise how to use mobile technologies for teaching or training. Why not browse the topics for Learn and Lunch sessions – pick up a new skill in just 15 minutes or if you need to get started with e-learning , as a cost effective way to deliver training to your staff. And if you want a refresher train the trainer course or wish to learn skills to become an online trainer or to be able to deliver webinars or virtual classrooms then do talk to me. I'm also quite knowledgeable about ITQ.
Di Dawson - About Di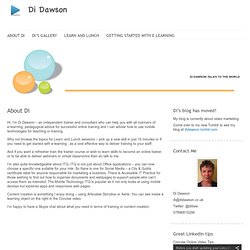 ... your keynote to nz (New Zealand) tutors was awesome, they all want to meet you now. and ... They all loved Dave Sugden's virtual keynote from the UK @national food & bev conference in New Zealand @musicforparties @colhawksworth Great Keynote about pedagogy from David Sugden On Twitter hash tag: #MNW09 Fantastic bloke – completely fun, interesting Some amazing techniques for learning Selection from delegate's feedback - National Science Learning Centre - Feb 08 Really enjoyable and useful day - many thanks.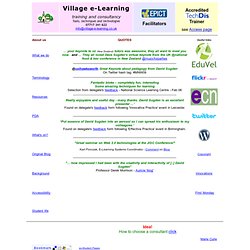 The main page of Village e-Learning Consultancy. David Sugden proprietor. David Sugden email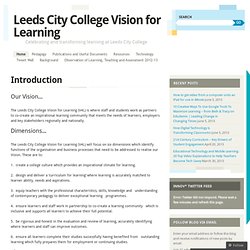 Leeds City College Festival of Learning 2012 | celebrating and transforming learning at Leeds City College
Our Vision… The Leeds City College Vision for Learning (V4L) is where staff and students work as partners to co-create an inspirational learning community that meets the needs of learners, employers and key stakeholders regionally and nationally. Dimensions… The Leeds City College Vision for Learning (V4L) will focus on six dimensions which identify functions of the organisation and business processes that need to be addressed to realise our Vision. These are to: 1. create a college culture which provides an inspirational climate for learning.
These are technologies that I actually use, they exclude web tools and services which I do a separate top ten for. They are generally tools that make my life easier, more efficient and more productive. Having changed jobs in 2013, this has made the list a little more interesting as the technologies I used over the year did change quite a bit. Missing from this list is BT Infinity FTTC which made the list for the last three years, not that it doesn't exist anymore, I moved in 2012 and am now connected to the only cabinet on my exchange that won't be upgraded to FTTC. As a result I am stuck on a very slow 1-2Mb ADSL connection. Here are my previous top tens from 2008, 2009, 2010, 2011 and 2012.
Course: Learner Support in using Technology in Learning
Teacher Training Videos now on YOUTUBE You can now find many of the most popular teacher training videos on YOUTUBE. TeacherTrainingVideos is now on youTube Teacher Training Videos wins third award for online training courses Russell's 'WEBWATCHER' articles in the English Language Teaching Professional Some great simple tools to get you started
Online not offline Much as Higher Education would like to think it has a monopoly on learning, it is merely one in many, many layers in the learning cake. There is no monolithic MOOC audience.
Donald Clark Plan B
Home Page | futurelab
Educational Origami is a blog and a wiki, about 21st Century Teaching and Learning. This wiki is not just about the integration of technology into the classroom, though this is certainly a critical area, it is about shifting our educational paradigm. The world is not as simple as saying teachers are digital immigrants and students digital natives.
FE Connect
Innov8lcc's Blog