Banksters's Finest
When I created this Pearltree my intention was to record that a lot of leading persons in the financial sector are willing to violate the law in order to make profit and also to find examples for the destructive impact of their behavior on the civil society and the life of the average citizen.

I dont know how comprehensive it should be. May be it is better to focus on some illustrative events in order to keep him well-aranged. Wall Street doing what it Does. Unter Bankstern. Von Banken und Nullen Unter Bankstern - Teil 1 Artur P.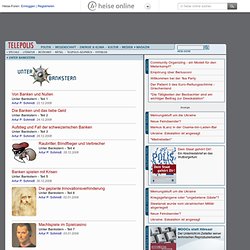 Schmidt22.12.2008. Dubiose Aktiendeals - Warum Banken zittern müssen - Wirtschaft. Anzeige Den Verdacht gibt es schon lange: Zahlreiche Banken sollen den deutschen Fiskus um viele Milliarden Euro erleichtert haben.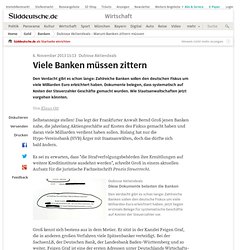 Dokumente belegen, dass systematisch auf Kosten der Steuerzahler Geschäfte gemacht wurden. Wie Staatsanwaltschaften jetzt vorgehen könnten. Selbstanzeige stellen! Das legt der Frankfurter Anwalt Bernd Groß jenen Banken nahe, die jahrelang Aktiengeschäfte auf Kosten des Fiskus gemacht haben und daran viele Milliarden verdient haben sollen. Neue Vorwürfe gegen Royal Bank of Scotland - Wirtschaft. Anzeige Schwere Vorwürfe gegen die Royal Bank of Scotland: Das Geldinstitut soll Kunden bewusst in die Schuldenfalle getrieben haben, um billig an deren Immobilien zu gelangen.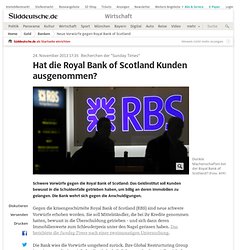 Die Bank wehrt sich gegen die Anschuldigungen. Gegen die krisengeschüttelte Royal Bank of Scotland (RBS) sind neue schwere Vorwürfe erhoben worden. Sie soll Mittelständler, die bei ihr Kredite genommen hatten, bewusst in die Überschuldung getrieben - und sich dann deren Immobilienwerte zum Schleuderpreis unter den Nagel gerissen haben. RBS 'kills off good firms for profit' RBS will be accused of gravely hindering Britain's economic recovery (Facundo Arrizabalaga) RBS, the taxpayer-owned bank, is killing off small businesses to seize assets for its own property empire, according to evidence referred to financial watchdogs by Vince Cable, the business secretary.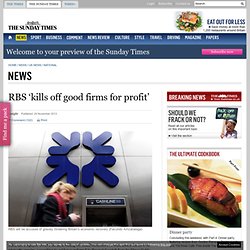 The allegations are contained in an explosive report by Lawrence Tomlinson, one of Cable's key advisers, which will be published tomorrow. Tomlinson, a businessman drafted into Cable's department, said yesterday: "RBS has forced vibrant businesses into financial trouble, only to profit from their distress by squeezing them for exorbitant fees and charges and ultimately seizing their assets to swell its own vast property empire. "By driving healthy companies into the ground, RBS has not only ruined thousands of lives, it has also gravely hindered our economic recovery, compounding the misery of millions of hard-working Britons."
Hearing Offshore Tax Evasion Panel 1. Witnesses from a Swiss bank and the U.S.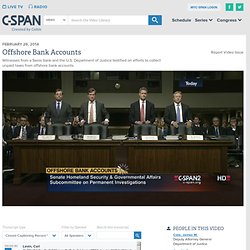 Department of Justice testified on efforts to collect unpaid taxes from offshore bank accounts. *The transcript for this program was compiled from uncorrected Closed Captioning. The Scam Wall Street Learned From the Mafia | Politics News. Leaks expose rotten core of Irish banking - Features. Galway, Ireland - Portraying itself as a model of austerity as it rebounds from the crippling eurozone crisis, Ireland should have brought its presidency of the European Union to an end with aplomb.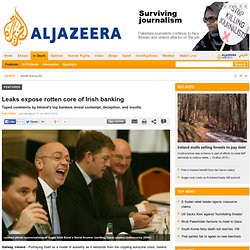 But its outwardly sober, six-month term has been overshadowed by press leaks exposing the cavalier attitude of top banking officials towards a bailout that cost the taxpayer billions of euros. A series of taped phone calls made in 2008 obtained by the Irish Independent newspaper revealed how, at the height of the international banking crisis, officials at the now-defunct Anglo Irish Bank discussed how to deceive regulators, poured scorn on the government, and derided the Germans who were working furiously to prop up Europe's failing banks. The revelations have provoked a storm of protest at a time when Ireland is slipping back into recession. The tapes were also described contemptuously by German Chancellor Angela Merkel at a recent European summit as "impossible to stomach". Giant banks still play roulette with our future - Opinion.
Five years after the Great Recession of 2007-08 destroyed the lives of millions of people and cost the world trillions of dollars, many of the big investment banks that caused the near total meltdown are still involved in shady and sometimes criminal financial gambling schemes that could once again crash the global economy.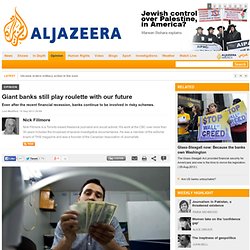 Independent economists warn that another meltdown could destroy the economy as we know it. Fear is ever present because the giant private banks - particularly US banks - bet trillions of dollars that are not properly secured and could cause havoc if defaulted upon. Gangster Bankers: Too Big to Jail | Politics News. Top CEOs plan to loot US social programmes - Opinion.
The new recommendations for Social Security and Medicare released by the Business Round Table are beyond belief.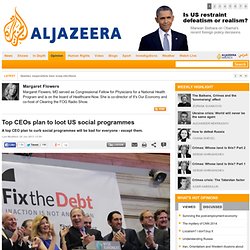 It's as if the people who wrote them never gaze outside of the tinted windows in their limousines. As I wrote earlier in "Stop Obama's Grand Charade", the newest tactic to impose more austerity measures in the US comes from a group of over 80 CEOs who are starting with $60 million to spend on a campaign called "Fix the Debt".
They plan to convince people in the US that not only are cuts to vital programmes necessary, but that such cuts will strengthen them when exactly the opposite is true. Of banksters and debtors' prison - Opinion. Last week, American public television's Frontline aired its new documentary, The Untouchables, which revisits the question of why the Department of Justice failed to indict a single senior Wall Street executive responsible for engineering the mortgage securitisation industry that was "rotten to the core", and at the heart of the 2008 financial meltdown from which ninety percent of Americans have yet to recover.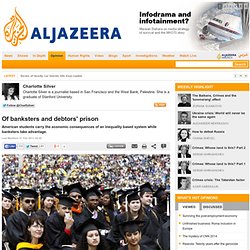 In the film, reporter Martin Smith presses Lanny Breuer, the head of the criminal division within the Department of Justice, on why he did not pursue criminal charges of the senior officials in Wall Street, in spite of ample evidence of fraud that the episode's researchers - along with other journalists, documentarians and lawyers - had been able to find with just a bit of digging. Breuer responded: "I am personally offended by much of what I've seen. I think there was a level of greed, a level of excessive risk taking, that I find abominable and I find very upsetting.
The landscape of Wall Street s creative destruction - Opinion. We cautiously ascend the staircase, the pitch black of the boarded-up house pierced only by my companion's tiny circle of light.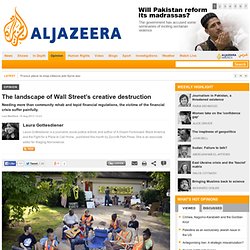 At the top of the landing, the flashlight beam dances in a corner as Quafin, who offered only her first name, points out the furnace. She is giddy; this house - unlike most of the other bank-owned buildings on the block - isn't completely uninhabitable. Banking Industry Squirms Over European Rate Probe. The Goldman Sachs Project to take over Europe nearly complete. Carney, a former Goldman Sachs investment banker who successfully helped to steer the Canadian economy through the global crisis, will succeed Mervyn King next year, Chancellor George Osborne told parliament. "He is quite simply the best, most experienced and most qualified person in the world to be the next Governor of the Bank of England," Osborne said. The announcement sounds unthreatening until you put it into perspective. How Goldman Sachs gambled on starving the world's poor – and won. How Goldman Sachs gambled on starving the world's poor – and won Johann Hari JohannHari.com July 02, 2010 By now, you probably think your opinion of Goldman Sachs and its swarm of Wall Street allies has rock-bottomed at raw loathing.
You're wrong. There's more. It turns out the most destructive of all their recent acts has barely been discussed at all. Zinswetten-Verkauf: Italienisches Gericht verurteilt Deutsche Bank - Banken - Unternehmen. Soziale Netzwerke dauerhaft einschalten MailandRiskante Zinswetten gegen Städte und Kommunen kosten die Deutsche Bank und andere Investmentbanken nun auch in Italien Geld und Reputation. Ein Gericht in Mailand befand die Deutsche Bank, die Schweizer UBS, die US-Bank JP Morgan und die deutsch-irische Depfa am Mittwoch des schweren Betrugs für schuldig. Die Banken hatten Derivate an die Stadt Mailand verkauft, die sie mit der Aussicht auf niedrigere Zinsen köderten. In der Finanzkrise: Deutsche Bank soll Milliardenverluste versteckt haben. Kursinformationen und Charts Die Deutsche Bank wies den Bericht zurück: "Die Vorwürfe, die Deutsche Bank habe nicht korrekt berichtet, sind mehr als zweieinhalb Jahre alt. Über diese wurde bereits im Juni 2011 öffentlich berichtet. Die Vorwürfe waren Gegenstand einer sorgfältigen und umfangreichen Untersuchung und haben sich als vollkommen unbegründet erwiesen.
One Man Against The Wall Street Lobby. By Simon Johnson Two diametrically opposed views of Wall Street and the dangers posed by global megabanks came more clearly into focus last week. On the one hand, William B. Is the Financial Sector Worth What We Pay It? Exhaustive Study Finds Global Elite Hiding Up to $32 Trillion in Offshore Accounts. $21tn: hoard hidden from taxman by global elite | Business | The Observer. Private banks have failed – we need a public solution | Seumas Milne.
HSBC Reveals Problems With Internal Controls. HSBC ignored drug money fear, alleges Senate. Libor Probe Said to Expose Collusion, Lack of Internal Controls. Timeline: Barclays' widening Libor-fixing scandal. Sturm über Londons City - NZZ.ch, 03.07.2012. JPMorgan Trading Loss Reportedly May Reach $9 Billion. Insider trader sentenced to 11 years in US - Americas. In der Finanzkrise: Deutsche Bank soll Milliardenverluste versteckt haben. Barclay brothers accused of trying to silence dissent on Sark | UK news. Die Macht der Rating-Agenturen. Too Big to Jail. Too Big To Handle. Zu groß, um sie zu kontrollieren. Will Wall Street Ever Face Justice? Want to understand the economy? Don't read the press. JPMorgan's Swaps Occupying Cassino Prove Curse Like World War II. A Christmas Message From America's Rich. Austerity and the Modern Banker. Pt 1/4 Meltdown- the men who crashed the world.
Pt 2/4 Meltdown - the Collapse. Pt 3/4 Meltdown - paying the price. Financial Crash : Meltdown(04) Senate Report details elaborate Wall Street Mortgage Fraud. Why We Regulate. Quadrillion Dollar Derivatives Market 20 Times Global GDP. UBS führte "epische" Libor-Verschwörung an.
---