What is A.I ?...
artificial OR artificielle intelligence
Anonymous - The Singularity Project 2013 - (Project Mayhem Has Begun)
aiimg3.jpg (Image JPEG, 465x525 pixels)
In artificial intelligence, an expert system is a computer system that emulates the decision-making ability of a human expert.[1] Expert systems are designed to solve complex problems by reasoning about knowledge, represented primarily as IF-THEN rules rather than through conventional procedural code.[2] The first expert systems were created in the 1970s and then proliferated in the 1980s.[3] Expert systems were among the first truly successful forms of AI software.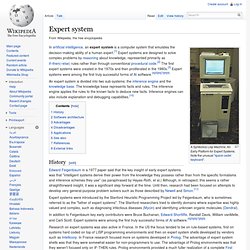 Expert system
Un article de Wikipédia, l'encyclopédie libre. D'une manière générale, un système expert est un outil capable de reproduire les mécanismes cognitifs d'un expert, dans un domaine particulier. Il s'agit de l'une des voies tentant d'aboutir à l'intelligence artificielle.
Système expert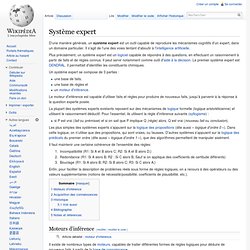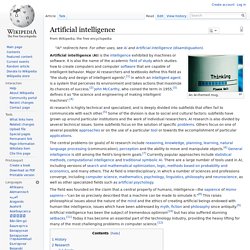 AI research is highly technical and specialised, and is deeply divided into subfields that often fail to communicate with each other.[5] Some of the division is due to social and cultural factors: subfields have grown up around particular institutions and the work of individual researchers. AI research is also divided by several technical issues. Some subfields focus on the solution of specific problems.
Un article de Wikipédia, l'encyclopédie libre.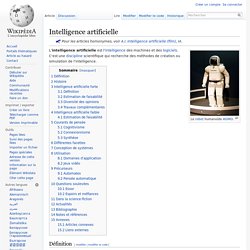 The following outline is provided as an overview of and topical guide to artificial intelligence: Artificial intelligence (AI) – branch of computer science that deals with intelligent behavior, learning, and adaptation in machines. Research in AI is concerned with producing machines to automate tasks requiring intelligent behavior.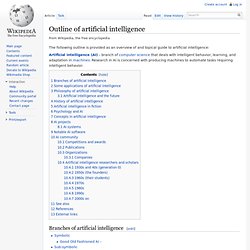 Outline of artificial intelligence
Inference engine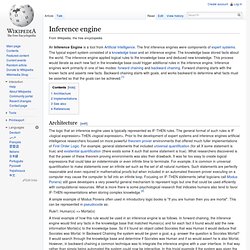 An Inference Engine is a tool from Artificial Intelligence. The first inference engines were components of expert systems. The typical expert system consisted of a knowledge base and an inference engine.
Un article de Wikipédia, l'encyclopédie libre.
Moteur d'inférence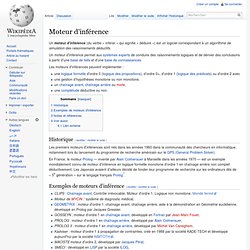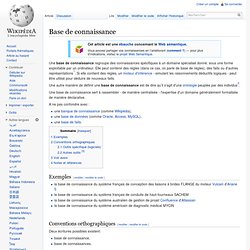 Un article de Wikipédia, l'encyclopédie libre. Une base de connaissance regroupe des connaissances spécifiques à un domaine spécialisé donné, sous une forme exploitable par un ordinateur.
Base de connaissance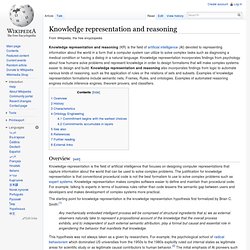 Knowledge representation and reasoning (KR) is the field of Artificial Intelligence (AI) devoted to representing information about the world in a form that a computer system can utilize to solve complex tasks such as diagnosing a medical condition or having a dialog in a natural language. Knowledge representation incorporates findings from psychology about how humans solve problems and represent knowledge in order to design formalisms that will make complex systems easier to design and build. Knowledge representation and reasoning also incorporates findings from logic to automate various kinds of reasoning, such as the application of rules or the relations of sets and subsets.
Randall Davis MIT AI Lab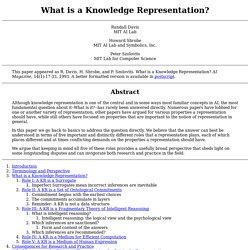 What is a Knowledge Representation?
History of artificial intelligence
The history of artificial intelligence (AI) began in antiquity, with myths, stories and rumors of artificial beings endowed with intelligence or consciousness by master craftsmen; as Pamela McCorduck writes, AI began with "an ancient wish to forge the gods." The seeds of modern AI were planted by classical philosophers who attempted to describe the process of human thinking as the mechanical manipulation of symbols.
Timeline of artificial intelligence
Topic:Artificial intelligence
Artificial Intelligence
Portal:Artificial intelligence
Category:Artificial intelligence
AITopics / HomePage
alain.colmerauer.free
Category:Philosophy of artificial intelligence
WHAT IS ARTIFICIAL INTELLIGENCE?
Artificial Intelligence Books
Active Contours: The Application of Techniques from Graphics, Vision, Control Theory and Statistics to Visual Tracking of Shapes in Motion by Andrew Blake, Michael Isard, 2000
Free Online Artificial Intelligence Books :: FreeTechBooks.com
Artificial Intelligence