Art
The Book Surgeon (15 pieces) Using knives, tweezers and surgical tools, Brian Dettmer carves one page at a time.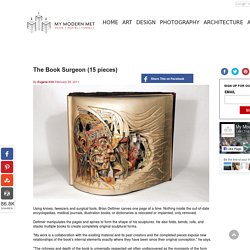 Nothing inside the out-of-date encyclopedias, medical journals, illustration books, or dictionaries is relocated or implanted, only removed. Dettmer manipulates the pages and spines to form the shape of his sculptures. He also folds, bends, rolls, and stacks multiple books to create completely original sculptural forms. "My work is a collaboration with the existing material and its past creators and the completed pieces expose new relationships of the book's internal elements exactly where they have been since their original conception," he says.
"The richness and depth of the book is universally respected yet often undiscovered as the monopoly of the form and relevance of the information fades over time. The Art of Negative Space. on the Behance Network. Rolleston_demonangel.jpg (JPEG Image, 345x500 pixels) Crazy Illustrations By Chow Hon Lam. Gothic horror illustrations by Tatsuya Morino. Artist Tatsuya Morino puts a unique twist on the great monsters of Gothic literature in a series of illustrations featured in the book Kaibutsu Gensō Gashū.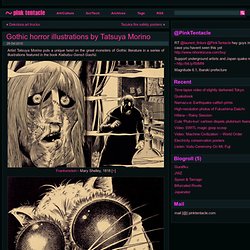 Frankenstein - Mary Shelley, 1818 [+] The Fly - George Langelaan, 1957 Moxon's Master - Ambrose Bierce, 1919. Escher.gif (GIF Image, 1140x1630 pixels) - Scaled (40%) OneMillionGiraffes.com - Jørgen was wrong! Don Kenn. Illustrations on the Behance Network. Don kenn gallery. Do It Yourself Doodler | David Jablow. So I am many things in this world, but an artist is not one of them.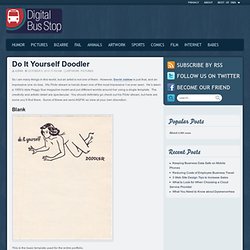 However, David Jablow is just that, and an impressive one no less. His Flickr stream is hands down one of the most impressive I've ever seen. He's taken a 1950′s style Peggy Sue magazine model and put different worlds around her using a single template. The creativity and artistic detail are spectacular. You should definitely go check out his Flickr stream, but here are some you'll find there. World Famous Design Junkies » Hi Captain Color Crayon - Where new design goes to blossom and lost design goes to live again. The Gashlycrumb Tinies. Amazingly Creative Drawing Vs Photography. Veronica Navarro. Horse-cut-in-half-470.jpg (JPEG Image, 470x653 pixels) The scenic route. The Typewriter Artworks of Keira Rathbone (9 pics. 27-year-old Keira Rathbone, from London, first started experimenting with typewriter art, when she was in university.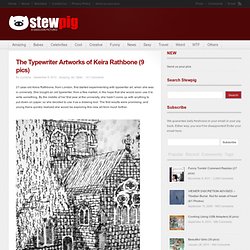 She bought an old typewriter, from a flee market, in the hope that she would soon use it to write something. By the middle of her first year at the university, she hadn't come up with anything to put down on paper, so she decided to use it as a drawing tool. Sketchbooks on the Behance Network. Audrey Kawasaki's Creative Workspace (11 pics) Sketchbook on the Behance Network. The Art of Travis Louie. MY 100 CARDBOARDS on the Behance Network. 54 Mind-Blowing Digital Paintings. Here we've collected together over 50 legendary examples of digital painting in Photoshop.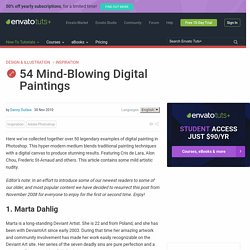 This hyper-modern medium blends traditional painting techniques with a digital canvas to produce stunning results. Featuring Cris de Lara, Alon Chou, Frederic St-Arnaud and others. This article contains some mild artistic nudity. Editor's note: In an effort to introduce some of our newest readers to some of our older, and most popular content we have decided to resurrect this post from November 2008 for everyone to enjoy for the first or second time. (Image) - Amazing Art Works Based On Children's Drawings. The photos you are about to see are part of the "The Monster Engine Project", created by Dave DeVries.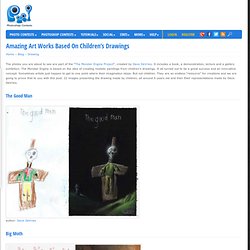 It includes a book, a demonstration, lecture and a gallery exhibition. The Monster Engine is based on the idea of creating realistic paintings from children's drawings. Beach Art. Land Art. Meredith Dittmar Interview. This Portland artist does incredible things with clay.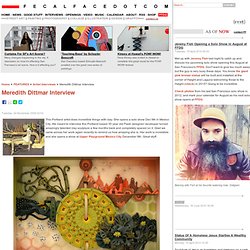 She opens a solo show Dec 9th in Mexico City. We meant to interview this Portland based 35 year old Flash designer/ developer turned amazingly talented clay sculpture a few months back and completely spaced on it. Glad we came across her work again recently to remind us how amazing she is. Pencil Carving. What?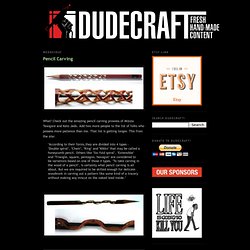 Check out the amazing pencil carving prowess of Mizuta Tasogare and Kato Jado. Add two more people to the list of folks who possess more patience than me. That list is getting longer. This from the site: Colored Pencil Sculptures at WomansDay.com - Jennifer Maestre's Extreme Art. Miniature Art On the Tip of Pencil by Dalton Ghetti: Pics, Videos, Links, News. Drawings That Turns Into An Outstanding 3D Images. Love Injections. Top 10 examples of brilliant shadow art. 3D Paintings on Panes of Glass. FOTOS CURIOSAS DE COMIDA. Sheep Sculptures Made Out of Rotary Phones. Human creative painting | Standby Tire. Nail Art. Paper Cuts. Don't like reading? Read on… Books transformed into visual art. Video.
Folded Paper Art is...How the Hell? | Mick Landers. 80 Extreme Advertisements That Will Challenge Your Mind. Camouflage Female Forms Make Beautiful Bodies of Art. China's 'Invisible man' artist Liu Bolin disappears across the world. Sexy Tiger Bodypainting Art. Spring Cleaning of the Mind: Surreal Art Update. Waveofthefuture.jpg (JPEG Image, 2385x1314 pixels) - Scaled (47%) So mature. Brilliant Negative Space Illustrations by Noma Bar. Twelve Animals: World maps as Chinese zodiac. Gerald.jpg (JPEG Image, 475x774 pixels) - Scaled (84%) Present People comedy image | nuk3.com. Illustrations by Daniela Uhlig | Designerscouch #thecritiquenetwork. Book Publisher. UK Book Publishers. Book Publishing Company.
---