Produktivität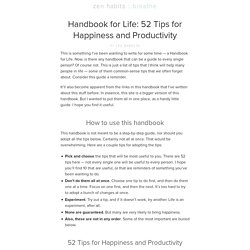 Post written by Leo Babauta .
Remember when you used to have a period at the beginning of every day to think about your schedule, catch up with friends, maybe knock out a few tasks? It was called home room, and it went away after high school. But many successful people schedule themselves a kind of grown-up home room every day. You should too.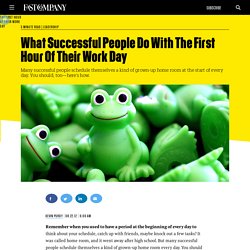 Heuristics are rules intended to help you solve problems.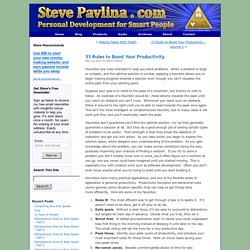 You might think that creatives as diverse as Internet entrepreneur Jack Dorsey, industrial design firm Studio 7.5, and bestselling Japanese novelist Haruki Murakami would have little in common. In fact, the tenets that guide how they – and exceptionally productive creatives across the board – make ideas happen are incredibly similar. Here are 10 laws of productivity we've consistently observed among serial idea executors: 1. Break the seal of hesitation. A bias toward action is the most common trait we've found across the hundreds of creative professionals and entrepreneurs we've interviewed.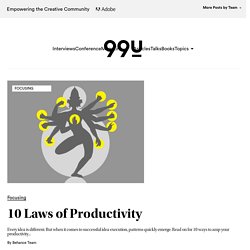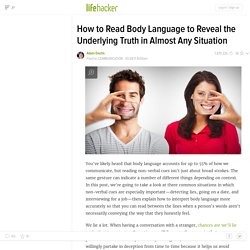 You've likely heard that body language accounts for up to 55% of how we communicate, but reading non-verbal cues isn't just about broad strokes. The same gesture can indicate a number of different things depending on context. In this post, we're going to take a look at three common situations in which non-verbal cues are especially important—detecting lies, going on a date, and interviewing for a job—then explain how to interpret body language more accurately so that you can read between the lines when a person's words aren't necessarily conveying the way that they honestly feel.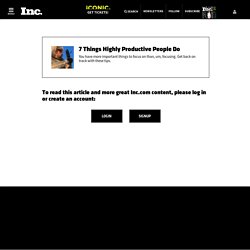 You have more important things to focus on than, um, focusing.
HOW TO: Use Facebook for Professional Networking
Boris Epstein is the CEO and Founder of BINC , a Professional Search Firm that specializes in the Software Marketplace.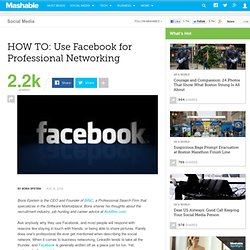 12 Tips to Make Your Company More Creative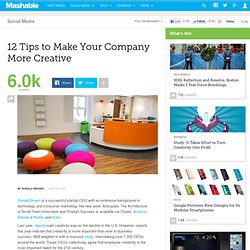 Ronald Brown is a successful startup CEO with an extensive background in technology and consumer marketing. His new book, Anticipate. The Architecture of Small Team Innovation and Product Success is available via iTunes, Amazon , Barnes & Noble , and Kobo .
How to Energize Your Career to Continue Growing, Learning, and Improving
You've got meetings to attend. Deadlines to meet. Errands to run.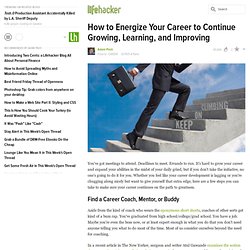 The Stupid Things You Do at Work (and How to Fix Them)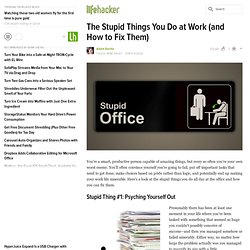 You're a smart, productive person capable of amazing things, but every so often you're your own worst enemy.
Geheimwissen für die Karriere - So kommen Sie ans Berufsziel
Arbeitnehmer in Deutschland besitzen ein erschreckend lückenhaftes Wissen darüber, wie man in Unternehmen erfolgreich Karriere macht. Dies ist das überraschende Ergebnis einer aktuellen Studie des Karriere-Experten Christoph Burger. Egal ob es um Gehaltsforderungen geht, um die Beachtung von Hierarchien oder um die Flexibilität bei der Job-Suche - die richtigen Antworten auf wesentliche Karrierefragen kennt der Untersuchung zufolge nur eine schmale Minderheit. Mit insgesamt 40 Fragen klopfte Christoph Burger das Basis-Know-how für die Karriere ab. Selbst der beste Teilnehmer konnte lediglich 65 Prozent gestellten Fragen beantworten. Im Durchschnitt waren es gerade mal 41 Prozent.
Häufig pflegen IT-Freiberufler die eigene Seite nur als Visitenkarte oder verzichten sogar ganz darauf. "Noch vor wenigen Jahren wurde gepredigt, dass jeder IT-Berater eine eigene Web-Seite braucht. Aber was nützt eine Seite, die keiner findet, weil man den Namen des Freiberuflers nicht kennt?", fragt sich Dirk Bisping, Vorstand im Bundesverband Selbständige in der Informatik (BVSI).
Wie IT-Freiberufler erfolgreich in sozialen Netzen agieren - Xing, Linkedin und Co.
Workshop - Private Cloud mit Eucalyptus - Arbeiten in der eigenen Wolke
von Thomas Hümmler Thomas Hümmler ist freiberuflicher Journalist und beschäftigt sich mit Betriebssystemen, Office-Anwendungen, freier Software, dem Internet und anderen IT- und Technik-Themen. Eucalyptus ist eine Open-Source-Nachimplementierung des Infrastrukturdienstes von Amazon EC2 für Cloud Computing. Wie man eine eigene Cloud mit Eucalyptus unter dem aktuellen Ubuntu-Betriebssystem aufbaut, zeigt dieser Workshop. Cloud Computing stellt IT-Infrastrukturen wie Datenspeicher, Netzwerk - und Rechenkapazitäten dynamisch über ein Netzwerk zur Verfügung. Weil der Nutzer diese Infrastruktur nicht direkt sieht und sie für ihn undurchsichtig erscheint, redet der Experte von einer "Wolke".
Die besten Netzwerk-Tools für kleine und mittlere Windows-LANs - Netzwerk-Tools für Administratoren | Update: Query Application und Etoolz: Wenn weniger Funktionen genügen
Update: Query Application und Etoolz: Wenn weniger Funktionen genügen
von Johann Baumeister Dipl. Inform. Johann Baumeister blickt auf über 25 Jahre Erfahrung im Bereich Softwareentwicklung sowie Rollout und Management von Softwaresystemen zurück und ist als Autor für zahlreiche IT-Publikationen tätig. Sie erreichen ihn unter jb@JB4IT.de , 21.03.2013 (aktualisiert)
Ratgeber - Cloud Computing für kleine und mittelständische Unternehmen - Wege in die Private Cloud
Aktuelle Informationen der Bundespsychotherapeutenkammer
Aktuelle Informationen der Bundespsychotherapeutenkammer
Planning, Building and Managing a Private Cloud - Microsoft Virtual Academy
Persönliches / personally sense