PHOTOSHOP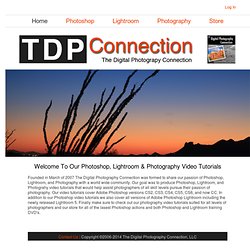 Founded in March of 2007 The Digital Photography Connection was formed to share our passion of Photoshop, Lightroom, and Photography with a world wide community. Our goal was to produce Photoshop, Lightroom, and Photograhy video tutorials that would help assist photographers of all skill levels pursue their passion of photography. Our video tutorials cover Adobe Photoshop versions CS2, CS3, CS4, CS5, CS6, and now CC.
Photography | Photoshop | Lightroom | Video | Tutorials | Reviews
Learning about Typography part 4 Typography is such a big part of design, and yet it can be daunting and scary and passed over by us as designers because we just are not really aware of the rules and what to do. Cameron Chapman has done a series of wonderful articles that I came across that I wanted to share the links with you so that you and I can become better type practitioners. So make sure you go over to Noupe.com and check out this final article in the series and then maybe follow some of the links that Cameron has provided to learn even more. http://www.noupe.com/design/a-crash-course-in-typography-pulling-it-all-together.html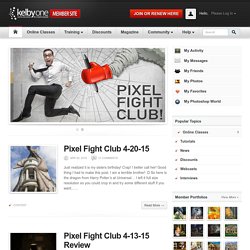 Photoshop tutorials are one of the most popular subjects on the web, as the digital art community continues to grow and new designers bring their unique skills. However, quality Photoshop tutorials that teach you a useful effect, have a quality finished result and are well explained are harder to find, and with the large number of tutorial sites available, it can be hard to sort the quality from the mundane. In this massive roundup, we've collected the top 100 best Photoshop tutorials that have ever been created, that yield professional results, teach you a useful effect, are well explained, and will have you designing like a pro in no time. These tutorials are collected from niche tutorial sites around the web, and range in age from creation in 2008 to a few tutorials that were created just last week. So, if you think you've seen all there is to see from Photoshop, guess again and check out this post.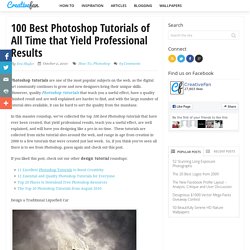 Free Photoshop Video Tutorials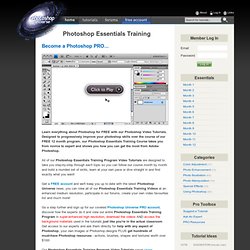 Learn everything about Photoshop for FREE with our Photoshop Video Tutorials. Designed to progressively improve your photoshop skills over the course of our FREE 12 month program, our Photoshop Essentials Training Course takes you from novice to expert and shows you how you can get the most from Adobe Photoshop. All of our Photoshop Essentials Training Program Video Tutorials are designed to take you step-by-step through each topic so you can follow our course month by month and build a rounded set of skills, learn at your own pace or dive straight in and find exactly what you want! Get a FREE account and we'll keep you up to date with the latest Photoshop Universe news, you can view all of our Photoshop Essentials Training Videos at an enhanced medium resolution, participate in our forums, create your own video favourites list and much more!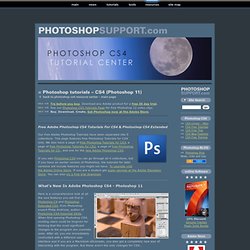 PHOTOSHOP
Try before you buy. Download any Adobe product for a free 30 day trial. See our Photoshop CS5 Tutorials Page for free Photoshop 12 video clips.