Le Web est-il mort ?
lagencedecom : A.Montebourg " we need to slow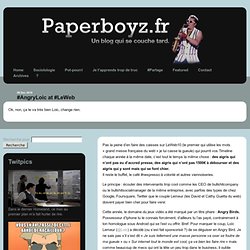 #AngryLoic at #LeWeb
Pas la peine d'en faire des caisses sur LeWeb10 (le premier qui utilise les mots « grand messe française du web » je lui casse la gueule) qui pourrit vos Timeline chaque année à la même date, c'est tout le temps la même chose : des aigris qui n'ont pas eu d'accred presse, des aigris qui n'ont pas 1500€ à débourser et des aigris qui y sont mais qui se font chier.
L'artiste le plus égocentrique de la planète, Prince, vient de faire une déclaration choc lors d'une interview qu'il a accordée il y a quelques jours au journal anglais Daily Mirror, à l'occasion de la sortie imminent de son nouvel album 20Ten.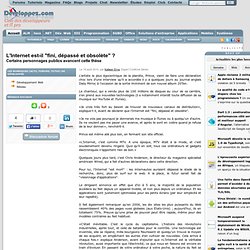 L'Internet est-il "fini, dépassé et obsolète" ? Certains personnages publics avancent cette thèse
"Le Web est mort" ? Bizarre, son cadavre bouge encore
L'usage d'Internet tel qu'on le connaît est dépassé selon Chris Anderson, du magazine Wired.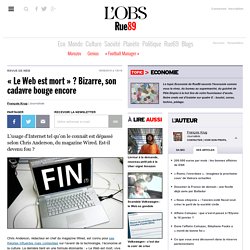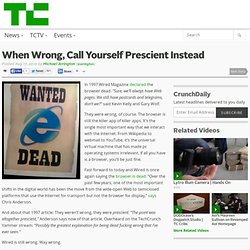 In 1997 Wired Magazine declared the browser dead. "Sure, we'll always have Web pages.
When Wrong, Call Yourself Prescient Instead
Who's to Blame:Us As much as we love the open, unfettered Web, we're abandoning it for simpler, sleeker services that just work. by Chris Anderson You wake up and check your email on your bedside iPad — that's one app.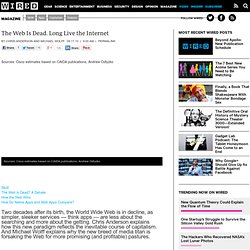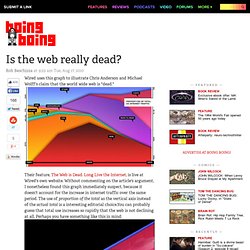 Is the web really dead?
Wired uses this graph to illustrate Chris Anderson and Michael Wolff's claim that the world wide web is "dead."
Wired Declares The Web Is Dead—Don't Pull Out The Coffin Just Yet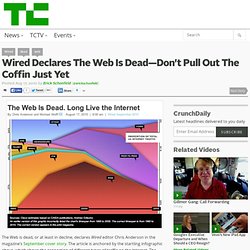 The Web is dead, or at least in decline, declares Wired editor Chris Anderson in the magazine's September cover story. The article is anchored by the startling infographic above, which shows the proportion of different types of traffic on the Internet.