Organizare
10 Ways History's Finest Kept Their Focus at Work. Post written by Albert van Zyl from the blog HeadSpace.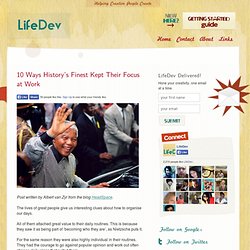 The lives of great people give us interesting clues about how to organise our days. All of them attached great value to their daily routines. This is because they saw it as being part of 'becoming who they are', as Nietzsche puts it. 50 Tricks to Get Things Done Faster, Better, and More Easily - S. We all want to get stuff done, whether it's the work we have to do so we can get on with what we want to do, or indeed, the projects we feel are our purpose in life.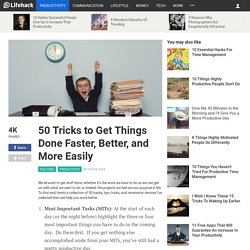 To that end, here's a collection of 50 hacks, tips, tricks, and mnemonic devices I've collected that can help you work better. Most Important Tasks (MITs): At the start of each day (or the night before) highlight the three or four most important things you have to do in the coming day. How to Work Like the Masters | LifeRemix. Written by Jay of Dumb Little Man.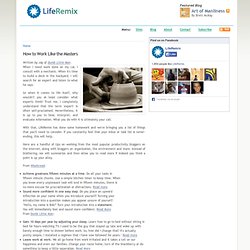 When I need work done on my car, I consult with a mechanic. When it's time to build a deck in the backyard, I will search for an expert and listen to what he says. So when it comes to life itself, why wouldn't you at least consider what experts think? Mindshifting to Mindful Coaching: Managing Your Attention So You Can Think, Focus, and Lead, Feature Article (BCW V6, I3)
Mindshifting to Mindful Coaching: Managing Your Attention So You Can Think, Focus, and Lead By Joshua Ehrlich Summary All of us are running faster and faster as technology shreds our attention.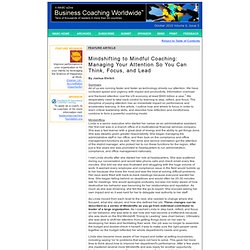 D*I*Y Planner | Paper, productivity & passion. Assignment to keep organized: home organization, organize, work organization, storage solutions, control clutter | how to organize | organization tips | closet organizer | pretty office supplies | office products | Penelope Loves Lists. 15 Time Boxing Strategies to Get Things Done. Putting it simply, time boxing is the most effective time management tool that I know of.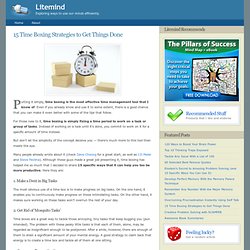 Even if you already know and use it to some extent, there is a good chance that you can make it even better with some of the tips that follow. For those new to it, time boxing is simply fixing a time period to work on a task or group of tasks. Instead of working on a task until it's done, you commit to work on it for a specific amount of time instead. But don't let the simplicity of the concept deceive you — there's much more to this tool than meets the eye. Many people already wrote about it (check Dave Cheong for a great start, as well as J.D Meier and Steve Pavlina). PocketMod: The Free Recyclable Personal Organizer. Free Online Calendar For Busy Families | Cozi.
Login. 10 Benefits of Rising Early, and How to Do It | zen habits. "Early to bed and early to rise makes a man healthy, wealthy and wise" – Ben Franklin, famously "Put no trust in the benefits to accrue from early rising, as set forth by the infatuated Franklin …" – Mark Twain By Leo Babauta Recently, reader Rob asked me about my habit of waking at 4:30 a.m. each day, and asked me to write about the health benefits of rising early, which I thought was an excellent question.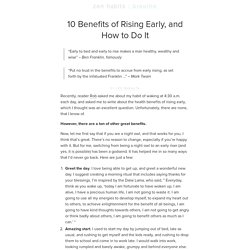 Unfortunately, there are none, that I know of. However, there are a ton of other great benefits. 7 Secrets of the Super Organized. A few years ago, my life was a mess.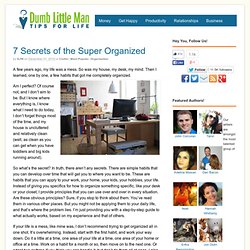 So was my house, my desk, my mind. Then I learned, one by one, a few habits that got me completely organized. 50 Tricks to Get Things Done Faster, Better, and More Easily. Khan Academy.
---