Mind, Soul, and Body
Exercise
28 Dignified Ways to Impress Everyone Around You. Post written by: Marc Chernoff Email Far more often than any of us like to admit, our actions are driven by an inner desire to impress other people.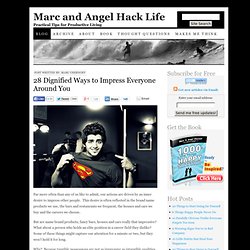 This desire is often reflected in the brand name products we use, the bars and restaurants we frequent, the houses and cars we buy and the careers we choose. But are name brand products, fancy bars, houses and cars really that impressive? What about a person who holds an elite position in a career field they dislike?
50 Life Secrets and Tips. 100 Very Cool Facts About The Human Body. The Brain The human brain is the most complex and least understood part of the human anatomy.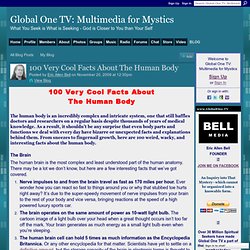 There may be a lot we don't know, but here are a few interesting facts that we've got covered. Nerve impulses to and from the brain travel as fast as 170 miles per hour. 101 Positive Affirmations That Kick Your Inner Critic's Ass. Marc and Angel Hack Life - Practical Tips for Productive Living.
Www.menshealth.com/mhlists/diy_health_remedies/printer.php. Eating 10 hot dogs in 6 minutes and belching the national anthem may impress your friends, but neither of those feats will do much for your body—at least not much good.
Instead, why not train yourself to do something that may actually pay off? We're not talking bench presses and interval training (though those do help). You can teach your body to cure itself from everyday health ailments—side stitches, first-date jitters, even hands that have fallen asleep. Just study this list, and the next time your friends challenge you to an ice cream eating contest, chow down: You know how to thaw a brain freeze—and 17 other tricks that'll make everyone think you're the next David Blaine.
Tackle Any Issue With a List of 100. The List of 100 is a powerful technique you can use to generate ideas, clarify your thoughts, uncover hidden problems or get solutions to any specific questions you're interested in.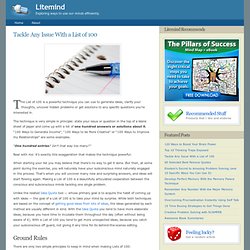 The technique is very simple in principle: state your issue or question in the top of a blank sheet of paper and come up with a list of one hundred answers or solutions about it. "100 Ways to Generate Income", "100 Ways to be More Creative" or "100 Ways to Improve my Relationships" are some examples. "One hundred entries? Isn't that way too many?" Best Natural Pain Remedies. 60 Ways To Make Life Simple Again. Email When we were young life was easier, right?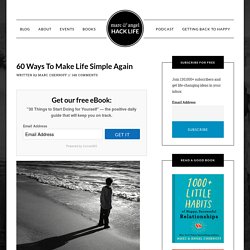 I know sometimes it seems that way.
---