Sites
Artcyclopedia: The Fine Art Search Engine. SF art & design portal. Brickpicker: Lego Investing, Lego Collecting & Lego Price Guide. The new kind of art gallery that everyone's talking about! - home. Fan Write Friday™ Presentation tool based on the power of CSS3 transforms and transitions in modern browsers | by Bartek Szopka @bartaz.
Aren't you just bored with all those slides-based presentations?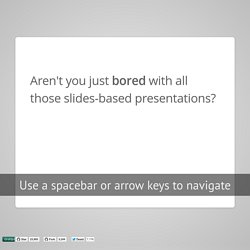 Don't you think that presentations given in modern browsers shouldn't copy the limits of 'classic' slide decks? Would you like to impress your audience with stunning visualization of your talk? Then you should try It's a presentation tool inspired by the idea behind prezi.com and based on the power of CSS3 transforms and transitions in modern browsers. visualize your big thoughts. LET'S STAY. DesignTAXI - Creativity and Innovation Daily. Ostrich Pillow by Kawamura-Ganjavian. Product news: this squishy headgear by Spain and Switzerland-based studio Kawamura Ganjavian creates the perfect conditions for a power nap at your desk, at the airport or in the library (+ movie).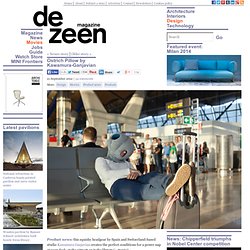 The Ostrich Pillow's padded sides allow the wearer to take a warm and comfortable nap. The eyes and ears are covered while pockets provide a cosy space for hands when leaning on a desk. "Seeing as we all spend more and more time at work, in front of a computer screen or in transit, we thought why not create something that helps us nap, disconnect and dream? " Explore. Cubescape. The Daily Life of a Jungle Cat. Free Range Art & Design Show | Old Truman Brewery | London. Create an account to find creatives. Return to The Creative Finder Be it for networking, collaboration, or for inspiration...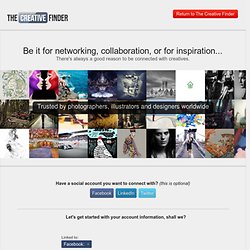 There's always a good reason to be connected with creatives. Have a social account you want to connect with? Cruzine - the place, where knowledge becomes live. Fabbaloo Blog - Fabbaloo - Daily News on 3D Printing. Arco - The UK's leading suppliers of safety equipment, workwear, safety boots and shoes, gloves and maintenance supplies. The Rolling Bench.
Disney Princesses In Accurate Period Costume. These are very beautiful drawings!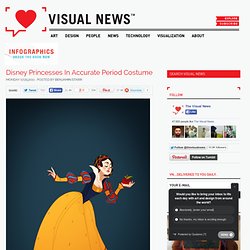 Although I am sad to see Belle looking so unlike herself. On a different note: I'd love to know what the reference was for the period costuming for each Princess. Pondly. From up North | Design inspiration & news. Koikoikoi | Be Creative. TRENDLAND: FASHION & TREND BLOG + ART + DESIGN + PHOTOGRAPHY. The Jailbreak – Infotainment for Creatives. Cradle by Ball-Nogues Studio. Cradle is a sculpture installed on the exterior wall of a parking lot in Santa Monica, California by Ball-Nogues Studio, originally designed by Frank Gehry.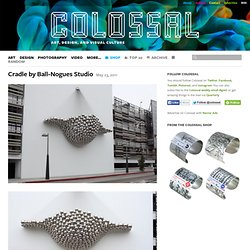 An aggregation of mirror polished stainless steel spheres, the sculpture functions structurally like an enormous Newton's Cradle – the ubiquitous toy found on the desktops of corporate executives in Hollywood films. Each ball is suspended by a cable from a point on the wall and locked in position by a combination of gravity and neighboring balls. Materialicious. Fancy. BLDGWLF. Colossal | An art and design blog.
---