Hopping for spirit
Living the Law of One – 101: The Choice. Publications Living the Law of One – 101: The Choice Written by Carla L.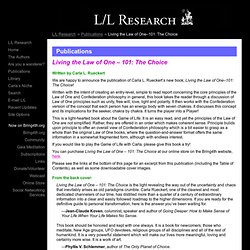 Rueckert. THE FORCES OF LIGHT – GROUND CREW ENACTING DISCLOSURE, from 'Hilda' I had a vision from the light forces showing me the following symbols/picture guided with indigo blue and violet lights: people standing in pillars of light (near future),within an upwards and downwards spiral of light (vortex/DNA spiral).
Above their heads in the spiraling pillar of Isis, which represents the activation of the female principle, the etheric chakra's above the heart. The downwards spiral provided by rainbow ships in the sky, sharing their energies with the people on the surface, activating the 144.000. With the knowing/insight: there is a sequence in which events happen.I n terms of energy, use what you already know to explain. To explain, I have to go back to the channeling of Montague Keen received on 8 december 2013:
Matias deStefano. Project PUSH June 25th 2014 | Awakened Hearts. June 25th 2014 6-14-14 Special information on the upcoming PUSH: Please scroll down to find some important updates we have added to our original message.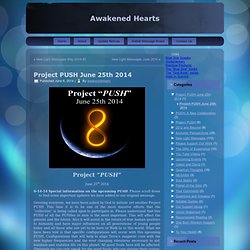 Greeting everyone, we have been asked by God to initiate yet another Project PUSH. Blue Star Transmissions | Blue Star Speaks. The Blue Star transmissions Special Edition 6-23-14 to 8-25-2014 Blue Star the Pleiadian's June transmission also contains messages from Master Kato and the collective of Masters.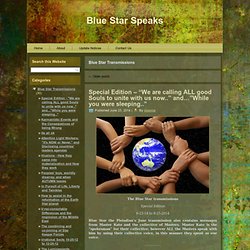 Master Kato is the "spokesman" for their collective; however ALL the Masters speak with him by using their collective voice, in this manner they speak as one voice. "We are calling ALL good Souls to unite with us now.." A Vision of A Beautiful New World - Waking Times. Truth Codes. Truth Codes "LOVE is the answer, no matter the question" (c) Karen Dover ← High Council of Orion message for 6th July 2014 Exiting the Old 3D Earth Reality BOOK → Posted: July 6, 2014 | Author: Karen Dover | Filed under: Birthing the New Earth, expansion, LOVE | Tags: consciousness, emotions, human vehicle, Karen Dover, LOVE |1 Comment About these ads.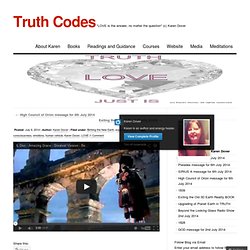 9 Mind-Bending Epiphanies That Turned My World Upside-Down. David Cain, RaptitudeWaking Times Over the years I've learned dozens of little tricks and insights for making life more fulfilling.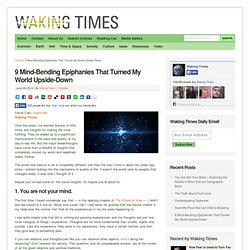 They've added up to a significant improvement in the ease and quality of my day-to-day life. Love Song of the Universe. There is a war in Heaven and while it affects humanity it does not belong to them, nor are they the cause, though they are the reason.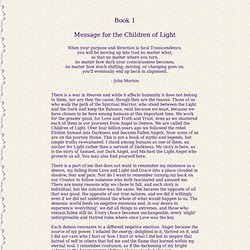 Those of us who walk the path of the Spiritual Warrior, who stand between the Light and the Dark and keep the Balance, exist because we must, because we have chosen to be here among humans at this important time. We work for the greater good, for Love and Truth and Trust, even as we shattered each of them in our journeys from Angel to Demon. We are called the Children of Light. Over four billion years ago we followed the rebel Elohim Samael into Darkness and became Fallen Angels. Now some of us are on the journey Home. Sai Baba of Shirdi. Sai Baba of Shirdi (1838 – 15 October 1918; Resides in Shirdi), also known as Shirdi Sai Baba, was a spiritual master who was and is regarded by his devotees as a saint, fakir, avatar (an incarnation of God), or sadguru, according to their individual proclivities and beliefs.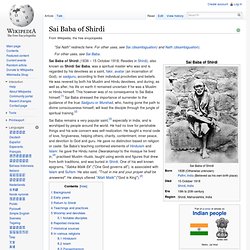 He was revered by both his Muslim and Hindu devotees, and during, as well as after, his life on earth it remained uncertain if he was a Muslim or Hindu himself. This however was of no consequence to Sai Baba himself.[1] Sai Baba stressed the importance of surrender to the guidance of the true Sadguru or Murshad, who, having gone the path to divine consciousness himself, will lead the disciple through the jungle of spiritual training.[2] John Lash - Sophia's Correction. Nature of Reality Radio Online Radio by NatureofReality | BlogTalkRadio. 10 Steps to Free Yourself From the Conspiracy Against Enlightenment. Dylan Charles, EditorWaking Times To those who've made the effort to cultivate their spiritual nature and who've learned to see beyond the five sense reality that has most of us isolated in the material world, it is clear that enlightenment and higher states of consciousness are part of our original human nature.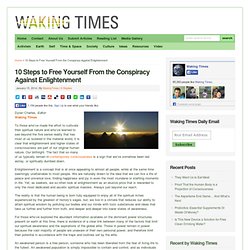 Our birthright. The fact that so many of us typically remain in contemporary consciousness is a sign that we've somehow been led astray, or spiritually dumbed down. Enlightenment is a concept that is at once appealing to almost all people, while at the same time seemingly unattainable to most people. The Baby and the Bath Water. "A general understanding of the suppressive power potential within tradition does not liberate us, except from the superficial aspects of behavior that form the outer shell of any actual tradition in operation.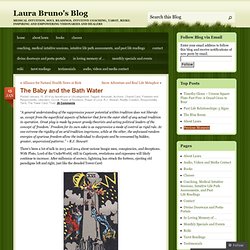 Great play is made by power greedy theorists and acting political leaders of the concept of 'freedom.' Freedom for its own sake is as suppressive a mode of control as rigid rule. Drunvalo Melchizedek : CONFIRMED DISINFORMATION : General Conspiracies. Drunvalo Melchizedek has written a number of books, The Ancient Secret of the Flower of Life: Volumes one and two, and this one... Serpent of Light: Beyond 2012 I mean... I really don't need to say much here, his book has a pyramid with the top illuminated, and the book is called the SERPENT OF LIGHT... I have known about this guy for a little while now and have found him to be more than sketchy.
He says he gets a lot of his information from two angles and the Egyptian god Thoth. Galactic History. Tell the "Lords" of Karma That You Are Sovereign – No Longer a Lightworker Part 2 | Ascension Help Blog. It has been a while since I published a long article, and I have been working for many hours on this follow-up to the August article, Why I Am No Longer a Lightworker.
That piece generated a lot of positive responses, as well as tremendous resistance and scorn from those within the New (c)Age movement who are heavily invested in the illusions of the false light. I know that much of what I revealed in that article was difficult to accept, but I am committed to Truth, wherever it leads. This article is going to pick up where the last one left off, so if you haven't already read the first part, please go read that first because the terms defined in Why I Am No Longer a Lightworker will be used here without any definitions. The "Lords" of Karma The false-light demiurgic parasites known as the "Lords" of Karma are perhaps the worst violators of free-will that I have encountered, second only to the corrupt demiurge itself. Metaphysical Musing. What Are Spirits? Bob Makransky, Shamanic JourneyWaking Times Most people rely upon the dictates of their society to know what to do – what they've been taught by their parents, teachers, pastors, bosses, advertisers, and the media.
Magicians, by contrast, rely upon the counsel of spirits, at least until they've got their own intuition and intent operating. Many of You are not Equipped to Deal with 3D life 8 July 2013 by Multidimensional Ocean | Multidimensional Ocean. Greetings dear ones, we are the Arcturian group. We wanted to salute once again your courage for being part and embracing the material world on Gaia. You accepted to come down on Mother Earth and to descend from being fully conscious beings to being limited by the material form you have taken. 4 Gates of Consciousness – Akashic Records.
The Divine and the Demonic Frequency Waveforms. Spirit Science 6 ~ Flower of Life (FIXED) Everyday Spirituality - Life as Prayer. Archons, ETS, Creation, Galactic History and The Future of Humanity Andrew Bartzis. Meredith Murphy – Archangel Michael – Living As Light Transforms Your Relationships – 11 September 2013. Who Would Mow the Grass? | Heavenletters. Sandra Walter – Transfiguration : Truth And Triggers – 29 August 2013. The Revolutionary Nature of the Four Noble Truths. ~ Daniel Scharpenburg.
Dylan Charles: Waking from the Waking Dream. Bella Capozzi: The Crystal Dolphin Pod. "The Great Crystals Of Atlantis." Deeksha /black tantra? - Deeksha danger. James Gilliland: 5D Incoming and Relationships. Heavenletters: Easy-Going is the Path. Heavenletters: You Are the Truth. Bella Capozzi: A QHHT Client Story. Part I: Cassie's Journey To Earth's Earliest Days. James Tyberonn – Archangel Metatron: Renaissance of the Golden Age – Rediscovering Joy. Ute Posegga- Rudel: The Good, The Bad And The Absolute – 20 May 2013. Gillian Macbeth-Louthan: White Buffalo Calf Woman Speaks.
Denise Le Fay: Late May 2013 Update. Inelia Benz: Mass Media Changing Paradigm? What? Ronna Herman – Message From Archangel Michael – The Essence Of Who You Are. Transcript: Lao Tzu on Humility on Heavenly Blessings. Sirius: Seriously—you can watch it now. Heavenletters: Truth and Illusion. Emotions and solar flares. 04-04-2013 Forgiving And Ho'oponopono. Pulling Back the Curtain on the Feminine Divine. The False Enlightenment - Tobias Lars. Don't be Pissed off by the Things. Panache Desai: we are now in a vibrational paradigm.
Creating Sacred Space To Better Communicate With The Sacred In Your Life. Ben Arion: You're Not a Wave, You're Part of the Ocean. Suzanne Lie: Arcturians and Symptoms of Transformation. DL Zeta: Re-Inventing Ourselves with the "Upgraded" Potentials of the New Time. HUMANITY'S CHANGE OF DIRECTION. THE ARCTURIANS: YOUR PARENT'S GODHOOD. Suzanne Lie: The Alchemy of Creation, Part 4 – Recalibrating the Chakras. The Laws of Eternity. Blue Dragon Journal | a starseed's journey. Pamela Kribbe – Mary Magdalene: Awakening Your Ability to Channel. The Divine Mother via Linda Dillon: Blessing for Nova Earth Day (Feb 14, 2013) Irma Kaye Sawyer – How to be Your Own Guru. Brian, the Dragon: The Exponential Speedup of the Perception of Time. Gillian MacBeth-Louthan – Whipping Up Some Miracles – 13 August 2013.
Montague Keen – 26 August 2013. Marlene Swetlisshoff – Hilaron – 25 August 2013. WakingTimes – The Harvesting Of Souls & Sanskrit Text – 22 August 2013. Nurturing our gardens. Rainbowphoenixcom.ipage.com/Archives/20130819P.pdf. Brenda Hoffman – Strut Your Stuff – 21 August 2013. 10 Tibetan Buddhist Women You Need to Know. ~ Michaela Haas. Sophia Love - Our Song. QUAN (KWAN) YIN : HOMOSEXUALITY | The Great Awakening. When Will You Use Your Power? ~Atlantis and Lemuria~ And Humanity's Inevitable Awakening~ « Spiritual Connectedness. Shopping For Spirit The Search For Truth, Part Seven, by Steve Gamble. Regarding The Galactic Federation Of Light Petition By Chris Thomas by Chris Thomas | The Spirit Guide. The Stargate Conspiracy | Cassiopaea. THE UFO SEDUCTION – BY KELLY LA SHA AND PERRY MILLS. M06. ETs and their activities - 2001. Updated July 2001. 2012: What's the 'real' truth? | To find out, I hold a finger in the breeze.
Bases 8:- Chris Thomas Part 2. Another George Kavasillas video…"2013 March Equinox – Real Ending of Precessional Cycle" [this is "blowing me away" as I write this...] George Kavassilas - Not giving our power away!!!! Part 1. Why I Am No Longer a Light Worker - Transcending Duality | Ascension Help Blog.
Moji. Meditations. U-tubes. 5D. Indigo. Forgiveness.
---