Sweets
Rainbow Tie Dye Cake. Today I am sharing a cake that is guaranteed to brighten your day!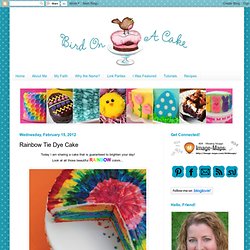 Look at all those beautiful RAINBOW colors... This cake combines the awesomeness of tie dye and rainbows... Doesn't it make you smile? I used the cake coloring technique (not the recipe) found at Omnomicon. I wanted the outside of my cake to be as colorful as the inside, so I added my own tie dye design to the top. The Best Banoffee Pie. I'm sitting here hemming and hawing over how to convince you to make this pie NOW without coming across as pushy.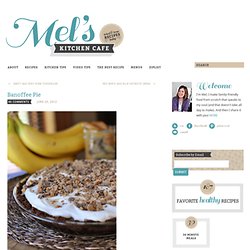 (Me? Pushy? Never!) 10 Totally Adorable Thanksgiving Cupcakes, Cookies and Baking Ideas. Looking for some adorable baking ideas for Thanksgiving?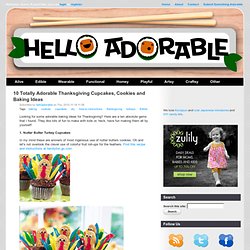 Here are a ten absolute gems that I found. They like lots of fun to make with kids or, heck, have fun making them all by yourself! 1. Nutter Butter Turkey Cupcakes. Thanksgiving Cupcakes. Peanut Butter and Jelly Baby Lattice Pies. Good Tuesday to you!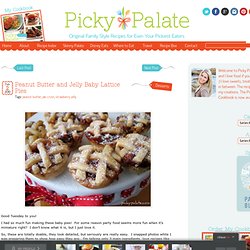 I had so much fun making these baby pies! For some reason party food seems more fun when it's miniature right? I don't know what it is, but I just love it. Cinnamon Roll Waffles. Cinnamon Roll Waffles I've had a tough time forgetting about those Cinnamon Roll Pancakes that I posted a few weeks ago.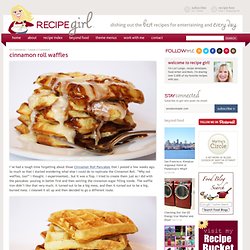 So much so that I started wondering what else I could do to replicate the Cinnamon Roll. "Why not waffles, too?" I thought. Monday Morning Mmmm: Pink Lemonade Cake — Giving Up on Perfect. Roy G. Biv Smoothies. I've had a few requests over the last few weeks for some smoothie recipes because I let it slip that Betsy and I generally just have a big smoothie for breakfast everyday.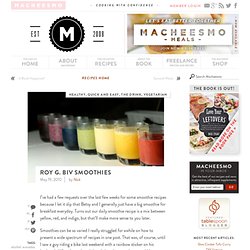 Turns out our daily smoothie recipe is a mix between yellow, red, and indigo, but that'll make more sense to you later. Smoothies can be so varied I really struggled for awhile on how to present a wide spectrum of recipes in one post. That was, of course, until I saw a guy riding a bike last weekend with a rainbow sticker on his backpack. When I saw the rainbow I thought, now those would be some awesome smoothies! Anytime I think of a rainbow, I can't help but think of the mnemonic device for remembering the order of the colors: ROY G. Butterbeer Cupcakes recipe. Easy As 1, 2, 3 | Churros with Chocolate Dipping Sauce » toasty biscuit. The other day my friend sent me a text and asked, "I want to try making doughnuts and want to make churros but they look difficult.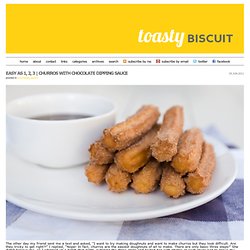 Are they tricky to get right?!" I replied, "Nope! In fact, churros are the easiest doughnuts of all to make. There are only basic three steps!" Top 10 Popular Shot & Shooter Recipes | The Intoxicologist. Today, September 22, marks the day for the fastest drinking record; Dustin Phillips of the United States consumed a 14 ounce bottle of Ketchup through a 1/4" straw in 33 seconds flat ten years ago.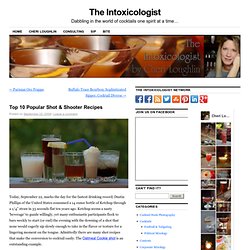 Ketchup seems a nasty 'beverage' to guzzle willingly, yet many enthusiastic participants flock to bars weekly to start (or end) the evening with the downing of a shot that none would eagerly sip slowly enough to take in the flavor or texture for a lingering moment on the tongue. Admittedly there are many shot recipes that make the conversion to cocktail easily. The Oatmeal Cookie shot is an outstanding example. However, many prefer shots and shooters too horrid to down without holding the nose or throwing them back feverishly with a beer chaser or *gasp* water back. PMS Cookies | Cookies Recipes. The Ultimate Strawberry Lemonade. One of the first times I ever realized that – HEY!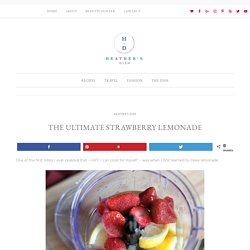 I can cook for myself! – was when I first learned to make lemonade. I magically found the refrigerated lemon juice at our house and followed the directions to make my own lemonade. I stirred and stirred and stirred again until that sugar was finally dissolved. Colorful swirled cupcakes | Chica and Jo. With as many ways as there are to decorate cupcakes, they can be really boring if you just slap some plain icing on them.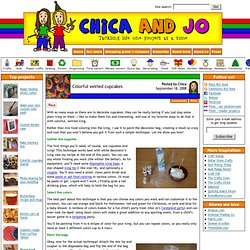 I like to make them fun and interesting, and one of my favorite ways to do that is with colorful, swirled icing. Rather than mix food coloring into the icing, I use it to paint the decorator bag, creating a result so crazy and cool that you won't believe you got it from such a simple technique. Let me show you how! Gather the supplies The first things you'll need, of course, are cupcakes and icing! Watermelon Lime Lemonade | Life and Kitchen. The Pastry Affair - Home - Butterbeer. This is part III in a mini-series of Harry Potter snacks from the books brought to life (part I is on Honeydukes treats, part II is all about the cauldron cakes, and part IV showcases decadent butterbeer cupcakes).
Last August, my family made the two thousand mile journey to the Wizarding World of Harry Potter at Universal Studios. Orlando has always been one of my family's favorite vacation destinations. Add in my love (and obsession) with Harry Potter and we all knew that once the park officially opened I couldn't be kept away for long. On the big day, we woke up at an obscene hour to a bright dawn. While the rest of my family was dragging their feet and speaking in yawns, I was too excited to dwell on my lack of sleep and tired eyes. How to make surprise marbled Easter eggs. | NARCISSISM IS NECESSARY. Okay, I've got a confession to make. I don't really celebrate Easter. I don't really know why it's celebrated either but please feel free to educate me in the comments below.
What I know is that it's associated with rabbits, chocolates and eggs. Chocolate Mocha Cupcake. Double Chocolate Mocha Crunch Cupcake ~ These are messy. Don't be fooled by the pretty piping. I dare you to bite into that highly stacked chocolate buttercream frosting and not get it all over your face. Remember those Carls Jr. commercials, "If it doesn't get all over the place it doesn't belong in your face"? Better-Than-Crack-Brownies. I'm sorry for doing this to you. I really am. But see, last Friday while I was on a 10-hour road trip heading for vacation, I received this recipe from a reader named Liz. Strawberry Champagne Slushies :: Une Vie Saine.
Homemade Soft Pretzel Bites. Homemade Soft Pretzel Bites On Fridays, I teach cooking classes to two kids in our neighborhood. They are pretty knowledgeable-so my job is easy:) I think it is fantastic that they want to learn how to cook at such a young age-they are in the 3rd and 4th grade. Since we don't have any kiddos yet, I am glad I get to work with these kids. We have a great time in the kitchen.
On Friday we made homemade soft pretzels,the traditional salty ones and cinnamon and sugar pretzels. The Pastry Affair - Home - Garlic Parmesan Pull-Apart Bread. Focaccia. How to Make Chocolate Ice-cream Cups Using Balloons - Funny Mike. Homemade Protein Bars « askGeorgie.com. Apple Cinnamon Rolls with Caramel Cream Cheese Icing. Easy Soft Pretzels.
---