How To Quilt
Quilting. Quilted skirt (silk, wool and cotton - 1770-1790), Jacoba de Jonge-collection MoMu, Antwerp / Photo by Hugo Maertens, Bruges.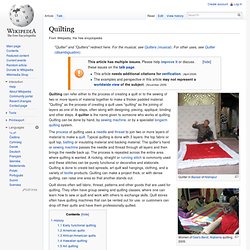 Quilting can refer either to the process of creating a quilt or to the sewing of two or more layers of material together to make a thicker padded material. "Quilting" as the process of creating a quilt uses "quilting" as the joining of layers as one of its steps, often along with designing, piecing, appliqué, binding and other steps. How To Quilt Online | Quilting Made Easy Have Fun Learning How To Quilt. Quilting For Beginners. Beginner Quilting - Quilting How to instructions. Patchwork and Quilting Techniques. Quilting Techniques. Get ready!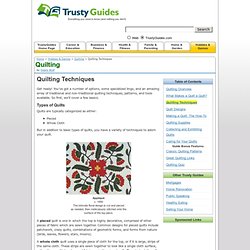 You've got a number of options, some specialized lingo, and an amazing array of traditional and non-traditional quilting techniques, patterns, and tools available. So first, we'll cover a few basics. Types of Quilts Quilts are typically categorized as either: Pieced Whole Cloth. Ideas for Quilting. Popular Patchwork.
---