How To Quilt
Quilted skirt (silk, wool and cotton - 1770-1790), Jacoba de Jonge-collection MoMu, Antwerp / Photo by Hugo Maertens, Bruges. Quilting can refer either to the process of creating a quilt or to the sewing of two or more layers of material together to make a thicker padded material. "Quilting" as the process of creating a quilt uses "quilting" as the joining of layers as one of its steps, often along with designing, piecing, appliqué, binding and other steps.
Quilting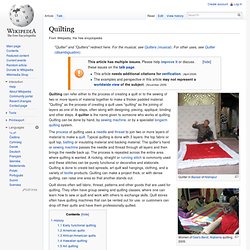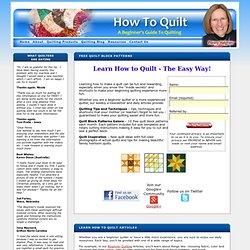 How To Quilt Online | Quilting Made Easy Have Fun Learning How To Quilt
"Hi, I am so grateful for this tip. I have been having exactly this problem with my machine and I thought I would need a new machine which I can't afford. I am so happy I can fix it myself.
Thanks so much for stopping here! So many of my quilting friends have told me that without help, quilting for beginners can be quite overwhelming! Some ladies (yes, it's usually us girls who are quilters) give up before they've even finished their first piece.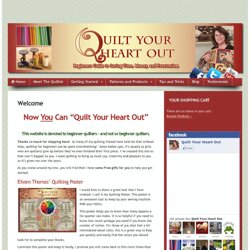 Quilting For Beginners
Quilting has been increasingly popular in recent times as one of the hottest DIY craft today. Quilting is not a new trend, in fact, women has been quilting since centuries ago. Quilting is an immensely satisfying past time, for us, it is addictive too!
Beginner Quilting - Quilting How to instructions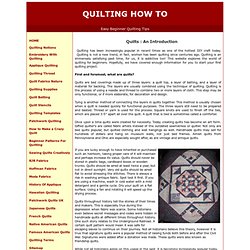 Patchwork and Quilting Techniques
Quilting Techniques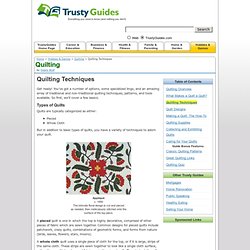 Get ready! You've got a number of options, some specialized lingo, and an amazing array of traditional and non-traditional quilting techniques, patterns, and tools available. So first, we'll cover a few basics. Types of Quilts Quilts are typically categorized as either: Pieced Whole Cloth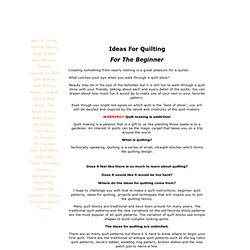 Technically speaking, Quilting is a series of small, straight stitches which forms the quilting design. Does it feel like there is so much to learn about quilting? Does it sound like it would be too hard? Where do the ideas for quilting come from? I hope to challenge you with how to make a quilt instructions, beginner quilt patterns, ideas for quilting, projects and techniques that will inspire you to join the quilting family.
Ideas for Quilting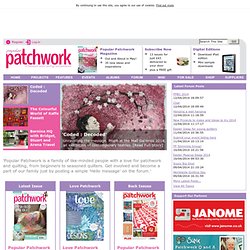 'Popular Patchwork is a family of like-minded people with a love for patchwork and quilting, from beginners to seasoned quilters. Get involved and become a part of our family just by posting a simple 'Hello message' on the forum.' 'Popular Patchwork and the wonderful forum - the home of great ideas and designs, lots of tips and hints and best of all, lots of super friends. You'll very soon be wondering how you ever lived without it!'
Popular Patchwork