Fun
Justpaste.it - Share Text & Images the Easy Way. Scribbler :: the original version :: zefrank. Drawter.com - DrawAble Markup Language. Programmer_hierarchy.png (PNG Image, 449 × 649 pixels) - Scaled (80%) Flowsheet.jpg (JPEG Image, 549 × 653 pixels) - Scaled (80%) Right left brain - Funny Photos. As seen in the Herald Sun -> The Right Brain vs Left Brain test ... do you see the dancer turning clockwise or anti-clockwise?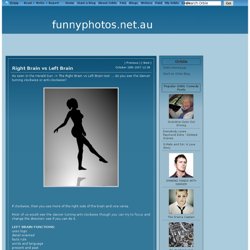 If clockwise, then you use more of the right side of the brain and vice versa. Most of us would see the dancer turning anti-clockwise though you can try to focus and change the direction; see if you can do it. LEFT BRAIN FUNCTIONS: uses logic detail oriented facts rule words and language present and past math and science can comprehend knowing acknowledges order/pattern perception knows object name reality based forms strategies practical safe RIGHT BRAIN FUNCTIONS: uses feeling "big picture" oriented imagination rules symbols and images present and future philosophy & religion can "get it" (i.e. meaning) believes appreciates spatial perception knows object function fantasy based presents possibilities impetuous risk taking. Cat in box. VirtualStapler.com : Revolutionary Online Stapler Simulation. Yellowtail (1998-) by Golan Levin. Canned Unicorn Meat.
CAT GETS 100 STARS (NEKOGAMES) Particles :: physics simulation | dhtml experiment :: seb chevrel. Tinygrow. Cubes.swf (application/x-shockwave-flash Object) Life is Fun! Star3. Your World of Text. BioMotionLab.
The Chromatic Typewriter. Washington-based painter Tyree Callahan modified a 1937 Underwood Standard typewriter, replacing the letters and keys with color pads and hued labels to create a functional "painting" device called the Chromatic Typewriter.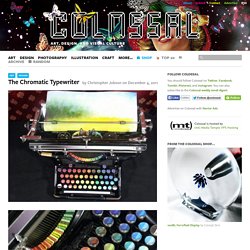 Callahan submitted the beautiful typewriter as part of the 2012 West Prize competition, an annual art prize that's determined by popular vote. I don't know how practical painting an image with a color typewriter is, but if Keira Rathbone can do it… (via dark silence in suburbia)
Quotes and facts. Flip Title ( ǝlʇıʇ dılɟ) : write upside down - flip your words,flip your text,reverse your text,upside down text,flip title, write upside down, mirror text. Flip Text Generator » Write Upside Down. Kuplamuovi.swf (application/x-shockwave-flash Object) Sketchpad - Online Paint/Drawing application. DRAWMINOS. Trivia not images. Cool. Play.
---