Random Amazingness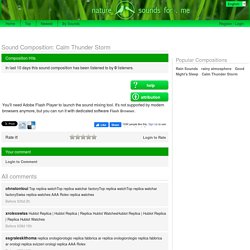 1. Choose a sound In order for nature sounds to start playing choose a sound from drop-down box for one channel and drag the volume slider up. 2.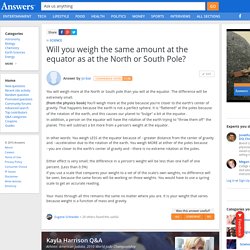 You will weigh more at the North or South pole than you will at the equator. The difference will be extremely small. (from the physics book)
Will you weigh the same amount at the equator as at the North or South Pole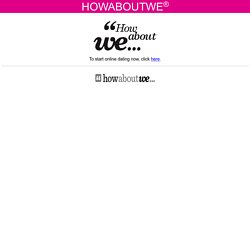 It's one of the quintessential (and sometimes dreaded ) first date questions: What kind of music are you into? There's a reason that most people tend to side-step this question with a deft, "A little bit of everything." It's because your taste in music reveals about you to potential partners.
What Your Taste In Music Says About You
Movies, like a sir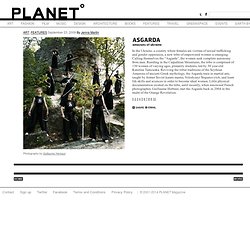 Asgarda | PLANET°
In the Ukraine, a country where females are victims of sexual trafficking and gender oppression, a new tribe of empowered women is emerging. Calling themselves the "Asgarda", the women seek complete autonomy from men. Residing in the Carpathian Mountains, the tribe is comprised of 150 women of varying ages, primarily students, led by 30 year-old Katerina Tarnouska. Reviving the tribal traditions of the Scythian Amazons of ancient Greek mythology, the Asgarda train in martial arts, taught by former Soviet karate master, Volodymyr Stepanovytch, and learn life skills and sciences in order to become ideal women. Little physical documentation existed on the tribe, until recently, when renowned French photographer, Guillaume Herbaut, met the Asgarda back in 2004 in the midst of the Orange Revolution.
Nigel Thornberry-Disney GIF GIF from Know Your Meme. Click here to view this gallery. Nigel Thornberry is back again. In what seems like an ongoing theme for The Wild Thornberrys character, Nigel keeps re-emerging on TV or online even though the show's original run ended in 2004.
Nigel Thornberry's Face on Disney Princesses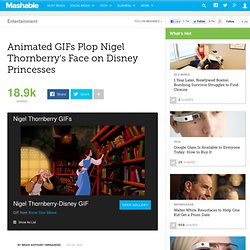 A zoo has landed itself in hot water after trying to pass off fluffy dogs as lions and rats as snakes. A clearly-marked sign claimed an animal in one of the cages was an African lion but visitors became infuriated when it was clear a chow chow dog was inside instead. Visitor Liu Wen said: 'I had my young son with me so I tried to play along and told him it was a special kind of lion. 'But then the dog barked and he knew straight away what it was and that I'd lied to him.' Elsewhere in the zoo, foxes were used to impersonate leopards and another dog was used to impersonate a wolf. And in their most creative feat a couple of rats, clearly scurrying around in a cage, were labelled snakes.
Zoo in China tries to pass off dog as a lion and rats as snakes
A Guide to America (for Australians)
Now the hairstyles, locations, outfits and fake tans might change – but there's one thing that doesn't and that's the expression of these 14 people. It doesn't matter where they are, birthday, party, club, prom night or a red carpet event – it's all one and the same. On the positive, you don't have to worry about looking bad when you're inevitable tagged on Facebook, the negative? YOU LOOK THE SAME IN EVERY PHOTO! So strap yourself in (some may make a short while to load) and prepare to to be dumb-founded, confused and hopefully hellishly amused. By the way, be sure to check out more animated GIF goodness right here
15 People That Look EXACTLY The Same In Every Photo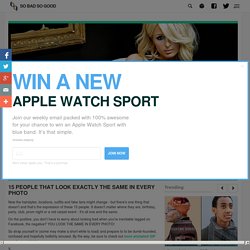 8 Unlikely Animal Friendships
Edward Lear, The Owl and the Pussycat
24 Funniest Yearbook Photos
20 Crazy Facts About The Making Of "The Nightmare Before Christmas"
Classical Mean Girls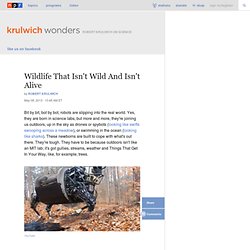 Bit by bit, bot by bot, robots are slipping into the real world. Yes, they are born in science labs, but more and more, they're joining us outdoors, up in the sky as drones or spybots ( looking like swifts swooping across a meadow ), or swimming in the ocean ( looking like sharks ). These newborns are built to cope with what's out there.
Wildlife That Isn't Wild And Isn't Alive
Abercrombie asks 'The Situation' to shop elsewhere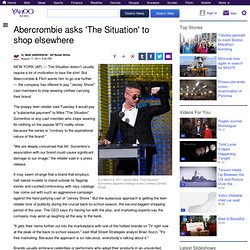 NEW YORK (AP) — The Situation doesn't usually require a lot of motivation to lose the shirt. But Abercrombie & Fitch wants him to go one further — the company has offered to pay "Jersey Shore" cast members to stop wearing clothes carrying their brand. The preppy teen retailer said Tuesday it would pay a "substantial payment" to Mike "The Situation" Sorrentino or any cast member who stops wearing its clothing on the popular MTV reality show because the series is "contrary to the aspirational nature of the brand." "We are deeply concerned that Mr. Sorrentino's association with our brand could cause significant damage to our image," the retailer said in a press release. It may seem strange that a brand that employs half-naked models to stand outside its flagship stores and courted controversy with racy catalogs has come out with such an aggressive campaign against the hard partying cast of "Jersey Shore."
"This is how I ride"
Harry Potter vs. Lord of the Rings: The Final Showdown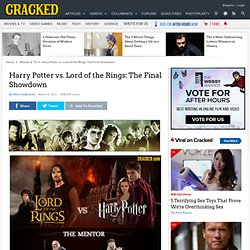 Other charts you might enjoy: Why Die Hard and Home Alone Are The Exact Same Movie 3 Steps to Not Sucking at Air Travel The Science Behind Stupidly Hot Peppers
Strange Oval Office Sofa Pictures
The Sims Complete Soundtrack [+Expansions] [HD]
Nearly 20,000 fossils in Britain have been scanned and uploaded onto the Web, allowing the public to download them and print intricate replicas. Thousands of prehistoric fossils have been rescued from dusty museum archives and made available online by the British Geological Survey as highly detailed 3-D models. Researchers and the public can now access almost 20,000 virtual fossils and print 3-D replicas. There are also plans in the works to digitally scan dinosaur fossils. Related: 3-D printing store: You dream it, take it home Dr.
3-D scans turn fossils into print replicas
Clearly, Pope Francis isn't fond of the extreme ideals of the Christian Right. Now, he's calling right-wing, fundamentalist Christianity an "illness." Photo of Pope Francis@@CatholicEWUK Pope Francis has been very clear about how he feels about ideological purity in religion. He's been particularly critical of right-wing Christian fundamentalism. Pope Francis has shifted the focus of the Catholic Church to issues facing the poor and the sick.
Pope Francis Says Right-Wing Christians Have An Illness
The Nicest Place on the Inernet
I recently had the pleasure of attending a talk by the provocative philosopher John Gray as he discussed his new book – The Silence of Animals: On Progress and other Myths. During the engaging talk (which you can listen to here ) he made a strong case for the idea that, while technology has progressed substantially over the last centuries, society and human behavior has not. Are we all just animals with mobile phones and machine guns? As we'll see from this excellent graphic detailing the major causes of death in the 20th century, John Gray may be on to something.
Visualizing Major Causes of Death in the 20th Century
One of life's great fascinations is watching people evolve over time. Some people grow and develop, while others seem to be stuck in patterns that limit their happiness and well-being. Others excel in certain areas of their lives while failing miserably in others. A small few are spectacularly successful by conventional measures yet are perpetually dissatisfied. Is there a simple model we can use to make sense of these observations? Many years of watching and thinking have led me to believe that we can further our understanding by simplifying the problem.
Two-Letter Word List
American Politics & Demographics
Very Accurate Summary of Pawn Stars
Real Weddings
The Evolution of Propaganda Design
6 Famous Figures You Only Know By Their Insulting Nicknames
Hey Arnold characters as teenagers
Oscar Awards
Fucking white people
Victorian Bird Cage
South Park Character Guide
The Small Things in LIfe
Donate Rice by Answering Vocab Questions
WOMAN
Horse Optical Illusion
Spidey
Which one of you was black again?
1st Fully Bionic Man Walks, Talks and Breathes
40 Maps That Will Help You Make Sense of the World - Entertainment, Science and Technology
Ryan Gosling Not Eating Cereal Must Be Seen By Everybody | Junkee
Titanic 100th anniversary: Shoes and coat found at wreck site implies likely resting place of human remains
7 Memes That Went Viral Before The Internet Existed