Random Amazingness
40 Maps That Will Help You Make Sense of the World - Entertainment, Science and Technology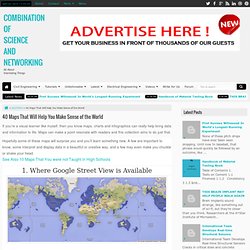 If you're a visual learner like myself, then you know maps, charts and infographics can really help bring data and information to life. Maps can make a point resonate with readers and this collection aims to do just that. Hopefully some of these maps will surprise you and you'll learn something new. A few are important to know, some interpret and display data in a beautiful or creative way, and a few may even make you chuckle or shake your head.See Also 10 Maps That You were not Taught in High Schools
In the very likely case that you're on the Internet right now, you already know what a "meme" is. But you may not realize that the concept -- a meaningless phrase, image or joke getting repeated endlessly for no reason at all -- predates the Internet generation by a long shot. Although it was more difficult for a phrase or image to "go viral" before all this technology, pointless memes still found their way to every corner of the globe.
7 Memes That Went Viral Before The Internet Existed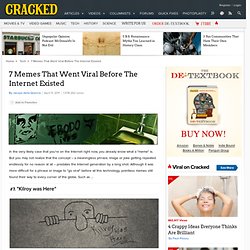 Oscar Awards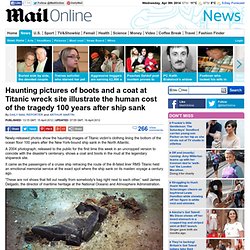 By Daily Mail Reporter and Arthur Martin PUBLISHED: 13:15 GMT, 15 April 2012 | UPDATED: 07:55 GMT, 16 April 2012 Newly-released photos show the haunting images of Titanic victim's clothing lining the bottom of the ocean floor 100 years after the New York-bound ship sank in the North Atlantic. A 2004 photograph, released to the public for the first time this week in an uncropped version to coincide with the disaster's centenary, shows a coat and boots in the mud at the legendary shipwreck site. It came as the passengers of a cruise ship retracing the route of the ill-fated liner RMS Titanic held an emotional memorial service at the exact spot where the ship sank on its maiden voyage a century ago. 'These are not shoes that fell out neatly from somebody's bag right next to each other,' said James Delgado, the director of maritime heritage at the National Oceanic and Atmosphere Administration.
Titanic 100th anniversary: Shoes and coat found at wreck site implies likely resting place of human remains
Game of Thrones Costumes Detail
Could Hollywood's over-reliance on CGI be the reason for audience disinterest and a recent spate of mega-flops? There was a time when a movie stunt would amaze and surprise people. For example, there are endless, possibly apocryphal reports of people being terrified during screenings of early motion pictures.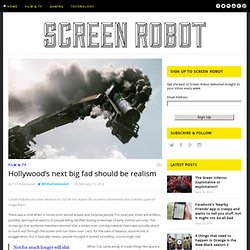 Hollywood's next big fad should be realism
Clearly, Pope Francis isn't fond of the extreme ideals of the Christian Right. Now, he's calling right-wing, fundamentalist Christianity an "illness." Photo of Pope Francis@@CatholicEWUK Pope Francis has been very clear about how he feels about ideological purity in religion. He's been particularly critical of right-wing Christian fundamentalism. Pope Francis has shifted the focus of the Catholic Church to issues facing the poor and the sick.
Pope Francis Says Right-Wing Christians Have An Illness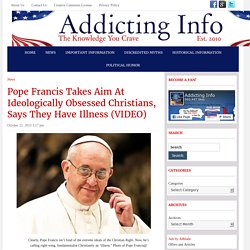 Random photo Submit your photo Stumble Thru animal photography, people photography Tags: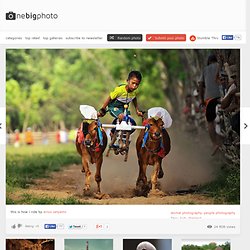 "This is how I ride"
Harry Potter vs. Lord of the Rings: The Final Showdown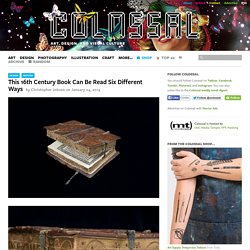 This 16th Century Book Can Be Read Six Different Ways
Sure, the Amazon Kindle might have dynamic font adjustments, and it can hold thousands of books, but can it do this?
The Sims Complete Soundtrack
6 Famous Figures You Only Know By Their Insulting Nicknames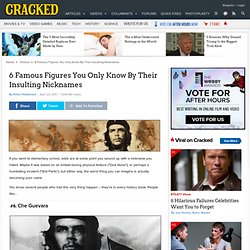 If you went to elementary school, odds are at some point you wound up with a nickname you hated. Maybe it was based on an embarrassing physical feature ("Dick Nose"), or perhaps a humiliating incident ("Shit Pants"), but either way, the worst thing you can imagine is actually becoming your name. You know several people who had this very thing happen -- they're in every history book. People like...
Street Lights
Abercrombie asks 'The Situation' to shop elsewhere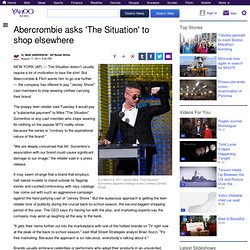 NEW YORK (AP) — The Situation doesn't usually require a lot of motivation to lose the shirt. But Abercrombie & Fitch wants him to go one further — the company has offered to pay "Jersey Shore" cast members to stop wearing clothes carrying their brand. The preppy teen retailer said Tuesday it would pay a "substantial payment" to Mike "The Situation" Sorrentino or any cast member who stops wearing its clothing on the popular MTV reality show because the series is "contrary to the aspirational nature of the brand." "We are deeply concerned that Mr. Sorrentino's association with our brand could cause significant damage to our image," the retailer said in a press release. It may seem strange that a brand that employs half-naked models to stand outside its flagship stores and courted controversy with racy catalogs has come out with such an aggressive campaign against the hard partying cast of "Jersey Shore."
20 Crazy Facts About The Making Of "The Nightmare Before Christmas"
I love the rich jewel-toned colors of this wedding! Captured by Jen Stewart Photography , Emilie and Anthony were married this past June in a gorgeous ceremony in a rose garden in Sacramento, California. The couple met during medical school and their ceremony was performed by a doctor friend/instructor.
Real Weddings
Asgarda | PLANET°
In the Ukraine, a country where females are victims of sexual trafficking and gender oppression, a new tribe of empowered women is emerging. Calling themselves the "Asgarda", the women seek complete autonomy from men. Residing in the Carpathian Mountains, the tribe is comprised of 150 women of varying ages, primarily students, led by 30 year-old Katerina Tarnouska. Reviving the tribal traditions of the Scythian Amazons of ancient Greek mythology, the Asgarda train in martial arts, taught by former Soviet karate master, Volodymyr Stepanovytch, and learn life skills and sciences in order to become ideal women. Little physical documentation existed on the tribe, until recently, when renowned French photographer, Guillaume Herbaut, met the Asgarda back in 2004 in the midst of the Orange Revolution.
Thanks! Like us on FB for more awesome posts! We wanted to post these awesome Google Street View photos a long time ago, but somehow they got lost along the way.
36 Strange and Funny Google Street View Photos
Rich Kids Of Instagram
I recently had the pleasure of attending a talk by the provocative philosopher John Gray as he discussed his new book – The Silence of Animals: On Progress and other Myths. During the engaging talk (which you can listen to here) he made a strong case for the idea that, while technology has progressed substantially over the last centuries, society and human behavior has not. Are we all just animals with mobile phones and machine guns? As we'll see from this excellent graphic detailing the major causes of death in the 20th century, John Gray may be on to something.
Visualizing Major Causes of Death in the 20th Century
Very Interesting Facts About the Movie Titanic
22 Motivational Pictures To Get You Off Your Ass
One of life's great fascinations is watching people evolve over time. Some people grow and develop, while others seem to be stuck in patterns that limit their happiness and well-being. Others excel in certain areas of their lives while failing miserably in others. A small few are spectacularly successful by conventional measures yet are perpetually dissatisfied. Is there a simple model we can use to make sense of these observations? Many years of watching and thinking have led me to believe that we can further our understanding by simplifying the problem.
The Three Phases of Life