Space
Live Soyuz TMA-12M Launch to Docking Coverage - Spaceflight101 Live
ericarolfe : Today at ESRIN canteen its
Live From Space - Would space suit you? - Channel 4
VirtualAstro : Watching #SpaceLive over the
SpaceLive : The International Space Station
jvreymondon : #INFOGRAPHIC: #SpacePlanes
SpaceLive : We have lift off. #SpaceLive
SpaceLive : The ISS travels at 17,500 miles
SpaceLive : Life in space = no showers.
SpaceLive : This helps to demonstrate the
By Sara Malm PUBLISHED: 16:56 GMT, 12 November 2012 | UPDATED: 20:17 GMT, 12 November 2012 It has been called the nation of fire and ice and as these stunning pictures proves, it is certainly the latter. The magnificent ever-changing landscapes of Iceland where the freezing temperatures make the icebergs and glaciers shift in every shade of blue, from turquoise and azure to indigo. With it's volcanic 'black beaches', northern lights and stunning fiords - home of the icebergs - the Northern European nation is a photographer's dream.
Ice-capades: The true blue beauty of the icebergs of Iceland
This dramatic image of the galaxy Messier 83 was captured by the Wide Field Imager at ESO's La Silla Observatory, located high in the dry desert mountains of the Chilean Atacama Desert. Messier 83 lies roughly 15 million light-years away towards the huge southern constellation of Hydra (the sea serpent). It stretches over 40 000 light-years, making it roughly 2.5 times smaller than our own Milky Way. However, in some respects, Messier 83 is quite similar to our own galaxy.
Spiral Galaxy Messier 83* | ESO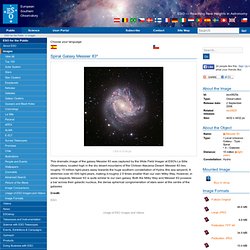 Amazing Photos: Jupiter's Volcanic Moon Io
Astrophysics: Fire in the hole!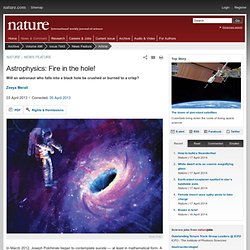 Andy Potts In March 2012, Joseph Polchinski began to contemplate suicide — at least in mathematical form. A string theorist at the Kavli Institute for Theoretical Physics in Santa Barbara, California, Polchinski was pondering what would happen to an astronaut who dived into a black hole. Obviously, he would die.
Watch how America is getting frozen in this time-lapse from space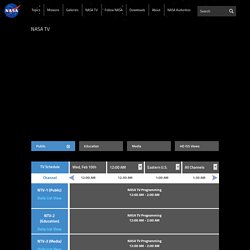 NASA TV's NTV-1 (PUBLIC) and NTV-3 (MEDIA) CHANNELS NOW IN HD NASA Television's NTV-1 (Public) and NTV-3 (Media) channels are now transmitting in high definition. NASA Television's Public Channel (NTV-1), the "NASA TV" most often carried by cable and satellite service providers, provides coverage of NASA missions and events, plus documentaries, archival and other special programming. NASA TV's Media Channel (NTV-3) provides mission coverage, news conferences and relevant video and audio materials to local, national and international news-gathering organizations. (HD Channel 105 is no longer in service.) NASA Television Is On Satellite AMC-18C
TV
sagan|sense
Visible Structures by steve-burg on deviantART
At some future time, we may advance to the point where the signs of human civilization are visible even from a very great distance... so to me, this is a very optimistic image This is a 3D render produced in Modo. A high contrast black & white texture was used for micro-polygonal displacement of a simple sphere, which produced true 3D surface relief. I composited a NASA image of Saturn's moon Enceladus using an alpha channel (also rendered in Modo) to represent the natural features of the moon (which isn't necessarily the Earth's moon). The source image can be found here: [link]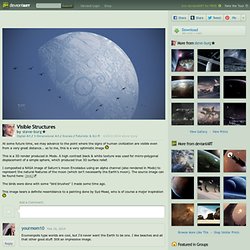 Photo by redbullstratos
Skip to main content Loading ... Events Images
Home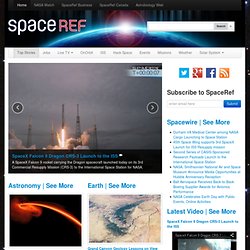 SpaceRef - Space News and Reference
Menu Rosetta Spacecraft -- The Story so Far This short movie tells the story of Rosetta's journey through the Solar System so far, through the voices of some of the many people involved in this exciting mission.
Live_ISS_Stream on USTREAM: Live video from the International Space Station includes internal views when the crew is on-duty and Earth views at other times
Ustream © Search Log in / Sign up With Facebook (faster)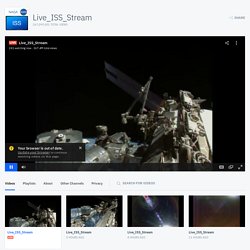 Star Trek Enterprise Pizza Cutter Boldly cut pizza where no man has cut before! $29.99 NASA Worm Logo 4.5" Sticker - Red Get your own piece of NASA history! $6.95 Star Wars Han Solo in Carbonite Silicone Ice Cube Tray Freeze your own Han Solo! Here comes an innovative Star Wars kitchen product from a galax... $11.99 NASA 'Meatball' Official Logo 4.5" Sticker - Full Color NASA Logo Sticker - 4" Great for party favors, books, bikes and more. $4.95 50 Years of Human Spaceflight - Regular Print Poster (12"x44") Celebrate five decades of human spaceflight with our exclusive wall poster, measuring 12"... $11.99 Solar Racers Sun Powered Micro VehiclesTake'em outside and watch'em race. $7.95 Meteorite 3-Pack Own a real piece of space.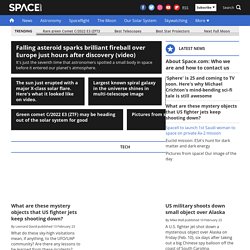 Space and NASA News – Universe and Deep Space Information
The Sky Tonight - Astronomy News UK, Night Sky, Celestial Events, Images, Books and Star Naming Service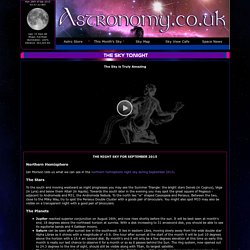 The Sky is Truly Amazing Night Sky Note for April 13, 2014 Sunday, April 13, 2014 The Moon is to the upper right of Mars.