GENERAL HISTORY
Internet History Sourcebooks Project. This page is a subset of texts derived from the three major online Sourcebooks listed below, along with added texts and web site indicators.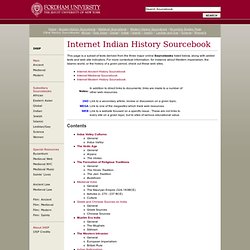 For more contextual information, for instance about Western imperialism, the Islamic world, or the history of a given period, check out these web sites. There is now some significant opposition among some writers to the idea that there was ever an Aryan [i.e. Indo-European] movement into India.
QUOTATIONS
Timelines. Www.hyperhistory.com. Ushistory.org. Www.digitalhistory.uh.edu. The History Network. World History. Middle Ages - Medieval Resources.
The History Guide -- Main. World History : HyperHistory. The Genealogist: Search Online Census, Birth, Marriage, Death & Parish Record Indexes and Directories. §. Playing History.
---