GENERAL HISTORY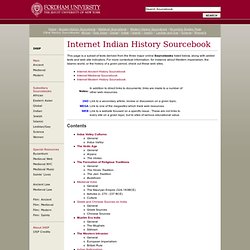 Internet History Sourcebooks Project
This page is a subset of texts derived from the three major online Sourcebooks listed below, along with added texts and web site indicators. For more contextual information, for instance about Western imperialism, the Islamic world, or the history of a given period, check out these web sites. There is now some significant opposition among some writers to the idea that there was ever an Aryan [i.e. Indo-European] movement into India.
World History Book and Wall Chart The World History Chart begins with David and Solomon and ends 3,000 years later with Einstein, Picasso, Roosevelt and Churchill. In between, in divisions of ten years, the major events, empires and invasions, inventions and achievements, rulers and leaders, writers, philosophers and scientists of world history can be reviewed at a single glance ! This entertaining Chart is a good educational item for every home, library or school. A must for every student of history - a lot of fun for everybody else.
Free Online Textbooks High school courses for students, teachers, home-schoolers, and history lovers. Learn More. What's Hot National History Day Philadelphia Needs Your Help!
The History Network
about this site | praise and complaints | links to other sites | contact Timeline Index January 2014, to the 14th Before 1000 BCE | 1000 BCE to 500 CE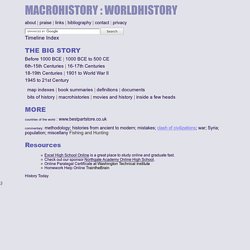 Middle Ages - Medieval Resources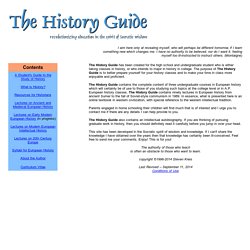 The History Guide has been created for the high school and undergraduate student who is either taking classes in history, or who intends to major in history in college. The purpose of The History Guide is to better prepare yourself for your history classes and to make your time in class more enjoyable and proficient. The History Guide contains the complete content of three undergraduate courses in European history which will certainly be of use to those of you studying such topics at the college level or in A.P. European history classes.
The Genealogist: Search Online Census, Birth, Marriage, Death & Parish Record Indexes and Directories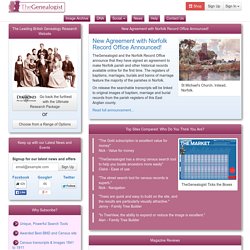 Would you like to beta test our new App? Buy a Diamond Subscription today! Buy an Annual Diamond Subscription for only £119.45 Including the Complete 1911 Census Also includes premium parish records, occupational records, newspapers, international records and more.