Hand Made Bicycles
vikingcycles.com
Violet Crown Cycles - Transportation Bicycles Handmade in Austin, Texas
VB BIKE - Vanloozen Brothers Bicycles
Rosene Handbuilt Bicycles
Rich Phillips Cycles
Pitz
Magnolia Cycles
Custom Touring Bikes by Littleford | Portland, OR
Foresta Frames
What is a Foresta? Foresta Frames are a unique blend of classic geometry, racing bicycle history, modern materials, and superb craftsmanship. While my work contains beautiful lugwork and precision assembly, it's the bicycle's geometry and sense of unity which makes it "right." A bicycle is more than tubes and fancy paintwork, it's a vehicle meant to perform a task.
Dornbox
Demon Frameworks
Appleman Bicycles | Handmade Custom Carbon Fiber Bicycle Frames - Appleman Bicycles
ZULLO BIKE - Bici da corsa su misura - Bike Factory - Made in ITALY
Zanconato
YiPsan Bicycles - Hand made to measure bicycle
Winter Bicycles
Watson Cycles
Vulture / Vulture Cycles / Wade Beauchamp (AKA Vulture)
Victoria Cycles
Vertigo Cycles :: Home
Vendetta Cycles Home - Custom Bicycles in Oregon
Vanilla Bicycles - Hand Crafted in Portland, Oregon
True Fabrication Bicycles
Tommasini USA
TiCycles
Strawberry Cyclesport Inc.
Sylvan Cycles
SyCip Bikes - Handcrafted in Sonoma County, California
Strong Frames | Home
Speedhound Design Bureau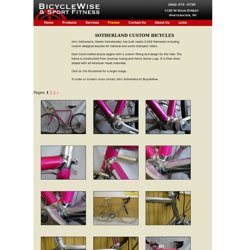 John Sotherland, Master framebuilder, has built nearly 5,000 framesets including custom designed bicycles for national and world champion riders. Each hand-crafted bicycle begins with a custom fitting and design for the rider. The frame is constructed from chomoly tubing and Henry James Lugs. It is then silver brazed with all American made materials.
Sotherland Frames
Six-Eleven Bicycle Co. – Quality Handmade Bicycles
signal cycles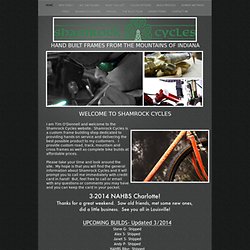 NAHBS 2013 was great. Thanks Denver! Lots of press out there that I still need to track down and read. See you all at NAHBS Denver. Booth 1116 Shamrocks in the Wild http://www.dirtragmag.com/webrag/handmade-bikes-wild-shamrock-cycles
Shamrock Cycles
Serotta Custom Bicycles | Custom Bicycle Frames | Bicycle Fork
Samurai Cycle Works Home
Richard Sachs Cycles
Inglis & Retrotec Cycles: Home
QUIRINGCYCLES.NET
Priority Cycles: Portafortuna | Home
Parlee Cycles - Home
Naked Bicycles and Design
Mosaic :: Hand Crafted Performance Bicycles :: Home
Moots
Maietta Cycling Home
Legor cicli » Via Fiume, 12/c Brescia (Italy)
KISH Fabrication - Home Page
KirkLee Bicycles — Custom Carbon Fiber Bicycles | Road & Mountain Frames
Kirk Frameworks Custom Bicycles
Kimoriトップページ
Kent Eriksen Cycles: Home
Ira Ryan Cycles
Custom Bicycles and Frames | Independent Fabrication | Carbon Fiber and Steel and Titanium
Igleheart Custom Frames
Henry James investment cast steel lugs
Helm Cycles' Photostream
Hampsten Cycles
Groovy Cycleworks
geekhouse
Gaulzetti Cicli - The Racing Bicycle, Reborn
GALLUS - Handmade Bicycles by Jeremy Shlachter
Welcome to Funk Cycles
FORM Cycles
Engin Cycles
Home - Ellis Cycles: custom hand built bicycles & racks
Don Walker Cycles
Vincent Domínguez Cycles - Home
DiNucci Cycles
DeSalvo Custom Cycles - custom frame builder of mountain road cyclocross and single speed bicycle frames
Della Santa custom built frames
DEAN Titanium Bicycles - 2010
Dario Pegoretti
DALTEX - Handmade Bicycles - Dallas, Texas
Expertly crafted bicycle frames. Carbon fiber, aluminum, steel and titanium custom framesets made in France | Cyfac
Curt Goodrich | Home
Custom carbon fiber bicycle frames made in USA
Columbus Tubi
Co-Motion Cycles
Cinelli
CHERUBIM ケルビム 今野製作所
CalfeeDesign
Caletti Cycles - Home
Bronto MTB Co. - Handmade Steel Mountain Bikes
Broakland Bikes
Boo Bicycles
Black Sheep Bikes • Custom built in Fort Collins, Colorado
black cat bicycles
Bilenky Cycle Works
Bicycle Forest Blog
Bicycle Fabrications
Basso Bikes - Italian Racing Passion
Bamboosero Bamboo Bicycles
BaileyWorks Bags: Messenger bags and more, made in the USA
ArundelBike.com
Anvil Bikes
antbikemike | "Not sport…transport"
ANDERSON CUSTOM BICYCLES - Bicycles built by hand for YOU, not the masses
Alliance Bicycles
Titanium Bikes, Custom Bicycle Frames | Alchemy Handmade Bicycle Company