Comics
Mother Goose & Grimm/Mike Peters Website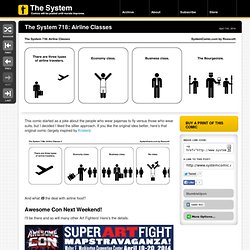 I just know I'm going to see this thing on the Internet without my name on it very very soon. Oh well. If you want a 11″ x 17″ poster of this, it's a mere $10 plus shipping!
Rosscott, Inc.
2063
Least I Could Do: the Webcomic » by Ryan Sohmer and Lar deSouza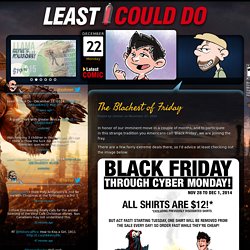 Posted by sohmer on January 7, 2014 It's safe to say that I have somewhat more than a passing interest in the 'Interwebs', especially when it comes to viewing habits. Over the last decade, I've seen a great deal of ridiculous shite capture people's attention for brief moments, only to be eclipsed and forgotten when the next thing comes along. It's only recently that the culmination of all this aforementioned shite has combined and formed something new, something terrifiying. It's as if Youtube, Twitter, Facebook, TMZ and Gawker were all pieces of Voltron.
Questionable Content: New comics every Monday through Friday
The official Dilbert website with Scott Adams' color comic strip
xkcd - A webcomic of romance, sarcasm, math, and language - By R
Saturday Morning Breakfast Cereal
Abstruse Goose
Toothpaste For Dinner - The most addictive comic on the web
December 24th, 2009
DOGHOUSE
Carlsontoons.com | The Editorial Cartoons of Stuart Carlson
nta4G.gif (GIF Image, 468x516 pixels)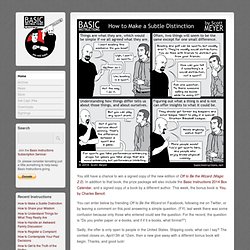 You still have a chance to win a signed copy of the new edition of Off to Be the Wizard (Magic 2.0) . In addition to that book, the prize package will also include the Basic Instructions 2014 Box Calendar , and a signed copy of a book by a different author.
Basic Instructions - Basic Instructions
Wulffmorgenthaler.com | Home | Entertainment - Since 2002. A Com
515
emily A great documentary called Stripped just came out last week, about the transition between newspaper comic strips and webcomics. There are some great interviews in there, inclusing Bill Watterson (WHAT!). Find out more about it here, including how to watch it yourself! joey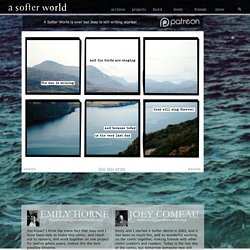 What's a Palindrome Anyway?
diesel sweeties : robot webcomic and geeky music t-shirts
The Ultimate Mug Ever The original Fucking Coffee mug I'd Rather be Working Doot doot doot I may have brought back one of my favorite shirts and also made some messenger bags.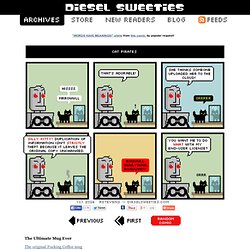 Wednesday is officially the launch of Solipsistic Pop 2, for which I'm responsible for the gatefold cover and a 4 page comic inside it. It's a 64 page anthology of great UK comics artists and it's an honour and extremely exciting to be a part of it. It comes with an extra newspaper insert and a specially designed tote bag. I implore you to check it out, but you shouldn't need much imploring.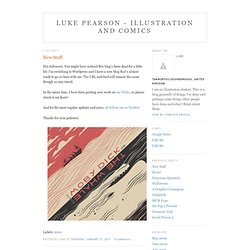 That Luke Person: Luke Ferenc Pearson
Cartoon by Barry Deutsch (Buy a print of this cartoon on Redbubble.) This cartoon was inspired by a Huffington Post article by Jennifer Jenkins, in which she quoted Judge Richard Posner: What happens if these underlying sources are copyrighted? As Judge Richard Posner pointed out, "Romeo and Juliet itself would have infringed Arthur Brooke's The Tragicall Historye of Romeo and Juliet… which in turn would have infringed several earlier Romeo and Juliets, all of which probably would have infringed Ovid's story of Pyramus and Thisbe."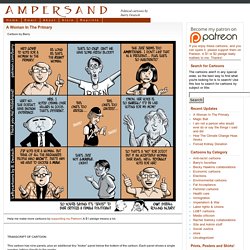 Leftycartoons.com: Progressive Cartoons: Liberal Cartoons