Webcomics
YU+ME: dream - Surreal Lesbian Romance Adventure Webcomic
will Snuggle you Inside Out!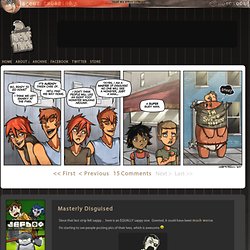 Glad to be back, the year (which I heard has a fourteen somewhere in there) is new, I have no freelance, and am happy to finally start pumping these out. Hope everyone had an awesome holiday filled with sass Sorry about the art, I've gotten a little rusty/slower Also, Scout Crossing updated. Thank you all for reading, updates are going to be much more frequent. This is a little hard to talk about, but over the past year, things haven't been easy, in a way I've struggled with many things with the comic that I didn't struggle with before.
Scout Crossing -
Saturday Morning Breakfast Cereal
World According to Americans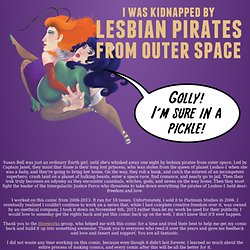 Drawn in Lesb-O-Vision!
Susan Bell was just an ordinary Earth girl, until she's whisked away one night by lesbian pirates from outer space. Led by Captain Janet, they insist that Susie is their long lost princess, who was stolen from the queen of planet Lesbos-1 when she was a baby, and they're going to bring her home. On the way, they rob a bank, and catch the interest of an incompetent superhero, crash land on a planet of hulking beasts, enter a space race, find romance, and nearly go to jail. Then their trek truly becomes an odyssey as they encounter cannibals, witches, gods, and sirens on the way home. Then they must fight the leader of the Intergalactic Justice Force who threatens to take down everything the pirates of Lesbos-1 hold dear: freedom and love. I worked on this comic from 2006-2013.
QC: New Comics Every Monday Through Friday
Penny and Aggie
2307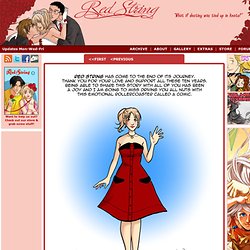 Red String ~ An online graphic novel / webcomic about romance, destiny, & self-discovery.
Patreon Posted 2014-04-03 7:25 Hello dear readers.
diesel sweeties : robot webcomic and geeky music t-shirts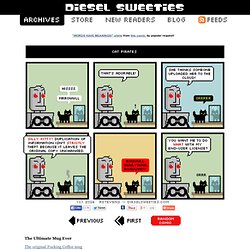 The Ultimate Mug Ever The original Fucking Coffee mug I'd Rather be Working Doot doot doot I may have brought back one of my favorite shirts and also made some messenger bags.
A daily comic about life by Jon Rosenberg
Theists often ask atheists what sort of evidence they would accept as proof that God exists. I think if all religious folks lived up to their own deeply held values, that would be a true miracle. But there's little risk of that.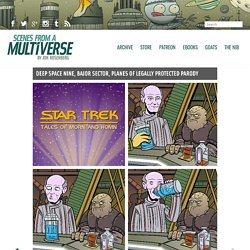 emily A great documentary called Stripped just came out last week, about the transition between newspaper comic strips and webcomics. There are some great interviews in there, inclusing Bill Watterson (WHAT!). Find out more about it here, including how to watch it yourself! joey
a softer world: 627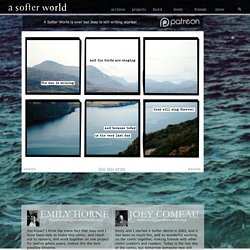 Girls With Slingshots