Blogs w/recipes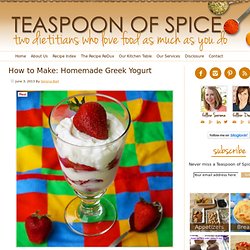 How to Make: Homemade Greek Yogurt - Teaspoon of Spice
During my years of grad school in Boston, I lived with a flat mate, Amy, who cooked a little but mainly lived on canned beans, noodles, jarred tomato sauce and an occasional piece of fish cooked in aluminum foil. So I almost dropped the phone the other day when I was chatting with Amy and she nonchalantly mentioned that she now makes homemade yogurt weekly. I've been seeing a lot of the homemade yogurt recipes on Pinterest lately, but clearly if Amy is making it "weekly," and I NEVER have, I am way, way behind the times. So I hopped right to it. Below are my reviews of two different recipes.
cucina preDiletta - ricette facili e veloci
Sunday Roast Recipe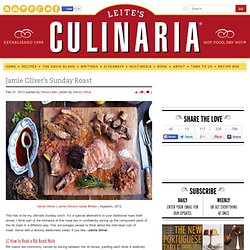 This has to be my ultimate Sunday lunch. It's a special alternative to your traditional roast beef dinner. I think part of the brilliance of this meal lies in confidently slicing up the component parts of the rib roast in a different way. This encourages people to think about the individual cuts of meat.
"I just wanted to send you a story of how I used peppermint essential oil to enhance a regular batch of brownies. I put five drops of peppermint oil in the batter just to experiment. They turned out wonderful! They remind me of Girl Scout cookies.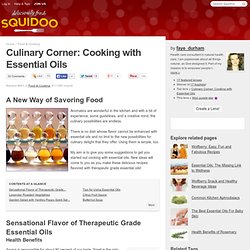 Culinary Corner: Cooking with Essential Oils
Recipes, Dinner Ideas, Cooking - Relish
Cheesy, Green-Garlic Pull-Apart Bread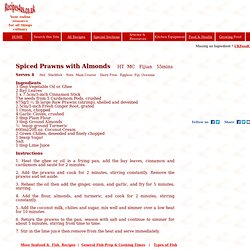 Spiced Prawns with Almonds HT MC Fijian 55mins Serves 4 Hot Shellfish Nuts Main Course Dairy Free Eggless Fiji Oceania Ingredients
Spiced Prawns with Almonds HT MC Fijian 55mins
Thai Food and Travel - Deep Knowledge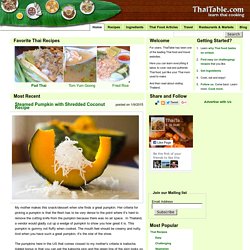 posted on 1/8/2014 Namya Curry Paste Recipe Namya or fish curry is eaten with thin rice noodles and assorted vegetables. Traditionally, there is no namya curry paste. Namya curry paste and curry is all made at the same time.
Cooking With Seeds - Cardamom Seeds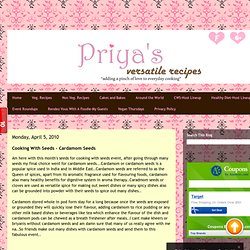 Am here with this month's seeds for cooking with seeds event, after going through many seeds my final choice went for cardamom seeds...Cardamom or cardamom seeds is a popular spice used in India and in Middle East..Cardamom seeds are referred to as the Queen of spices, apart from its aromatic fragrance used for flavouring foods, cardamom also many healthy benefits for digestive system in aroma therapy..Caradmom seeds or cloves are used as versatile spice for making out sweet dishes or many spicy dishes also can be grounded into powder with their seeds to spice out many dishes..
Global Table Adventure | Eat your way around the world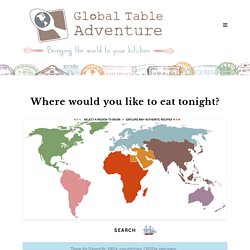 I'm already Gone Herbs are heaven. A few clippings of lemongrass into a pot of pho, some rosemary in a ball of bread dough, or a sprinkling of cilantro over rice and I'm transported to another place entirely. Another continent. I don't even have to eat the herbs – I can shut my eyes and breathe in their aroma and … ahhhh… I'm already gone.
First, thanks to the people at Fiji Water who've sponsored this post. You can participate in the #myhometown competition by submitting your own photos on Instagram or Twitter with hashtag #myhometownguide. I'm so glad to have the opportunity to share my hometown of Sonoma with you!
The Colors Of Indian Cooking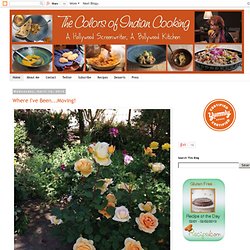 Peanut Butter Cup Brownie Bites We were having friends over for dinner last night, so I decided to make a treat for dessert. My friend Currié loves peanut butter and chocolate combined so when I found this recipe on Chocolate Therapy, I knew it would be perfect. I followed the directions except for using a mini muffin tin instead of a large muffin tin. They were the perfect little bite sized treats – they were rich, decadent, and so delicious.
For the Love of Cooking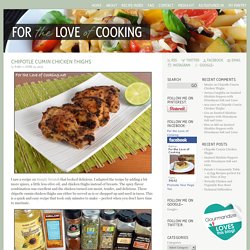 Chicken
Recipes + Menus
Places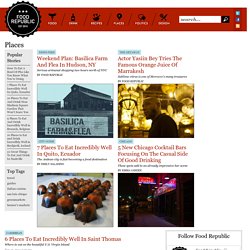 10 Places to Eat and Drink Incredibly Well in Reykjavik, Iceland The contemporary Nordic movement is thriving Apr 10, 2014 9:00 am Today, Iceland's capital of Reykjavik, which hovers close to The Arctic Circle but is only a six hour flight from JFK airport, is experiencing a food renaissance, as chefs proudly serve dishes hovering at New York City restaurant rates comprised of fresh, Icelandic ingredients in a contemporary, Nordic style. Here are 10 places you need to check out.
CHOW - Recipes, cooking tips, resources, and stories for people who love food
Recipes, cooking tips, resources, and stories for people who love food
Save With Jamie Jamie's latest book, Save with Jamie, and tie in TV series, Jamie's Money Saving Meals, has seen Jamie take you through his favourite tips and tricks to help you "shop smart, cook clever and waste less." If you missed the series, don't panic, you can catch up on 4OD or head to our Save with Jamie hub for daily tips, inspiration from readers and some of our favourite recipes from the book.
Jamie Oliver | Official site for recipes, books, tv, restaurants and food revolution
Punchfork — The best new recipes from top food sites
Parmesan Rosemary Brussels Sprouts and Bacon Pizza Apr 7, 2014 | Appetizers/Sides, Dinner, Sponsored | Tags: bacon, cheese, dinner, pizza, weeknight dinner My Parmesan Rosemary Brussels Sprouts and Bacon Pizza is a family favorite. Enjoy! It's always a pleasure working with Land O'Lakes to bring you my newest recipe. This one deserves a standing ovation.
Picky Palate
Epicurious.com: Recipes, Menus, Cooking Articles & Food Guides
Serious Eats: A Food Blog and Community
Leite's Culinaria | Recipes, Food, and Cooking Blog
Skinnytaste
While you dig your fork into this fluffy bowl of "rice," you won't believe it's not real rice. Made of spiralized carrots with leeks and bacon – it's quick, gluten-free, paleo-friendly and dairy-free. If you just bought a spiralizer and need new recipe ideas, look no further!
Michael Ruhlman - Translating the Chef's Craft for Every Kitchen kitchen
Foodblogs.com - Directory of Food Blogs and Recipe Blogs
» Ricette di cucina - le ricette con foto del blog di cucina di Misya
The Amateur Gourmet - A Funny Food Blog with Recipes, Restaurant Reviews and More
a nutritionist eats
Simply Recipes Food and Cooking Blog
Cookstr
Two Peas & Their Pod
The Pioneer Woman Cooks | Ree Drummond
Big Girls Small Kitchen
The Kitchn | Inspiring cooks, nourishing homes
Foodie Blogroll : Browse Blogs
Joy the Baker —
recipes