Online marketing
5 Killer Facebook Marketing Infographics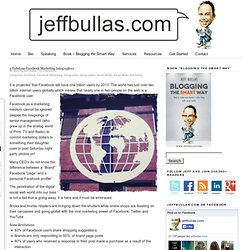 112Share 469Share 3.7KTweet 630Share 5.1KShare 630inShare Jeffbullas's Blog Internet Marketing 5 Fabulous Facebook Marketing Infographics
||| SOCIAL COMMERCE BLOG ||| E-Commerce goes Social Commerce
SociableBlog.com - World's Leading Social Media and Social Networking News Blog
Retail online se alista para Navidad | MERCADOTECNIA PUBLICIDAD | Revista Merca2.0 | México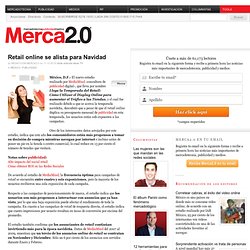 México, D.F.- El nuevo estudio realizado por MediaMind -consultora de publicidad digital-, que lleva por nombre Llega la Temporada del Retail: Cómo Utilizar el Display Online para aumentar el Tráfico a las Tiendas, y el cual fue realizado debido a que se acerca la temporada navideña, descubrió que a pesar de que el retail online duplica su presupuesto mensual de publicidad en esta temporada, los usuarios están sub-expuestos a las campañas. Otro de los interesantes datos arrojados por este estudio, indica que este año los consumidores están más propensos a tomar su decisión de compra mientras navegan por internet e incluso antes de poner un pie en la tienda o centro comercial, lo cual reduce en 13 por ciento el número de tiendas que visitará.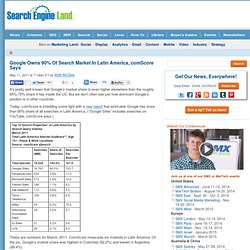 It's pretty well known that Google's market share is even higher elsewhere than the roughly 65%-70% share it has inside the US. But we don't often see just how dominant Google's position is in other countries. Today, comScore is shedding some light with a new report that estimates Google has more than 90% share of all searches in Latin America. ("Google Sites" includes searches on YouTube, comScore says.) These are numbers for March, 2011. ComScore measures six markets in Latin America.
Google Owns 90% Of Search Market In Latin America, comScore Says
After having imagined a new spectacular version of Facebook, Australian designer Fred Nerby tackles Twitter.