Online marketing
5 Killer Facebook Marketing Infographics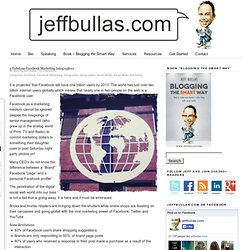 112Share 469Share 3.7KTweet 630Share 5.1KShare 630inShare Jeffbullas's Blog Internet Marketing 5 Fabulous Facebook Marketing Infographics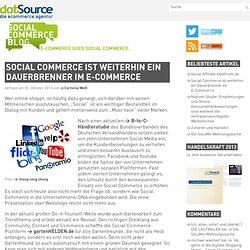 ||| SOCIAL COMMERCE BLOG ||| E-Commerce goes Social Commerce
(c) dotSource GmbH If it doesn't have a Face, it shouldn't be on Facebook So einfach ist die Regel, nach der Universal Music seine Social Media Strategie ausrichtet. In sozialen Medien kommunizieren Menschen miteinander, nicht Marken, Unternehmen oder Behörden.
Date: December, 2013 Although the dollar volume of business-to-business e-commerce in the United States is more than twice that of business-to-consumer e-commerce, to date no one has published detailed or credible B2B e-commerce benchmarks…until now. Senior Analyst Andy Hoar from Forrester Research teamed up with Internet Retailer in the fall of 2013 to conduct a first-of-its-kind large-scale survey of B2B companies, including wholesalers, distributors, suppliers, and manufacturers. Hoar reported on the results of this survey in this webinar, presenting critical insights about how B2B companies are performing online.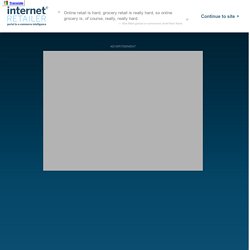 SociableBlog.com - World's Leading Social Media and Social Networking News Blog 10 Tips to to Double Your Facebook Likes When social media started raising its head as a business marketing tool, there were just a handful of social networks. Facebook, Twitter and LinkedIn were the main protagonists. Today we have a plethora of social networks and visual networks such as Instagram, Pinterest and Vine to distract us amongst thousands.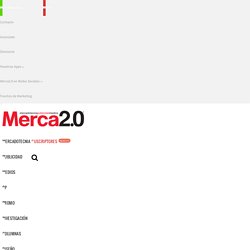 Inusualmente atrevido es el nuevo spot de Vodafone España January 16, 2014 España.- La empresa telefónica esta anunciando su servicio Vodafone Wallet gracias al cual bastará con llevar un teléfono inteligente encima, para poder pagarlo todo. ¿Y que mejor que demostrarlo con hechos a través de una guapa modelo que como vestimenta lleva apenas la pintura que artísticamente la simula? Seguramente después de esta información, quienes no se han detenido a ver el spot con cuidado, ahora lo harán y sin prisas.
Retail online se alista para Navidad | MERCADOTECNIA PUBLICIDAD | Revista Merca2.0 | México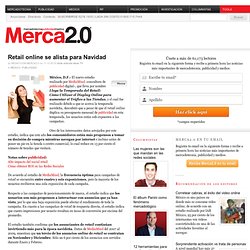 México, D.F.- El nuevo estudio realizado por MediaMind -consultora de publicidad digital-, que lleva por nombre Llega la Temporada del Retail: Cómo Utilizar el Display Online para aumentar el Tráfico a las Tiendas, y el cual fue realizado debido a que se acerca la temporada navideña, descubrió que a pesar de que el retail online duplica su presupuesto mensual de publicidad en esta temporada, los usuarios están sub-expuestos a las campañas. Otro de los interesantes datos arrojados por este estudio, indica que este año los consumidores están más propensos a tomar su decisión de compra mientras navegan por internet e incluso antes de poner un pie en la tienda o centro comercial, lo cual reduce en 13 por ciento el número de tiendas que visitará.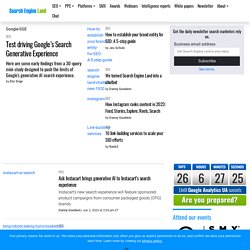 Paid Search Column - Rebekah Diedo As Group Head at a fast growing search agency, I've carried out hundreds of campaign checks over the years. In my contributions here, I'll be sharing my top tips on things to look out for when reviewing your own campaigns. Some of these things are obvious, while others might have slipped past you because you're […] Read more |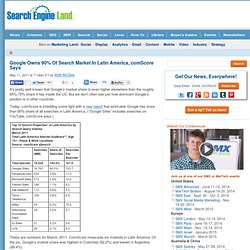 It's pretty well known that Google's market share is even higher elsewhere than the roughly 65%-70% share it has inside the US. But we don't often see just how dominant Google's position is in other countries. Today, comScore is shedding some light with a new report that estimates Google has more than 90% share of all searches in Latin America. ("Google Sites" includes searches on YouTube, comScore says.) These are numbers for March, 2011. ComScore measures six markets in Latin America.
Google Owns 90% Of Search Market In Latin America, comScore Says
Creative Of The Day - Steve Hall Wieden + Kennedy Amsterdam is out with a new campaign for Heineken which focuses on 40 legendary individuals from the worlds of sports, entertainment, science, art and other areas. Entitled "The Legendary Posters," the campaign features these 40 people doing interesting and amazing things in support of the global non-profit Reporters Without Borders. The posters […]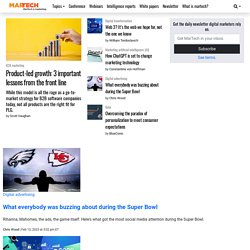 Lo más visto esta semanaOld Spice regresa con un nuevo y surrealista comercial publicitario El móvil es un medio que se utiliza a todas horas y todos los días Redacción 2014 será otro año de rápida evolución para los expertos en marketing. Durante el pasado año 2013, el panorama publicitario evolucionó y este año, seguirá acelerándose para mantener el mismo ritmo que los cambios en el comportamiento del consumidor.