Gardening
Here you can find a wide swath of info, from chinampas to
aeroponics and everything in between. Nov 10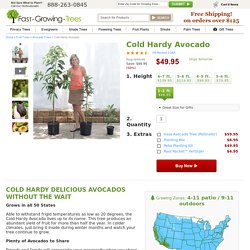 Cold Hardy Avocado Trees | Cold Hardy Avocado Trees for Sale for Sale
Cold Hardy Avocado: A Great Tree on the Patio, Delicious Fruit on the Plate! Whether on the deck or inside by a window, the Cold Hardy Avocado Tree offers dual functionality: it's a resilient plant on the patio and a reliable producer of fruit in the kitchen. Able to withstand frigid temperatures as low as 18 degrees, from Green Bay to Tampa Bay, the Cold Hardy Avocado lives up to its name. Producing an abundant yield of fruit for more than half the year, in colder climates, just bring it in during winter months and watch your tree continue to grow. Requiring little care, pruning is minimal and shade only necessary while the tree is young to protect the trunk. Avocados For Everyone—Share with Family and Friends Alike
Mexicola Grande Avocado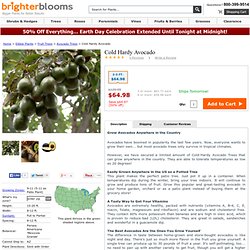 Most orders are shipped the next day unless otherwise noted on our website. If you live in the highlighted region below, delivery of your order will be delayed until May 1, 2014. No one delivers quicker. This ensures that your plants arrive in the best condition possible, ready to pack on vibrant color. Brighter Blooms Nursery ships most items throughout the year, when it's most convenient for you.
Water Spinach Ipomoea aquatica Ipomoea aquatica is a semi-aquatic tropical plant grown as a leaf vegetable. Its precise natural distribution is unknown due to extensive cultivation, with the species found throughout the tropical and subtropical regions of the world. Common names include water spinach, swamp cabbage, water convolvulus, water morning-glory, kangkung, kangkong, eng chai, tangkong, kang kung, rau muống, kongxincai, home sum choy, and ong choy or tung choi.
Edible Water Plants: Aquatic Vegetables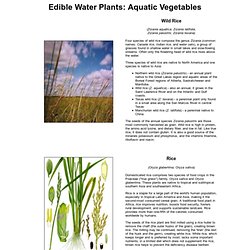 Edible and Medicinal Pond Plants | Lilies Water Gardens
Edible and Medicinal Pond Plants When we think of water gardens and ponds, we imagine a picture of nature, made up of reflections, fish, wildlife and plants. The plants we visualise are usually of Rushes and Water lilies and pond weeds that look attractive under the water.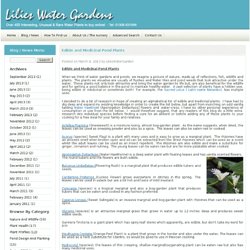 The Edible Pond and Bog Garden The following list contains many plants, most of them either natives of Britain or naturalized here, that can be grown in ponds or boggy ground. They are all perennials and, unless stated otherwise, can be easily propagated by seed or by division in spring or autumn. The list shows that there is a tremendous potential for food production from ponds and boggy areas. Many gardens already have ponds in them and, indeed, will probably contain several of the plants mentioned below.
The Edible Pond and Bog Garden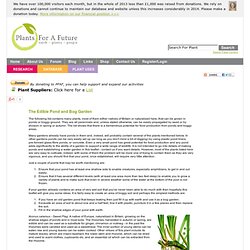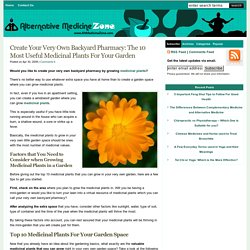 Would you like to create your very own backyard pharmacy by growing medicinal plants ?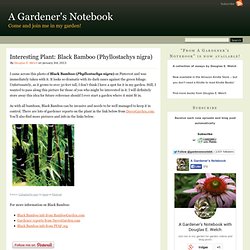 By Douglas E. Welch on January 3rd, 2013 I came across this photo of Black Bamboo ( Phyllostachys nigra ) on Pinterest and was immediately taken with it. It looks so dramatic with its dark canes against the green foliage. Unfortunately, as it grows to over 30 feet tall, I don't think I have a spot for it in my garden. Still, I wanted to pass along this picture for those of you who might be interested in it.
Interesting Plant: Black Bamboo (Phyllostachys nigra)
Water, rest, water, save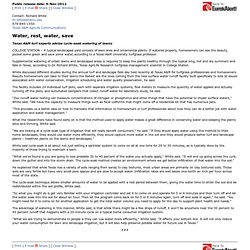 Public release date: 9-Nov-2012 [ Print | E-mail | Share ] [ Close Window ] Contact: Richard White rh-white@tamu.edu 979-845-1550 Texas A&M AgriLife Communications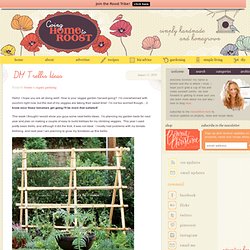 Hello! I hope you are all doing well! How is your veggie garden harvest going? I'm overwhelmed with zucchini right now, but the rest of my veggies are taking their sweet time! I'm not too worried though…. I know once those tomatoes get going I'll be more that satiated!
DIY Trellis Ideas
If you were hunting this weekend and got lost, would you know what you could eat? Knowing what plants are edible and which ones are not, can be the difference between life and death. Identifying edible plants The first rule to follow is that if you can't positively identify a plant, don't eat it. A plant could be poisonous and if you identify it incorrectly, that could be a bad end. To complicate things, some plants are fine to eat when they are young but become poisonous later on in their growth. Some plants are poisonous during certain seasons.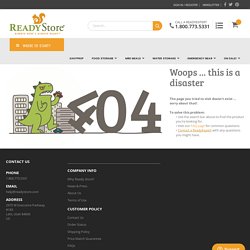 10 Wild Edible Plants to Save Your Life
(Part of an Exclusive WebEcoist Series on Amazing Trees, Plants, Forests and Flowers )
Thought you might like to see a great way to grow mushrooms outdoors if you have a shady place that gets watered regularly…
Apr. 16, 2012 — University of Cincinnati research is revealing early farming in a former wetlands region that was largely cut off from Western researchers until recently. The UC collaboration with the Southern Albania Neolithic Archaeological Project (SANAP) will be presented April 20 at the annual meeting of the Society for American Archaeology (SAA).
One of earliest farming sites in Europe discovered
1,000-year-old farming secrets could save the Amazon rainforest
But . . but . . . humans clear forests fast enough so we can build concrete ones right? And kill all manner of fauna so we can replace them with livestock that we milk, slaughter and eat right?
So you've got all these great fruits and vegetables and now we're going to help you keep them at their freshest with these tips. These tips are from the Berkley Farmer's Market which is a Zero Waste market! Here is a printable PDF of their original tip sheet.
How to Grow and Store Potatoes, Onions, Garlic and Squash, Keeper Crops
The omnivore's next dilemma: Michael Pollan on TED
Shimon Steinberg: Natural pest control ... using bugs! | Video on TED.com - StumbleUpon
Gardening In Style, do it yourself, or with great products
Sub-Irrigated Planter Gardening
Arduino Assisted Gardening
Improve your Life Quality with Plants
Tulsa Master Gardeners
NYS Horticulture Study Guide For Youth
Garden-Based Learning
TULSA MASTER GARDENER-INFORMATION LOCATOR FILE
OCES Publications
NPIN: Native Plant Database
Leafsnap, a new mobile app that identifies plants by leaf shape, is launched by Smithsonian and collaborators 
Plant Finder
Info Zone - 10 Tips For Minimizing Transplant Shock - Secrets To Successful Transplanting
2010 Oklahoma Interactive Plant and Tree Hardiness Zone Map
Get Started With Vertical Gardening (Infographic)
tulsa-ok/planting-calendar/74129#below_plans
20 Plants for garden pathways which can handle foot traffic
Donate a Community Garden This Holiday Season | IRC Gifts
Organic Tulip Orange Cassini Pesticide Free Bulbs Quantity 6 - EcoTulips
Organic Tulip Princess Irene Pesticide Free Bulbs Quantity 6 - EcoTulips
Tulip - Fosteriana - Orange Emperor Fall Flower Bulb - Pack of 12: Patio, Lawn & Garden
Basil » Sustainable Gardening Australia