Gardening
Here you can find a wide swath of info, from chinampas to
aeroponics and everything in between.
Companion-planting-poster.jpg (696×962) Cold Hardy Avocado Trees | Cold Hardy Avocado Trees for Sale for Sale. Grows in all 50 States Able to withstand frigid temperatures as low as 18 degrees, from Green Bay to Tampa Bay, the Cold Hardy Avocado lives up to its name.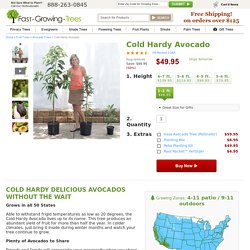 This tree produces an abundant yield of fruit for more than half the year. In colder climates, just bring it inside during winter months and watch your tree continue to grow. Plenty of Avocados to Share Friends and family will appreciate your generosity when you share the plentiful harvest that your Cold Hardy Avocado Tree will deliver time and time again. Mexicola Grande Avocado. Avocados have boomed in popularity the last few years.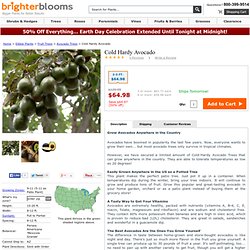 Now, everyone wants to grow their own... but most avocado trees only survive in tropical climates. However, we have secured a limited amount of Cold-Hardy Avocado Trees that can grow anywhere in the country. They are able to tolerate temperatures as low as 20 degrees! Easily Grown Anywhere in the US as a Potted Tree This plant makes the perfect patio tree. New Tab.
Edible Water Plants: Aquatic Vegetables. Water Spinach Ipomoea aquatica Ipomoea aquatica is a semi-aquatic tropical plant grown as a leaf vegetable.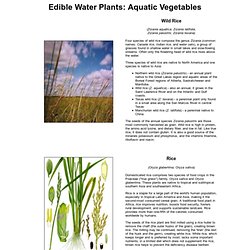 Its precise natural distribution is unknown due to extensive cultivation, with the species found throughout the tropical and subtropical regions of the world. Common names include water spinach, swamp cabbage, water convolvulus, water morning-glory, kangkung, kangkong, eng chai, tangkong, kang kung, rau muống, kongxincai, home sum choy, and ong choy or tung choi.
Edible and Medicinal Pond Plants | Lilies Water Gardens. Edible and Medicinal Pond Plants When we think of water gardens and ponds, we imagine a picture of nature, made up of reflections, fish, wildlife and plants.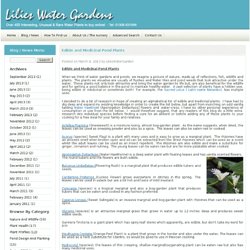 The plants we visualise are usually of Rushes and Water lilies and pond weeds that look attractive under the water. The Edible Pond and Bog Garden. The Edible Pond and Bog Garden The following list contains many plants, most of them either natives of Britain or naturalized here, that can be grown in ponds or boggy ground.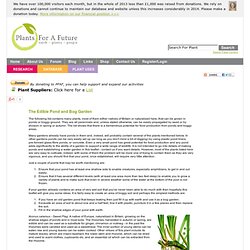 They are all perennials and, unless stated otherwise, can be easily propagated by seed or by division in spring or autumn. The list shows that there is a tremendous potential for food production from ponds and boggy areas. Many gardens already have ponds in them and, indeed, will probably contain several of the plants mentioned below. 10 Most Useful Medicinal Plants For Your Garden. Would you like to create your very own backyard pharmacy by growing medicinal plants?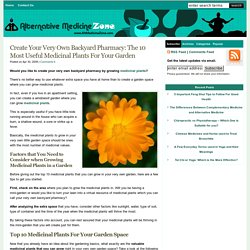 There's no better way to use whatever extra space you have at home than to create a garden space where you can grow medicinal plants. In fact, even if you live in an apartment setting, you can create a windowsill garden where you can grow medicinal plants. This is especially useful if you have little kids running around in the house who can acquire a burn, a shallow wound, a sore or strike up a fever. Visual-News-seasonal-fruits-and-veggies-c5.jpeg (918×2200) Interesting Plant: Black Bamboo (Phyllostachys nigra) By Douglas E.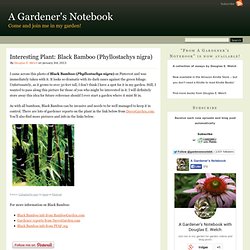 Welch on January 3rd, 2013 I came across this photo of Black Bamboo (Phyllostachys nigra) on Pinterest and was immediately taken with it. It looks so dramatic with its dark canes against the green foliage. Unfortunately, as it grows to over 30 feet tall, I don't think I have a spot for it in my garden. Still, I wanted to pass along this picture for those of you who might be interested in it. Water, rest, water, save.
Public release date: 9-Nov-2012 [ Print | E-mail Share ] [ Close Window ] Contact: Richard Whiterh-white@tamu.edu 979-845-1550Texas A&M AgriLife Communications.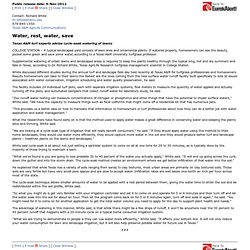 DIY Trellis Ideas. Hello!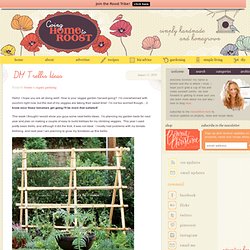 I hope you are all doing well! How is your veggie garden harvest going? I'm overwhelmed with zucchini right now, but the rest of my veggies are taking their sweet time! I'm not too worried though….I know once those tomatoes get going I'll be more that satiated! This week I thought I would show you guys some neat trellis ideas. 10 Wild Edible Plants to Save Your Life. 18 of Nature's Most Powerful Medicinal Plants. (Part of an Exclusive WebEcoist Series on Amazing Trees, Plants, Forests and Flowers) From marijuana to catnip, there are hundreds of remarkably common herbs, flowers, berries and plants that serve all kinds of important medicinal and health purposes that might surprise you: anti-inflammatory, anti-fungal, insect repellent, antiseptic, expectorant, antibacterial, detoxification, fever reduction, antihistamine and pain relief.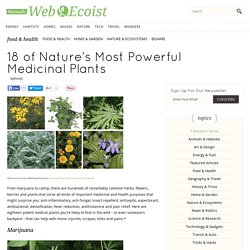 Here are eighteen potent medical plants you're likely to find in the wild – or even someone's backyard – that can help with minor injuries, scrapes, bites and pains. . * Growing mushrooms in a laundry basket. Thought you might like to see a great way to grow mushrooms outdoors if you have a shady place that gets watered regularly… This technique also works indoors, but the laundry basket is usually bagged or boxed until the straw is completely colonised with mycelium. This technique has both upsides and downsides, but most importantly, it's easy, and gets people growing mushrooms! Huzzah… Zodd's oyster mushrooms.
Recipies. One of earliest farming sites in Europe discovered. University of Cincinnati research is revealing early farming in a former wetlands region that was largely cut off from Western researchers until recently. The UC collaboration with the Southern Albania Neolithic Archaeological Project (SANAP) will be presented April 20 at the annual meeting of the Society for American Archaeology (SAA).
Susan Allen, a professor in the UC Department of Anthropology who co-directs SANAP, says she and co-director Ilirjan Gjipali of the Albanian Institute of Archaeology created the project in order to address a gap not only in Albanian archaeology, but in the archaeology in Eastern Europe as a whole, by focusing attention on the initial transition to farming in the region. "For Albania, there has been a significant gap in documenting the Early Neolithic (EN), the earliest phase of farming in the region," explains Allen. How to Store Vegetables & Fruit Without Plastic. So you've got all these great fruits and vegetables and now we're going to help you keep them at their freshest with these tips. These tips are from the Berkley Farmer's Market which is a Zero Waste market!
Here is a printable PDF of their original tip sheet. How to Grow and Store Potatoes, Onions, Garlic and Squash, Keeper Crops. During the winter months, when the ground is covered by a thick blanket of snow, there's something particularly satisfying about still being able to eat food from your garden. There are many summer-grown crops including potatoes, onions, garlic, beets, carrots and winter squash, can be stored with relative ease to nourish you right through until the next growing season.
Even a modest-size garden can yield a substantial crop of winter keepers. The omnivore's next dilemma: Michael Pollan on TED. What if human consciousness isn't the end-all and be-all of Darwinism? What if we are all just pawns in corn's clever strategy game, the ultimate prize of which is world domination? Michael Pollan asks us to see things from a plant's-eye view — to consider the possibility that nature isn't opposed to culture, that biochemistry rivals intellect as a survival tool. By merely shifting our perspective, he argues, we can heal the Earth. Michael Pollan gives a plant's-eye view. Britta Riley: A garden in my apartment. Louie Schwartzberg: Nature. Beauty. Gratitude. Shimon Steinberg: Natural pest control ... using bugs! | Video on TED.com - StumbleUpon.
Chinampa Gardening. Perma-Culture Gardening. Cold Frame Gardening. Rain Gardens. Potato Towers. Sub-Irrigated Planter Gardening. Hydroponic Gardening. Aeroponic Gardening. Aquaponics Gardening. Arduino Assisted Gardening.
Improve your Life Quality with Plants. Composting. Organic Seed Suppliers. Cacti & Succulents. Kaneh Bosm || Cannabis. Tulsa Master Gardeners. NYS Horticulture Study Guide For Youth. Garden-Based Learning. TULSA MASTER GARDENER-INFORMATION LOCATOR FILE. OCES Publications. RHS Plant Selector.
NPIN: Native Plant Database. Leafsnap, a new mobile app that identifies plants by leaf shape, is launched by Smithsonian and collaborators  Plant Finder. Info Zone - 10 Tips For Minimizing Transplant Shock - Secrets To Successful Transplanting. 2010 Oklahoma Interactive Plant and Tree Hardiness Zone Map. Get Started With Vertical Gardening (Infographic) Sproutrobot.com. Tulsa-ok/planting-calendar/74129#below_plans. Do-It-Yourself Soil Test - How to Test Soil Acidity/Alkalinity without a Test Kit. 20 Plants for garden pathways which can handle foot traffic.
Donate a Community Garden This Holiday Season | IRC Gifts. Tulip - Fosteriana - Orange Emperor Fall Flower Bulb - Pack of 12: Patio, Lawn & Garden. Indoor Gardening. Planting A Pineapple.
---