Infographs
10 Astounding Infographics Comparing Money Matters Around the World. 47 Flares Google+ 2 Twitter 31 Facebook 4 Reddit 1 StumbleUpon 1 Pin It Share 0 LinkedIn 8 inShare8 47 Flares × It goes without the saying that comparing wealth and spending in different countries is almost impossible: people work, earn and even spend differently – moreover, their ways of life and views can be too different to compare.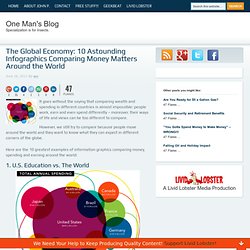 The Anatomy Of An Infographic. Information is very powerful but for the most bit it is bland and unimaginative.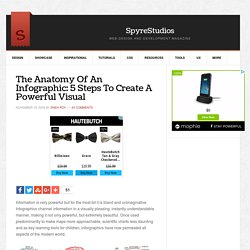 Infographics channel information in a visually pleasing, instantly understandable manner, making it not only powerful, but extremely beautiful. Once used predominantly to make maps more approachable, scientific charts less daunting and as key learning tools for children, inforgraphics have now permeated all aspects of the modern world. I designed a couple of infographics back in college, the need arising especially around the time Soccer World Cup fever spiked.
The American identity according to social media #infographic. What can we learn about the people of America from statistical data?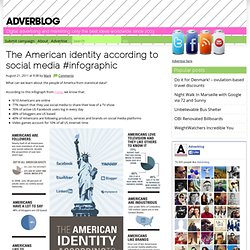 According to this infograph from Hasai, we know that: 9/10 Americans are online77% report that they use social media to share their love of a TV show70% of active US Facebook users log in every day48% of bloggers are US based40% of Americans are following products, services and brands on social media platformsVideo games account for 10% of all US internet time. The Sunscreen Smokescreen. It started with a question.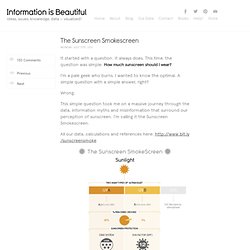 It always does. This time, the question was simple: How much sunscreen should I wear? I'm a pale geek who burns. An Infographic on Infographics : Cool Infographics. 1-why-infographics.jpg (JPEG Image, 600 × 400 pixels) What Annoys People About Emails? [Infographic] Email, the never ending communication media through which everyone has succeeded and will be successful forever.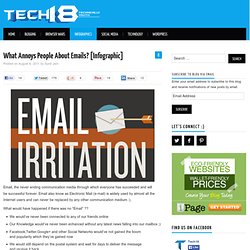 Email also know as Electronic Mail (e-mail) is widely used by almost all the Internet users and can never be replaced by any other communication medium :). What would have happened if there was no "Email" ?? We would've never been connected to any of our friends onlineOur Knowledge would've never been enhanced without any latest news falling into our mailbox ;)Facebook,Twitter,Google+ and other Social Networks would've not gained the boom and popularity which they've gained nowWe would still depend on the postal system and wait for days to deliver the message and receive it back But I'm thankful to all the technicians and Engineers who has provided Email service to us and in 1971 the first Email (ARPANET) was sent and successfully received, which was the start of the Internet Revolution. How To Train Yourself to Speed Read. Cool Infographics - Blog.
How Does the Brain Retain Info? Do You Know The Real Cost Of Social Media? These days if you're not using social media to build your brand then you're way behind the times.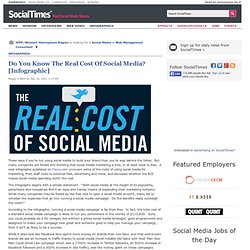 But many companies are fooled into thinking that social media marketing is free, or at least close to free. A new infographic published on Focus.com uncovers some of the costs of using social media for marketing, from staff costs to external fees, advertising and more, and discusses whether the ROI makes social media spending worth the cost. The infographic begins with a simple statement. "With social media at the height of its popularity, advertisers and companies find it an easy and trendy means of expanding their marketing horizons. Coca Cola World- Infograph. Time Zones. Cloning-facts-infographic.jpg (JPEG Image, 5175 × 3375 pixels) - Scaled (26%)
10 Astounding Infographics Comparing Money Matters Around the World. 16 Facts About Sleep. In order to start the week off right, I thought I would share an infographic very appropriate for a Monday, one entitled "16 Things You Didn't Know About Sleep."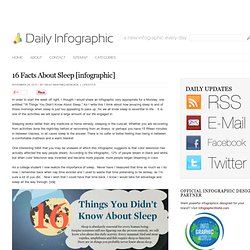 As I write this I think about how amazing sleep is and of those mornings when sleep is just too appealing to pass up. As we all know sleep is essential to life. It is one of the activities we will spend a large amount of our life engaged in. Sleeping works better than any medicine or home remedy, sleeping is the cure-all. Whether you are recovering from activities done the night/day before or recovering from an illness, or perhaps you have 15 fifteen minutes in between classes, in all cases sleep is the answer.
20 things that happen in 1 minute. What Are The Hardest Languages To Learn? [INFOGRAPHIC] Learning a new language can be difficult, but some languages can be trickier than others.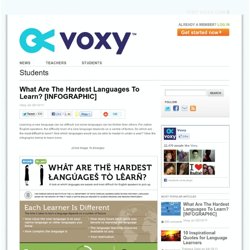 For native English speakers, the difficulty level of a new language depends on a variety of factors. So which are the most difficult to learn? And which languages would you be able to master in under a year? View the infographic below to learn more. (Click Image To Enlarge) Consumer Spending InfoGraph. 10 Commonly Misunderstood Words. My friends and I are self-professed grammar geeks.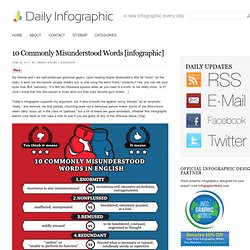 Upon hearing Alanis Morissette's 90s hit "Ironic" on the radio, a worn out discussion usually breaks out: is she using the word "ironic" correctly? Yes, you can roll your eyes now. But, seriously, "It's like ten thousand spoons when all you need is a knife" is not really ironic, is it? (And I know that this discussion is more worn out than your favorite gym shorts…) Today's infographic supports my argument, but it also schools me against using "literally" as an emphatic "really," and reminds me that politely chuckling does not a bemused person make. What Shapes Our Language? Our language is constantly being shaped by a number of different influences, from social media and pop culture to other languages and even human error.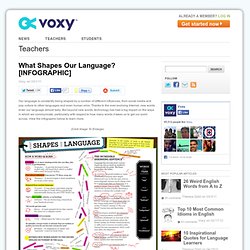 Thanks to the ever-evolving Internet, new words enter our language almost daily. But beyond new words, technology has had a big impact on the ways in which we communicate, particularly with respect to how many words it takes us to get our point across. View the infographic below to learn more. Left Handed Facts 7 Stats.
15% of people are left handed. I always thought this number was higher — and according to some of my left handed friends and family, also smarter? Well, according to this infographic, they are also more likely to become alcoholics — so I guess that's a fair trade-off. If only 15% of people are left handed, think about the market that exists for left handed folks. Left-handed scissors, golf clubs, and potato knives. I'd be interested in finding out how much companies like, Taylor Made, allocate to left handed product development.
20 Examples Of Infographs That You Don't See Every Day | I think we all know what an infograph is, and nowadays they are increasingly popular. The bad thing is that almost all of them are becoming boring and very similar. In this article I have collected 20 infographs that are very unique design and also interesting subjects. Twitter Dots: Mapping all Tweets for a specific Keyword Twitter Dots translates individual tweets as simple dots on a geographical world map. It is as simple as that. Women in Business. I'm sure you've been filling out a RFP, or some mundane company information form, when you see the section that asks if your company is a Women-Owned Business. My company is not run by women, however, I work with several companies that have women owners and key stakeholders.
There are some advantages to being a women-owned business, but according to this infographic, women still only hold 3% of c-level positions. This is changing though. This infographic shows some positive numbers around salaries and GMAT numbers. I have a feeling that women will continue to move towards men in salary, position, and authority. Tipping Etiquette Around the World. Growing up I never really understood the tip, it always seemed as though we were just paying twice for someone to do their job. However as I've gotten older I've realized tipping is a pretty important thing. After all these people are handling your food and other important things you don't want them messing with/up. Random funny pictures - StumbleUpon.
---