Food
This is another recipe from my mother's recipe collection. It's a make-ahead concoction meant to be spread on English muffins and broiled. And it's just…it's just… It's divine. And here's what you need. Hard boiled eggs, shredded cheddar, fried bacon, mayonnaise, Dijon mustard, garlic powder, and Worcestershire.
Make-Ahead Muffin Melts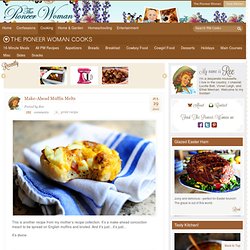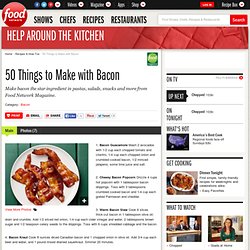 50 Things to Make With Bacon : Recipes and Cooking
1. Bacon Guacamole Mash 2 avocados with 1/2 cup each chopped tomato and cilantro, 1/4 cup each chopped onion and crumbled cooked bacon, 1/2 minced jalapeno, some lime juice and salt. 2. Cheesy Bacon Popcorn Drizzle 4 cups hot popcorn with 1 tablespoon bacon drippings.
Grilled Guacamole Recipe
Grilled Guacmole? Ummmm. Heck yes!! I made this recently for Tasty Kitchen and it was gooooood. You need to make it. Immediately.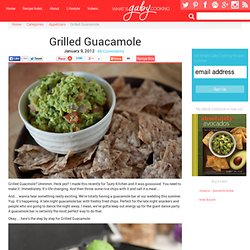 Parmesan Rosemary Brussels Sprouts and Bacon Pizza Apr 7, 2014 | Appetizers/Sides, Dinner, Sponsored | Tags: bacon, cheese, dinner, pizza, weeknight dinner My Parmesan Rosemary Brussels Sprouts and Bacon Pizza is a family favorite. Enjoy! It's always a pleasure working with Land O'Lakes to bring you my newest recipe. This one deserves a standing ovation.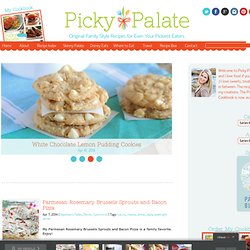 Picky Palate - StumbleUpon
Caramelized Chicken with Jalapeno Cream | How Sweet It Is - StumbleUpon
Want to know how to make one heck of a delicious chicken dish? Good. Because I was going to tell you anyway. First up. Chop up some jalapenos and other good stuff. Saute them in a little butter.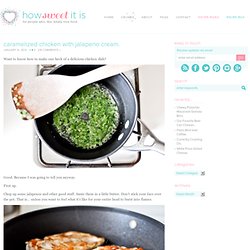 foodgawker | feed your eyes - StumbleUpon
100 Ways to Cook&8230;
s 25 Most Popular Recipes of 2010
Me again. Here to convince you that you need yet another trendy, insanely-flavored bottle of booze. I do what I can. I know what you're thinking.
S'moretini Shooters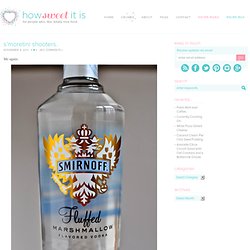 Jolly Rancher Vodka Tutorial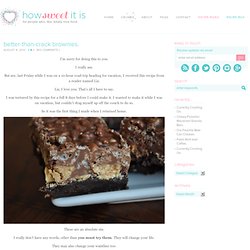 I'm sorry for doing this to you. I really am. But see, last Friday while I was on a 10-hour road trip heading for vacation, I received this recipe from a reader named Liz. Liz, I love you. That's all I have to say. I was tortured by this recipe for a full 8 days before I could make it.
Better-Than-Crack-Brownies
Peppermint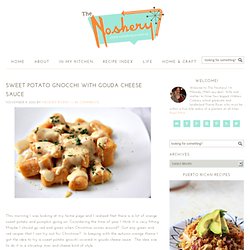 Sweet Potato Gnocchi with Gouda Cheese Sauce
This morning I was looking at my home page and I realized that there is a lot of orange sweet potato and pumpkin going on. Considering the time of year I think it is very fitting. Maybe I should go red and green when Christmas comes around? Got any green and red recipes that I can try out for Christmas? In keeping with the autumn orange theme I got the idea to try a sweet potato gnocchi covered in gouda cheese sauce.
Stay hungry my friends.
20 Make-You-Drool Bacon Recipes
Bacon goes with EVERYTHING. See for yourself. source: HowTo-Simplify.com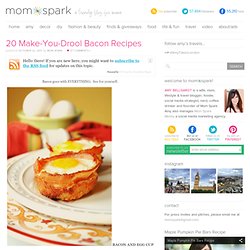 Mashed Potato Pictures : Recipes and Cooking
Sandwiches
Calzone!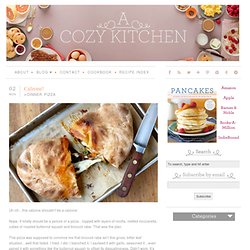 Uh-oh…this calzone shouldn't be a calzone. Nope. It totally should be a picture of a pizza…topped with layers of ricotta, melted mozzarella, cubes of roasted butternut squash and broccoli rabe.
Chicken Fingers with Chipotle-Honey
8640 minutes, 144 hours, 25 loads of dishes, 7 recipes, 8 pounds of butter, a few tears, a couple of happy children, and 1 relieved husband later, I have finally found it: a new favourite classic vanilla cake recipe! The perfect fluffy vanilla cake and creamy vanilla frosting–sounds simple, right? Well, yes and no. Or no and yes. Or not at all. As a matter of fact, I think I need a hug.
Fluffy Vanilla Cake with Whipped Vanilla Bean Frosting
Pimp That Snack - Double Decker
Double Decker by Mike for £5.00 26th September 2011 Here is my Double Decker Pimping Attempt. Here is the Original which I shall use as a blueprint for the pimpage.
More tests, more results! Follow The Food Lab on Facebook or Twitter. [Photographs: J. Kenji Lopez-Alt} My wife, in case you haven't noticed, is an odd sort of bird.
Cheese Sauce for Burgers, Fries, and Chips
Halloween Recipes
"This is probably my favorite way to eat chicken." That's a quote from my husband the last time I made Honey Mustard Chicken with Bacon and Mushrooms for dinner. Marinate some chicken breasts in honey, mustard, and lemon, then top with bacon, mushrooms and cheese… How could that go wrong? I love to serve this dish with a side of oven fries and a crisp lettuce salad. It's a meal full of flavor! Begin by making the marinade for the chicken.
Honey Mustard Chicken with Bacon and Mushrooms
11 Awesome Hangover Cures | Hang Over Remedies | MANjr
Hangovers are the worst. That nasty combo of headache, nausea and gut-pain can cost you precious hours of your life. While there are certainly preventative measures you can take to reduce the likelihood of a hangover (headache medication, food, lots of water before bed, etc.), inevitably you're going to get stuck with a dirty hangover that you need to crush before it kills your day. Here are 11 awesome hangover cures that you can turn to when you need to ease the pain.
2 Wired 2 Tired - 8 Buffalo Chicken Recipes
Cheesy Chicken, Bacon and Avocado Quesadillas
Ultimate Chocolate Chip Cookie n' Oreo Fudge Brownie Bar
Chicken Parmesan Skillet Pot Pie