Clothing Patterns
HANDKERCHIEF SKIRT. A handkerchief pointed-hem skirt is flattering to all, but especially for short-legged people because the points break up that horizontal hemline.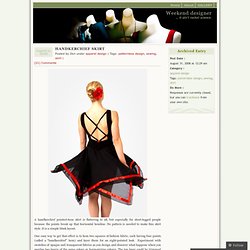 No pattern is needed to make this skirt style. It is a simple block layout. One easy way to get that effect is to hem two squares of fashion fabric, each having four points (called a "handkerchief" hem) and layer them for an eight-pointed look. Free Clothes Patterns.
Posted on | October 9, 2008 | 7 Comments I originally became interested in patternless sewing, many years ago, because I had a hard time finding patterns in my size.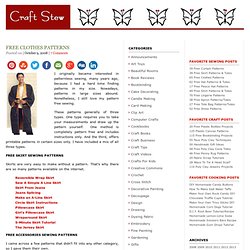 Nowadays, patterns in large sizes abound. Nonetheless, I still love my pattern free sewing. How to Make a Wrap Skirt to Fit Any Size: 9 steps (with pictures) Edit Article Edited by Ampner, LaurieWasHere, Krystle, Savannah and 2 others With these simple instructions you can make wrap skirts to fit your own measurements.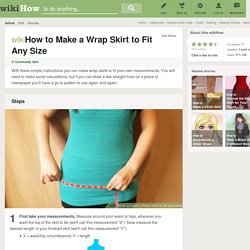 You will need to make some calculations, but if you can draw a few straight lines on a piece of newspaper you'll have a go-to pattern to use again and again. Ad Steps. 10 Free Hat Tutorials & Patterns - The Sew Weekly Sewing Blog & Vintage Fashion Community. Little Red Infinity Dress Tutorial. *Tutorial made by Melissa @ Sew Like My Mom for her win during the Red Week challenge.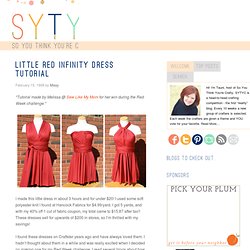 . * How to Make a Summer Dress out of a Bedsheet (with pictures) Steps Method 1 of 6: Plan Your Dress 1Take your measurements.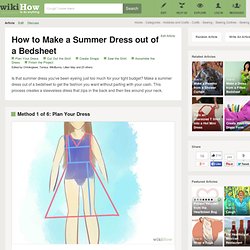 You will measure most accurately if you are unclothed. Measure your waist by wrapping a vinyl tape measure around it.Measure the distance from your waist to where you want the hem of the skirt to fall. Make This Look. All Free Sewing - Free Sewing Patterns, Sewing Projects, Tips, Video, How-To Sew and More.
Women's Clothing. Married to a bmw Free Sewing Patterns: Women's Clothing 06.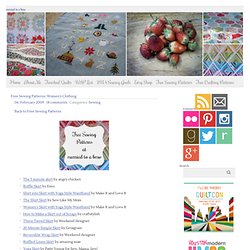 February 2009 · 18 comments · Categories: Sewing. 5-minute skirt* Here's the 5-minute skirt how to I have been meaning to post.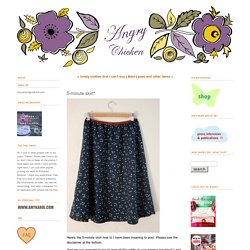 Please see the disclaimer at the bottom. And are you annoyed trying to read all this while at your sewing machine? I am! So get the PDF version right here. How to Make a Summer Dress out of a Bedsheet (with pictures)
---