Clothing Patterns
A handkerchief pointed-hem skirt is flattering to all, but especially for short-legged people because the points break up that horizontal hemline. No pattern is needed to make this skirt style. It is a simple block layout. One easy way to get that effect is to hem two squares of fashion fabric, each having four points (called a "handkerchief" hem) and layer them for an eight-pointed look.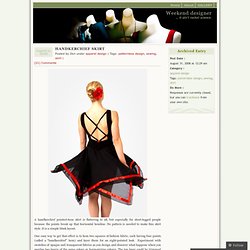 Posted on | October 9, 2008 | 7 Comments I originally became interested in patternless sewing, many years ago, because I had a hard time finding patterns in my size. Nowadays, patterns in large sizes abound. Nonetheless, I still love my pattern free sewing.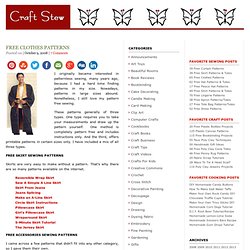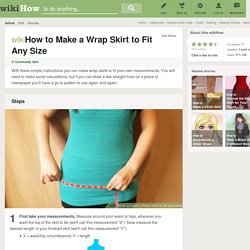 Edit Article Edited by Ampner, LaurieWasHere, Krystle, Savannah and 2 others With these simple instructions you can make wrap skirts to fit your own measurements. You will need to make some calculations, but if you can draw a few straight lines on a piece of newspaper you'll have a go-to pattern to use again and again. Ad Edit Steps
10 Free Hat Tutorials & Patterns - The Sew Weekly Sewing Blog & Vintage Fashion Community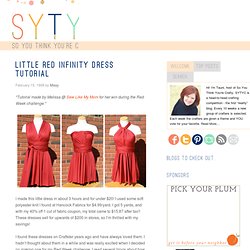 *Tutorial made by Melissa @ Sew Like My Mom for her win during the Red Week challenge.*
EditSteps EditMethod 1 of 6: Plan Your Dress 1Take your measurements. You will measure most accurately if you are unclothed. Measure your waist by wrapping a vinyl tape measure around it.Measure the distance from your waist to where you want the hem of the skirt to fall.
How to Make a Summer Dress out of a Bedsheet (with pictures)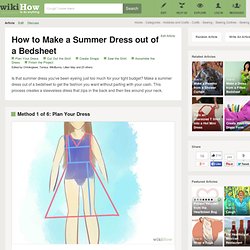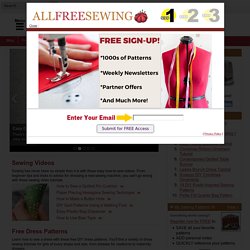 [ Close Privacy Policy ] Privacy Policy / Your California Privacy Rights Revised and posted as of March 4, 2013 Prime Publishing, LLC ("Company," "we" or "us") reserves the right to revise this Privacy Policy at any time simply by posting such revision, so we encourage you to review it periodically.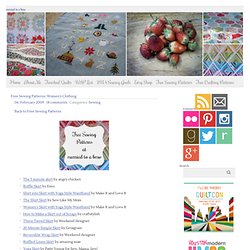 married to a bmw Free Sewing Patterns: Women's Clothing 06. February 2009 · 18 comments · Categories: Sewing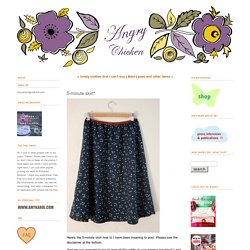 Here's the 5-minute skirt how to I have been meaning to post. Please see the disclaimer at the bottom. And are you annoyed trying to read all this while at your sewing machine? I am! So get the PDF version right here.
How to Make a Summer Dress out of a Bedsheet (with pictures)