Food
Get flash to fully experience Pearltrees
Mozzarella sticks are a delicious treat, probably one of the most popular appetizers at restaurants, and a fun party food. They tend to be rather fattening, especially considering they are usually fried, but they are so irresistibly tasty. So how do you give in to the temptation that is mozzarella sticks without the guilt? Make healthy, Baked Mozzarella Sticks ! Here is a recipe I love , and your family will too. Ingredients
Last week, it was pointed out to me that among the 750 recipes in the archives , there is but a single recipe that utilizes broccoli . Just one! (It's a great one , though.) For comparison, there are 11 recipes that use cauliflower and 26 with mushrooms . What terrible oversight could have led to this?
First things first, the CellarVie Wines team cannot lay claim to being responsible for the making of the 'Ultimate Sandwich'. This remarkable feat of culinary engineering, complete with the beautiful pictures displayed below, arrived in our inbox courtesy of an anonymous email chain on Tuesday afternoon. Jamie Oliver would undoubtedly and perhaps quite correctly, not endorse this as a healthy meal, and it certainly isn't for the faint-hearted but we thought it was a bit of fun nonetheless. So feast your eyes on the 'Ultimate sandwich'…
"Scalloped" is an attractive word, isn't it? When I hear it I think of several things: first, there's scallops, as in the seafood—totally delicious. Then there's the scalloped shape that can live on the edge of a pair of shorts or on the collar of a woman's blouse—always pretty and dainty. And of course scalloped potatoes also comes to mind, which carries my imagination to a land of crispy potato skins drenched in a sea of cheese and cream. I can think of no better place to exist, actually. So when I came across TK member Shelbi Keith's recipe for Scalloped Hasselback Potatoes , I knew we were going to become fast friends.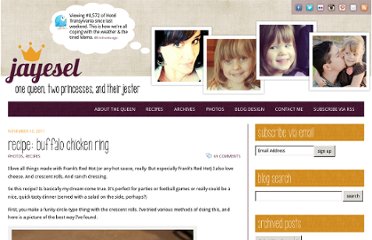 I love all things made with Frank's Red Hot (or any hot sauce, really. But especially Frank's Red Hot) I also love cheese. And crescent rolls. And ranch dressing. So this recipe? Is basically my dream come true.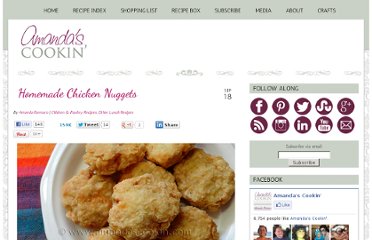 I have been meaning to make these chicken nuggets for quite a while. I've seen this recipe in several places around the net, so not sure who the genius was behind this wonderful McDonald's copycat, but these chicken nuggets are a new favorite. The best part is knowing exactly what's in these little chicken goodies and knowing there aren't any preservatives or mystery ingredients either. To give you an idea of how these taste, my husband came in and grabbed one off the plate. After his first bite he made the "mmmm" sound and then exclaimed: