Check ups
Deathray. Lost Tesla Papers about the "Death Rays" Click here for Nikola Tesla interview in the New York Time about the "Death Rays" Nikola Tesla died on January 7th, 1943 in Hotel New Yorker, in Manhattan, in room 3327 on the 33rd floor of the hotel.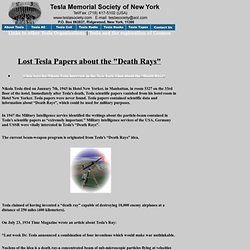 Immediately after Tesla's death, Tesla scientific papers vanished from his hotel room in Hotel New Yorker. 8 math talks to blow your mind. Mathematics gets down to work in these talks, breathing life and logic into everyday problems.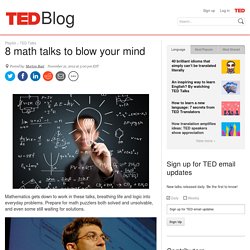 Prepare for math puzzlers both solved and unsolvable, and even some still waiting for solutions. Ron Eglash: The fractals at the heart of African designs When Ron Eglash first saw an aerial photo of an African village, he couldn't rest until he knew — were the fractals in the layout of the village a coincidence, or were the forces of mathematics and culture colliding in unexpected ways? Here, he tells of his travels around the continent in search of an answer. How big is infinity? Dub :: Project :: VoiceDraw. VoiceDraw is a drawing program designed to be controlled using only one's voice.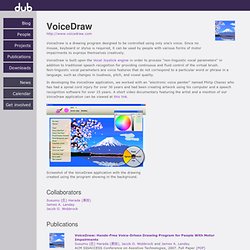 Since no mouse, keyboard or stylus is required, it can be used by people with various forms of motor impairments to express themselves creatively. VoiceDraw is built upon the Vocal Joystick engine in order to process "non-linguistic vocal parameters" in addition to traditional speech recognition for providing continuous and fluid control of the virtual brush. Non-linguistic vocal parameters are voice features that do not correspond to a particular word or phrase in a language, such as changes in loudness, pitch, and vowel quality. In developing the VoiceDraw application, we worked with an "electronic voice painter" named Philip Chavez who has had a spinal cord injury for over 30 years and had been creating artwork using his computer and a speech recognition software for over 15 years.
A short video documentary featuring the artist and a mention of our VoiceDraw application can be viewed at this link. 33 Movies To Watch When You're Sad, Glum Or Bummed&160;Out! www.galadarling.com. We all have days that don't feel quite right.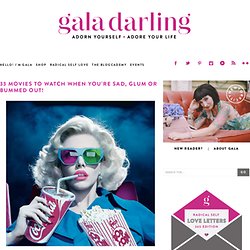 Maybe you're bored, sick or lethargic. Perhaps you just got some bad news that has left you feeling slack-jawed & useless. Maybe you're worried about your sister, or fighting with your husband. Perhaps it's just raining outside, like it is here today! 50 Things Everyone Should Know How To Do. Self-reliance is a vital key to living a healthy, productive life.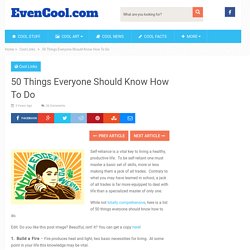 To be self-reliant one must master a basic set of skills, more or less making them a jack of all trades. Contrary to what you may have learned in school, a jack of all trades is far more equipped to deal with life than a specialized master of only one. While not totally comprehensive, here is a list of 50 things everyone should know how to do.
Edit: Do you like this post image? The Official String Theory Web Site. - StumbleUpon. Midnight in Paris Woody Allen's latest places starving writer Owen Wilson in Paris with his fiancée, Rachel McAdams.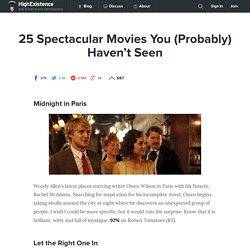 Searching for inspiration for his incomplete novel, Owen begins taking strolls around the city at night where he discovers an unexpected group of people. I wish I could be more specific, but it would ruin the surprise. Know that it is brilliant, witty and full of mystique. 92% on Rotten Tomatoes (RT). Let the Right One In.
Others
Celtic Symbols and Celtic Signs. Celtic Symbols and Signs (portal page) For centuries, Celtic symbols and signs held incredible power for the ancient Celts in every way of life.
Today, we can learn about this power and utilize it by learning the language of Celtic symbols. Wizard of Oz / Pink Floyd synchronization now on YouTube. July 25, 2012, 1:44 PM — This urban legend has been around for almost 20 years now - the idea that if you watch the movie "The Wizard of Oz" with the audio off, and then play Pink Floyd's "Dark Side of the Moon" as the soundtrack, that the music and visuals from the movie magically synchronize.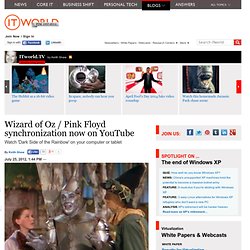 Rather than trying to time this perfectly with your home theater system, you can now watch this effect on YouTube, in its entirety. Psychology 140, 001|Spring 2010|UC Berkeley. 15 Amazing Animated Short films. We all love short animated films, but creating short film is very hard task.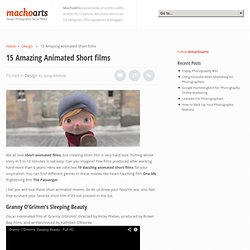 Putting whole story in 5 to 10 minutes is not easy. Can you imagine? Few films produced after working hard more than 6 years! Here we collected 15 dazzling animated short films for your inspiration. You can find different genres in these movies like heart-touching film One life, frightening film The Passenger. The 25 Most Powerful Songs of the Past 25 Years. By Jennifer Drapkin, Kevin O'Donnell and Ky Henderson They're not the most beautiful songs, or the most musically important.
In fact, a few could literally drive you nuts. But the following tunes—some as old as Mozart, others as current as Beyonce? —have fundamentally altered the world we live in at some point in the last quarter century. They've saved lives, brought glory to America, and gotten teenagers to use deodorant.
---