Crafts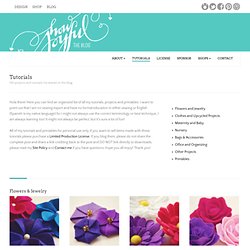 Hola there! Here you can find an organized list of all my tutorials, projects and printables. I want to point out that I am no sewing expert and have no formal education in either sewing or English (Spanish is my native language) So I might not always use the correct terminology or best technique, I am always learning too! It might not always be perfect, but it's sure a lot of fun!
Tutorials
Homemade Bubble Machine
There are currently no images from other crafters. close Terms & Conditions You must enter into this Agreement if you want to submit digital images or other content to Prime Publishing through Sharing Customer Images (the "Service").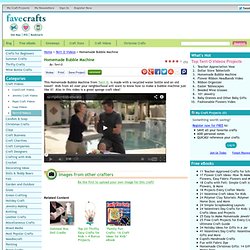 bulb01.jpg 610×551 pixels
Smoothfoam™ Felt/Pom Wall Letter
goOrigami
8485681.JPEG (400×10200)
Crafts 4 Boys — Creativity with a side of DIRT!
I'm a rather spazztic craft lover who likes to record her craft endeavors online. The listing of craft tutorials is completely random, from the easy to the edible, from weird to traditional. Whatever—I have fun making it. Lately, I've been adding a few tutorials created by a friend.
Random and Odd Craft Projects at Spazztic Crafts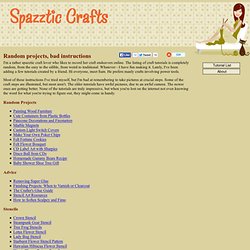 Time: 3-5 minutes Materials: thread, needle, shank button, scissors, fabric Before jumping into a 4 day make-a-thon known as Craftcation, I decided to brush up on the little sewing skills I have. While glitter dipping will always be my craft of choice, it's nice to have a base of practical skills. I'll be sharing a DIY using this technique next week, so stay tuned!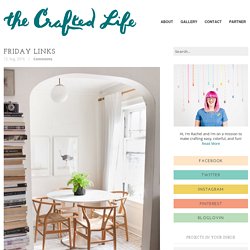 52 Weeks Project
DIY String Art | Hellobee
Hi guys! Dina here from Honey & Fitz back with another tutorial. This time I'm showing you how to make some string art for your little one's room! Rather than deal with hammers and cutting wood, I decided to do this project using cork tiles. Not only are they easy to find and inexpensive, they're also very light weight so you don't have to worry about them falling off the wall and hurting anyone. Here are the supplies you'll need: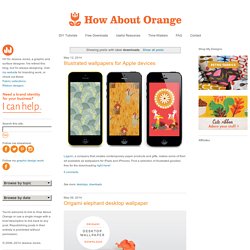 My 2014 Oscar ballot and bingo game are done! Get set to enjoy Sunday's Academy Awards with friends. It doesn't matter if they watch movies or know who the actors are; anyone can play bingo and it's a good excuse for a party.
How About Orange
Thursday, June 14, 2012 4:30 am, Posted by Chris Groves | Internet 20 Awesome Do It Yourself Projects Topics: At Home Project Ideas , Creative DIY Home Projects , Do It Yourself Projects for 2012 , Fun How To Projects , What to Do with Extra Stuff Are you bored and have a bunch of extra little items hanging around here and there? Well we were in the same boat so we decided to round up 20 different awesome at home projects you can do. Anything from soda pop cap lids to spoons and more.
20 Awesome Do It Yourself Projects
101 Crafty Gifts
To make all of these Instructables, download this collection of How To's as an ebook. Download » 101 Crafty Gifts is a collection of simple, beautiful gifts you can make! Looking for that perfect gift to make for someone? This collection of over 100 projects from Instructables.com has step-by-step instructions and pictures to get you going!
Creative Kismet » DIY ideas
Here is a list of Tutorials that I have found, tried or have wanted to try. I had been keeping them bookmarked and tagged, but still found it hard to keep track of them all. So, here is my compiled list of wonderful tutorials by all kinds of amazing crafters and artists. Of course, there is not enough time in the world to make ALL of these great things, but when I need an idea for a gift, this is where I can go- and maybe you too.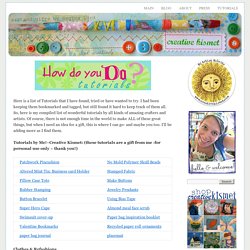 Hi! We show you're using Internet Explorer 6. Unfortunately, IE6 is an older browser and everything at MindBites may not work for you. We recommend upgrading (for free) to the latest version of Internet Explorer from Microsoft or Firefox from Mozilla. Click here to read more about IE6 and why it makes sense to upgrade.
Arts & Crafts how-to videos | MindBites.com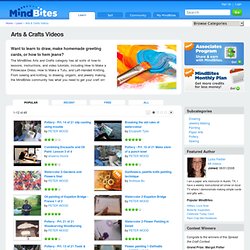 How to Make Cherry Blossom Lights
I love the way the cherry trees outside my building bloom cheerfully each Spring. I wanted to bring the beauty of those cherry blossoms indoors so I made some out of tissue paper and to make them even more special I added LEDs These pretty lights are inexpensive and easy to make. They are made mostly from material found at a dollar store. You can make several branches for a spray of cherry blossoms to decorate your room.
Henna Tattoos
Henna tattoos are perfect for summertime. They are natural, they are beautiful, and they are temporary! Because one batch of henna goes a long way, henna tattoos are a great activity for parties and are especially fun for kids at a sleep over. I tend to give them as part of celebrations, say at a baby shower or bachelorette party, but I also love giving them to people who need some love and healing. When Goli had her knee surgery, I gave her a henna tattoo on her foot.
Jellyfish in a Bottle | Fun Family Crafts
Altered Pop Top Can Project Tutorial by Julie Buhler
Craft Ideas
most gawked all-time
twine ball lights
Time for another DIY craft project and today I'll be showing you exactly how you can make this twine-ball light garland yourself. It's one of those projects that's a little bit messy and does take quite a bit of time, but it is so much fun. Plus you have a really cool piece of decor at the end of it. Perfect for parties or around the home, you can paint it up in any colour you want to match your design scheme, and when lit, it looks so pretty, casting lots of patterned twinkly light everywhere.
Arts And Crafts Photo Gallery
Girly duct tape wallet/clutch
At the base of this wallet are two sheets of duct tape. I've found that the easiest way to make one of these sheets is to start with a piece of loose leaf and cover that in duct tape on both sides. that way you can get nice straight lines. It also adds a bit more stability. -10"x9.5" This one is to be folded into three sections. The first is with the cards, the second is the pocket for the money, and the third it the flap with the velcro. You can see these on the finished wallet.
Gifts to Make for Your Man - StumbleUpon
duct tape roses
No-Sew Book Cover for your eReader or Tablet
Anthro-Inspired Book Stack Necklace - JEWELRY AND TRINKETS
How To: Not Your Ordinary Book Light. – Grathio Labs
Project: Wooden Salt Cellar
Hershey Kiss Craft
flax & twine: Day 3: Sparkle Headbands - a diy headband tutorial
Headband Refashion
Atomic Shrimp - Drink Can Tinwork
teddy bear from pipe leaner & polymer clY
….aaaand we're back - Kitty Baby Love
to Tie-Dye for … | Sharpie Markers Official Blog
Zip-up Earbuds » LauPre
Holder for Charging Cell Phone (made from lotion bottle)
Embroidered Buttons
Embroidery
FamilyFun (Disney)
Rubber Stamped Dominoes