Implementation
Classroom iPod touches & iPads: Dos and Don'ts. Do delete content.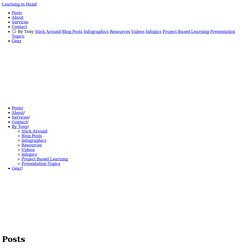 Since you are mirroring the computer's iTunes Library onto the iPods, deleting items from iTunes will delete them from the iPods. After you no longer have a need for a podcast, video, or audiobook, delete it so it is not taking up room and cluttering up the iPods. Edtechdiva - The One iPad Classroom. Only 1 iPad in the Classroom? [for additional ELA/Reading specific apps and ideas see Reading on the iPad] Is only one iPad in a classroom worth it?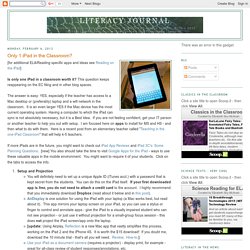 This question keeps reappearing on the EC Ning and in other blog spaces. The answer is easy: YES, especially if the teacher has access to a Mac desktop or (preferably) laptop and a wifi network in the classroom. It is an even larger YES if the Mac device has the most current operating system. Heidisongs Resource: Tips for the One iPad Classroom, and a Free iPad Rules Download! Do you have an iPad in your classroom?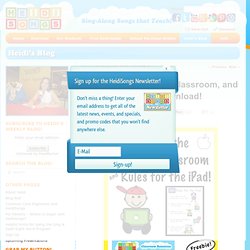 Are you wondering how you can make use of it when there is only one device for all of your students to share? Well, never fear, I have tons of ideas for you right here, and a "Rules for the iPad" free download, too! And for those of you that may be new to my blog, this post focuses on using the iPad in the young children's classroom, such as Pre-K, Kindergarten, First Grade, etc. Before you get started using the iPad in any manner, make your expectations on how to use the device clear. Here are my rules for the iPad.
Transformative iPad Use in Early Elementary School. Wallpaper iPod touch with Numbers. Update August 1, 2013: 12 new hi-res numbered backgrounds for iPads and iPods have been added.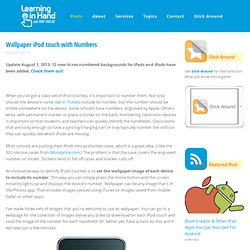 Check them out! When you've got a class set of iPod touches, it's important to number them. Not only should the device's name (set in iTunes) include its number, but the number should be visible somewhere on the device. Some schools have numbers engraved by Apple. Tips for iPads in Classroom. We are starting our second year of having iPads in our elementary classrooms, our Title I CCJH classrooms, and some of our AJHS classrooms.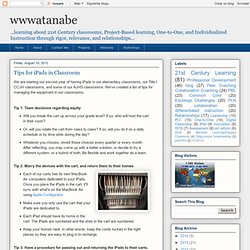 We've created a list of tips for managing the equipment in our classrooms. Tip 1: Team decisions regarding equity Will you break the cart up across your grade level? Favorite quotes from Minnetonka's 1:1 iPad Institute « West Des Moines Community Schools Technology. On July 18th, our district sent a small team (Jackie Neuberger, Bryan Stearns, David Maxwell, and myself) to visit Minnetonka, Minnesota schools for their 1:1 iPad Institute.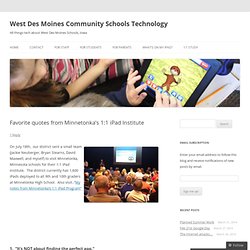 The district currently has 1,600 iPads deployed to all 9th and 10th graders at Minnetonka High School. Also visit.."My notes from Minnetonka's 1:1 iPad Program" The Must-Have App Review Rubric. Added by Jeff Dunn on 2011-11-22 So you just downloaded a few educational apps that you think might be useful in your classroom.
How do you accurately compare and contrast them? Terice T. Schneider's Digital Home | Educator, Wife, Mother, Grandmother, Friend. A Friendly Guide to Deploying iPads at Your School. For personal use, the iPad is a breeze to set up.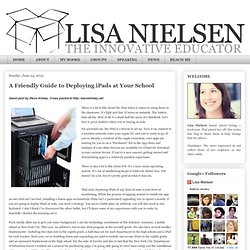 Turn it on, connect to a wireless network, enter your Apple ID, and you're ready to go. If you're already a resident of the Apple ecosystem, your apps are waiting for you in on a "Purchased" list in the App Store and backups of your other devices are available via iCloud for download to your current device. If you're a new convert, getting started and downloading apps is a relatively painless experience.
The Ultimate Guide To Using iPads In The Classroom. How Students Benefit From Using Social Media 14.60K Views 0 Likes A lot of criticism has been leveled at social media and the effect it has on the way students process and retain information, as well as how distracting it can be.
However, social media offers plenty of opportunities for learning and interactivity, and if you take a moment to think about it, it's not too hard to see how students benefit from using social media. Preparing Your School for an iPad Implementation. Planning is imperative for any technology initiative - iPad or otherwise.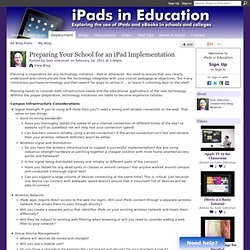 You need to ensure that you clearly understand and communicate how the technology integrates with your overall pedagogical objectives. Too many institutions purchase technology and then search for ways to utilize it ... or leave it collecting dust on the shelf. Planning needs to consider both infrastructure needs and the educational applications of the new technology. Without the proper preparation, technology initiatives are liable to become expensive failures. My Guide to iPad Deployment in School.
Almost two years ago to the day, I wrote a post, "The iPad: Why Teachers Should Care." Flash forward to today, both of the schools I work at have purchased one iPad for each classroom. Although I've already mastered how to manage all the iDevices in my personal household, learning to manage iPads in an institutional environment involved a bit more learning due to the complexities of software licensing and the necessity to keep institutional accounts separate from personal ones.