Photoshop
Handy Techniques for Cutting Out Hair in Photoshop. This post was originally published in 2009 The tips and techniques explained may be outdated.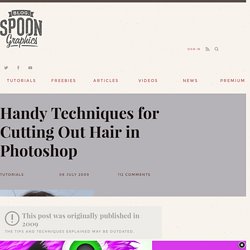 When trimming out images in Photoshop, human hair or animal fur always proves troublesome and can be tricky to achieve a realistic look. Here are two techniques I use on images with both plain backgrounds, and those with a varied background tones, each achieving pretty decent end results. Technique One: Images with Plain Backgrounds The best photos are those professional studio type shots that are taken against a plain white background. These shots make it much easier to find the edges of the subject, but trimming out fine hairs can still be a little tricky. How to: Make a Hand-Drawn Font | BittBox. If our freebies have benefited you personally or have helped you earn a profit please consider donating via paypal.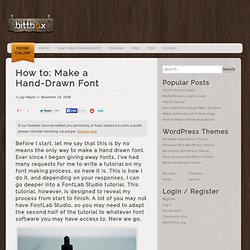 Donate Now Before I start, let me say that this is by no means the only way to make a hand drawn font. Ever since I began giving away fonts, I've had many requests for me to write a tutorial on my font making process, so here it is. This is how I do it, and depending on your responses, I can go deeper into a FontLab Studio tutorial. This tutorial, however, is designed to reveal my process from start to finish. How to Remove Tourists from Your Photos | Travel Photography and Stock Images by Manchester Photographer Darby Sawchuk - dsphotographic.com. Every notable landmark seems to have one thing in common: visitors, and lots of them.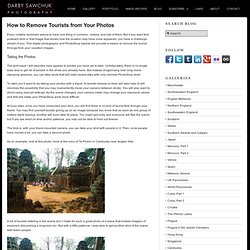 But if you want that postcard shot or that image that shows how the location may have once appeared, you have a challenge ahead of you. This digital photography and PhotoShop tutorial will provide a means to remove the tourist throngs from your vacation images. Taking the Photos The technique I will describe here applies to photos you have yet to take. Unfortunately, there is no single easy way to get rid of people in the shots you already have. Create a grungy background using patterns: Part 2. I've been asked to do a tutorial on how to do my end result for the previous tutorial, so the end of the week article will be a continuation of the pattern tutorial.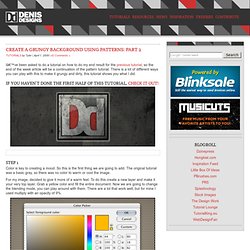 There is a lot of different ways you can play with this to make it grungy and dirty, this tutorial shows you what I did. If you haven't done the first half of this tutorial, check it out! Step 1 Color is key to creating a mood. Pics from Blame It On The Voices. Warning Label Generator. Photoshop CS4: A Picture Worth a Thousand Words | Layers Magazine. I love Photoshop techniques that offer all kinds of possibilities for experimentation—and the following tutorial is a perfect example of one of those techniques.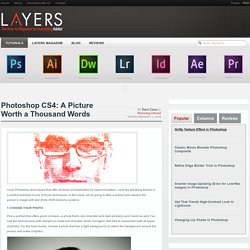 In this issue, we're going to take a portrait and replace the person's image with text (think 2009 Grammy posters). Pick a portrait that offers good contrast—a photo that's very dramatic and dark probably won't work as well. I've had the best success with straight-on head and shoulder shots, but again, feel free to experiment with all types of photos. For the best results, choose a photo that has a light background (or select the background around the person and make it lighter). Create a new document (File>New) in a size that's smaller than your photo: the specifics don't really matter. 35+ Awesome Tutorials Teaching You How To Create Your Own Icons — tripwire magazine.
Icons can be used effectively almost everywhere in design to send a clear message or assist users to navigate.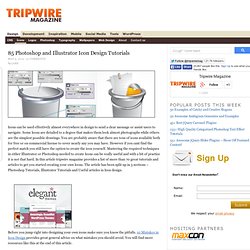 Some Icons are detailed to a degree that makes them look almost photographs while others are the simplest possible drawings. You are probably aware that there are tons of icons available both for free or on commercial license to cover nearly any you may have. Tilt-Shift Photography Photoshop Tutorial | Miniature Faking | TiltShiftPhotography.net. This tutorial will walk you through how to create a tilt-shift image in Photoshop.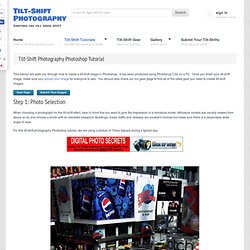 It has been produced using Photoshop CS2 on a PC. Once you finish your tilt-shift image, make sure you upload your image for everyone to see. You should also check our our gear page to find all of the latest gear you need to create tilt-shift images. Gear PageSubmit Your Images Step 1: Photo Selection. Create a Powerful Mental Wave Explosion Effect. 70 Of The Best Photoshop Actions For Enhancing Photos. The compilation consist of 70 of the best Photoshop actions collected from all around the web from photo effects to actions for even creating photo borders, An essential design resource for all designers weather your an expert or an beginner.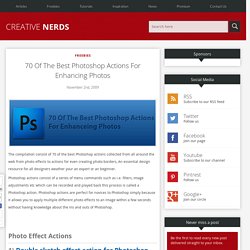 Photoshop actions consist of a series of menu commands such as i.e. filters, image adjustments etc which can be recorded and played back this process is called a Photoshop action. Photoshop actions are perfect for novices to Photoshop simply because it allows you to apply multiple different photo effects to an image within a few seconds without having knowledge about the ins and outs of Photoshop.
Photo Effect Actions. FreePSD.com Everything Photoshop | Templates | graphics | Logos & More. Photoshop Tutorials. This tutorial will teach you how to easily enhance any sky in just a few steps.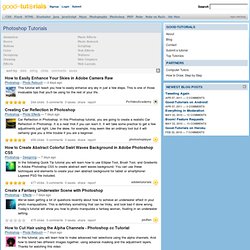 This is one of those invaluable tips that you'll be using for the rest of your life. Car Reflection in Photoshop: In this Photoshop tutorial, you are going to create a realistic Car Reflection in Photoshop. Textorizer. Textorizer allows you to make pictures formed with text.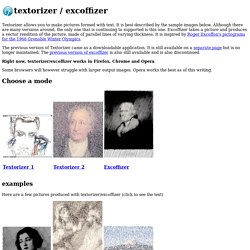 It is best described by the sample images below. Although there are many versions around, the only one that is continuing to supported is this one. Excoffizer takes a picture and produces a vector rendition of the picture, made of parallel lines of varying thickness. Effing Typeface on the Behance Network. Turn Your Signature Into A Photoshop Custom Shape. Step 1 This tutorial makes the assumption that you have at least a working knowledge of using the Pen tool to manipulate Paths. Also, if you're planning to play along at home, you'll need to be able to scan your signature (or take a photo of it) and bring it into Photoshop.
The first step in this process is of course to get your signature from the paper into Photoshop. I recommend signing your name on a fresh sheet of white paper with a black fine point marker like the Sharpie Ultra Fine Point, this will lay down a line dark enough to make the job ahead easier, and because it's a marker tip, you'll get line thickness variations that will make the final result even cooler. Although you could use a blue marker and convert it to grayscale later, you'll get a better starting point if you use black. Free Photoshop Brushes at Brusheezy! 65+ Smoking Photoshop Text Effect Tutorials | Tutorials. You can find thousands of Photoshop tutorials around, but it's really difficult to find the good collection of top-notch Tutorials.
When it comes to Typography then there is no limitation of creativity in terms of presentation, instructions and most importantly final results. Now days Typography took very seriously by modern time designers as it shows your skills in font selection and latter placement. Photoshop vintage effect. Back in October I took this photo, in front of our house. A cool scene, bright colors and a double rainbow. After seeing this picture on my Flickr page, I received an e-mail from Marco who asked me about the post process of this image.
Now here is my answer… Photoshop Tutorial : coloring/ enhancing | CherylChu.com. This is my first (and I do hope many to come) photoshop tutorial. Today, I would like to show a coloring tutorial to create and transform a normal/ dull looking photo into one with much attractive colors. (depending on your taste actually) Different people have different ways of coloring their photos. Below are 10 easy steps I recorded on how I edited a random photo from www.sxc.hu : (Click to see a bigger sized image) Create mile-high type art - Photoshop & Illustrator Tutorial.
Fantasy images don't need to include cheesy damsels, dragons and generously proportioned elves. What they do need, however, is carefully considered, painterly colours, moody lighting and detailed texturing. In this tutorial, Fabio Sasso shows you how to achieve that glossy, detailed fantasy look through careful compositing, and control of layers and blending modes. You'll extrude type in Illustrator and then composite on textures and other details in Photoshop.
Finally, you'll add the stranded princess figure and a couple of details so that she fits seamlessly into the image. Click here to win a BlackBerry Curve 8520 with Digital Arts' BlackBerry Advisor. Defying Gravity – Creating Realistic Surreal Compositions. Cinema effect in photoshop | Photoshop Tutorials 99. Create a realistic torn paper effect with coffee stains in Photoshop. Design a Chilling and Icy Text Effect in Photoshop | PSD Vault - Extra Unique Adobe Photoshop Tutorials. Design an Awesome Splashing Ocean Text Effect with Lightning Background in Photoshop | PSD Vault - Extra Unique Adobe Photoshop Tutorials. ShirtMockup.com - Upload your art. Mock it up. Download your image for FREE!