Street Art France - Reference
Exposition Ministère des finances
Un article de Wikipédia, l'encyclopédie libre. L' art urbain , ou « street art [ 1 ] », est un mouvement artistique contemporain. Il regroupe toutes les formes d'art réalisées dans la rue, ou dans des endroits publics, et englobe diverses techniques telles que le graffiti , le pochoir , la mosaïque , les stickers , l'affichage voire le yarn bombing ou les installations.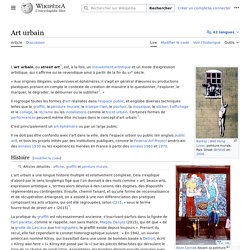 Jef Aérosol at work in Paris Jef Aérosol (born January 15, 1957 [ 1 ] ) is a French stencil graffiti artist . He has been one of the main urban art proponents in France since 1982. He was born in Nantes . He belongs to the very first street art pioneers of the early 80s like Blek le Rat , Miss.Tic , Jérôme Mesnager , Speedy Graphito .
Jef Aérosol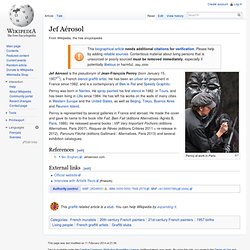 Graffiti @ Toulouse : MissVan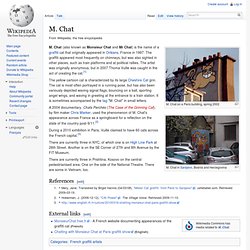 M. Chat
M. Chat on a Paris building, spring 2002 M. Chat in Sarajevo , Bosnia and Herzegovina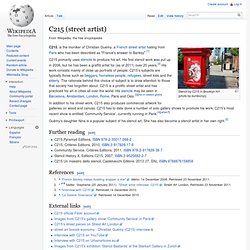 Stencil by C215 in Brooklyn NY (photo by dumbonyc) C215 , is the moniker of Christian Guémy, a French street artist hailing from Paris who has been described as "France's answer to Banksy". [ 1 ] C215 primarily uses stencils to produce his art.
C215 (street artist)
a world invasion by the space invaders
Paris StreetArt : Words: ein Album in Flickr
By Monsieur Qui, StreetArt, Paris, France | Flickr - Fotosharing!
Sammlung: Street Art in France
Lyon street art | Lyon | Travel Story and Pictures from France
Personal travel impressions in stories and pictures from Lyon street art, Lyon, France. Click on the pictures to enlarge, send as a free e-card, or download for personal use. You can locate Lyon street art and navigate the world using Google Earth Locate Lyon street art on map Book your hotel Book a hostel
www.princesshijab.org
WUPPERTAL - Blog.Atomlabor.de -: Streetart : Ghettostencils aus Frankreich - Chifumi (13 Bilder)
Aakash Nihalani's Tape Art » Streetart Berlin Blog
L'Atlas – Urban Tape Art aus Frankreich » Streetart Berlin Blog