Musicians
COETUS con SÍLVIA PÉREZ CRUZ #el gallo rojo# Guy Buttery - Half a Decade [Earth Touch Video] - slap harmonics / fingerstyle. Daniel Bachman ~ Orange Co. Serenade (2014) / american primitive, solo guitar / Dying For Bad Music. The busiest guitar slinger in business right now is Daniel Bachman and after he got picked up by Tompkin Square Records he shot himself into your dad's favorite radio station (yes, WFMU, but I mean NPR) and several times around the world (if world means Orient and Occident and North-America back and forth).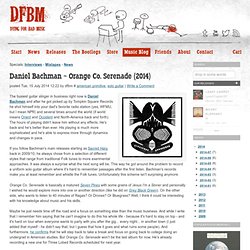 The hours of playing didn't leave him without any effects. He's back and he's better than ever. His playing is much more sophisticated and he's able to express more through dynamics and changes in pace. Tim Reynolds - Official Website. Trevor Gordon Hall | Kalimbatar | Home. ▶ 006 / Forklong Daruplat | ◈ ▶ The Air Is Still | Yelod Sun. ▶ Praise The Road | Grass-Tops Recording. Weekends on the Frontier | Grass-Tops Recording. Washington City Paper. COVER STORYJuly 7, 2006 Turtle sex, chiropractic death, and peyote under the pillow:a year-by-year account of American primitive guitar By David Dunlap Jr.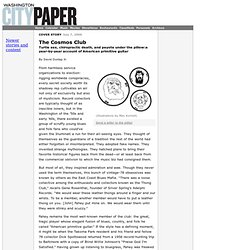 (Illustrations by Max Kornell) Delta-Slider's Tops of the Decade. Hey, you aren't a real blog if you don't do a Top Ten list, Best of the Decade or some other sort of list that says, "I know something you don't…" Well I don't know shit, but here it goes anyway… in no particular order: Bob Brozman is usually all over the place, and that's fine, but I generally like his blues work the best.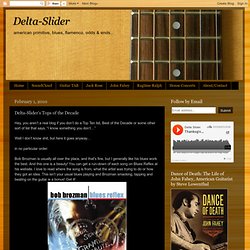 And this one is a beauty! You can get a run-down of each song on Blues Reflex at his website. The Big Post of Jack Rose Bootlegs. One year ago today Jack Rose left this world.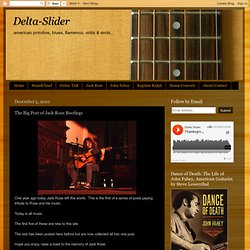 This is the first of a series of posts paying tribute to Rose and his music. Today is all music. The first five of these are new to this site. Robbie Basho Archives.
John Fahey. Dfbm #62 ~ Play For The Spring / american primitive, solo guitar, psych folk, acoustic guitar, mixtape / Dying For Bad Music. Today is Walpurgis Nacht in Europe.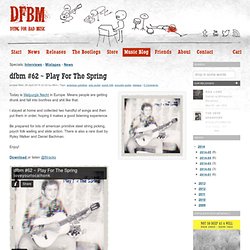 Means people are getting drunk and fall into bonfires and shit like that. I stayed at home and collected two handful of songs and then put them in order, hoping it makes a good listening experience. Be prepared for lots of american primitive steel string picking, psych folk wailing and slide action. Ensemble HD Live at the Happy Dog | EnsembleHD. This double album chronicles the energy and intimacy of bringing some of Cleveland's finest classical musicians into an atmosphere not usually associated with "serious" music.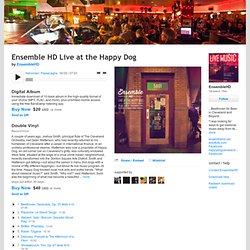 As described in the March 2013 issue of The Economist: "Mr Smith says they have learned from the crowd not to dumb down their fare, or churn out popular tunes. "Mozart and Schubert did not work well in that setting," he says of his programme for their first performance. "Those pieces sounded like elevator music. " So he started programming more challenging, ambitious pieces by 20th-century composers such as Dmitri Shostakovich, Anton Webern and Arvo Part. The Water Margin | Scissor Tail Records. Wes Tirey – Home Recordings (2014) / american primitive, lofi, folk, instrumental / Dying For Bad Music.
Wes Tirey was recently touring Italy and in the meantime the tape label Orange Milk Records released a cassette with Tirey's homerecordings.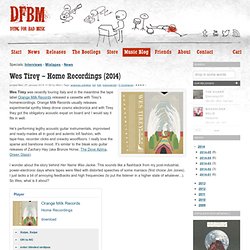 Orange Milk Records usually releases experimental synthy bleep drone cosmo electronica and with Tirey they got the obligatory acoustic expat on board and I would say it fits in well. He's performing legthy acoustic guitar instrumentals, improvised and ready-mades all in good and autentic lofi fashion, with tape-hiss, recorder clicks and creacky woodfloors. I really love the sparse and barebone mood.
It's similar to the bleak solo guitar releases of Zachary Hay (aka Bronze Horse, The Dove Azima, Green Glass). I wonder about the story behind Her Name Was Jackie. Gabriel Slavitt – No Skinny Minnie (2014) / solo guitar, american primitive, singer-songwriter, garage rock / Dying For Bad Music. Mostly electrified solo guitar tunes by Gabriel Slavitt from Philadelphia who is also working as an artist in the field of mixed media and sculpture.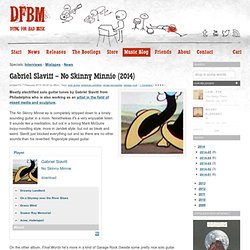 The No Skinny Minnie ep is completely stripped down to a lonely sounding guitar in a room. Nonetheless it's a very enjoyable listen. Matt Sowell - Live on WFMU with Irene - May 5, 2014. QUINTORIAN BLUES | Feeding Tube Records. Don Bikoff ~ Hallowed Ground (2014) / american primitive, solo guitar / Dying For Bad Music. 2012 and 2013 was the year where so called American Primitive got back in the focus of media attention.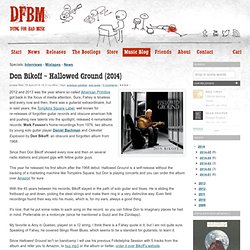 Sure, Fahey is timeless and every now and then, there was a guitarist extraordinaire, but in said years, the Tompkins Square Label, well known for re-releases of forgotten guitar records and obscure american folk and pushing new talents into the spotlight, released 4 remarkable records: Mark Fosson's home-recordings from 1976, two albums by young solo guitar player Daniel Bachman and Celestial Explosion by Don Bikoff, an obscure and forgotten album from 1968.
Since then Don Bikoff showed every now and then on several radio stations and played gigs with fellow guitar guys. Boerum Palace | Three Lobed Recordings. Steve gunn's prodigous talent for fusing traditional american song structures with a raga influence is almost criminally unheralded. gunn's songcraft is so strong and his playing style so effortlessly beautiful that folks should be shouting his name from every tall building and mountaintop. it is with such high esteem for the man's work that three lobed recordings is humbled by the association and thrilled to announce the release of boerum palace by steve gunn. without any doubt, boerum palace is a staggering accomplishment and is certainly gunn's most assured and confident work to date.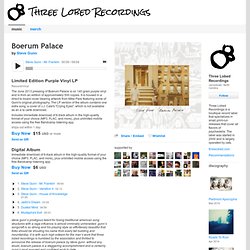 Steve Gunn. Matt Sowell Rags | Matt Sowell. Silk Train EP | Yelod Sun. Immediate download of 5-track album in the high-quality format of your choice (MP3, FLAC, and more). Paying supporters also get unlimited mobile access using the free Bandcamp listening app. Name your price about when yer on the silk train she'll tell you what she wants for when yer on the silk train she'll tell you what she wants for dinner and it'll taste like gold every time people will chuckle at every stupid thing you say and ask if you wanna go get drinks you'll be high as shit on your own gas while getting congrats on the work you've been doing and every bad thing that almost happens to you just doesn't but trust me when yer on the silk train everything good about you is dying credits. Moby And Kelli Scarr: Tiny Desk Concert.
Porthcawl Primitive | Andrew Bowsher. Edward Sharpe and the Magnetic Zeros. Damien Rice. Diamanda Galas. Emperor Nortons Stationary Marching Band. Charles Mingus. Curtis Eller's American Circus. Wes Tucker & The Skillets. Wes Tucker CD Baby Mobile. St. Paul & The Broken Bones. Playing for Change - Stand by Me. Playing For Change.
---