Literatura
A room of one's own, by Virginia Woolf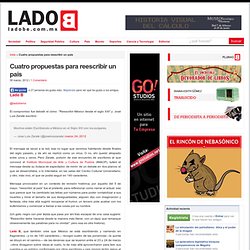 Cuatro propuestas para reescribir un país : Lado B
Lado B @ladobemx El compromiso fue debatir el cómo "Reescribir México desde el siglo XXI" y José Luis Zarate escribió:
Very little is known about this Japanese poetess, and most of it is legendary. She lived around 850 C.E. (b. 834?) during the Heian period. The story about her is that she was a woman of unparallelled beauty in her youth and enjoyed the attention of many suitors. She was, however, haughty and cruel, breaking many hearts.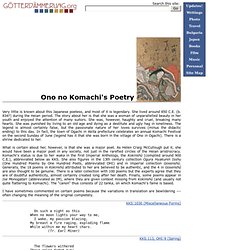 Kipling gained renown throughout the world as a poet and storyteller. He was also known as a leading supporter of the British Empire. As apparent from his stories and poems, Kipling interested himself in the romance and adventure which he found in Great Britain's colonial expansion.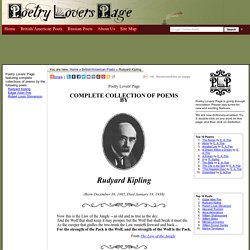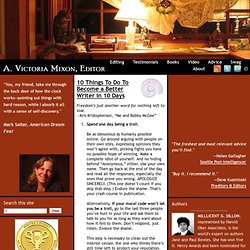 MILLLICENT G. DILLON, represented by Harold Ober Associates, is the world's expert on authors Jane and Paul Bowles. She has won five O. Henry Awards and been nominated for the PEN/Faulkner. I worked with Dillon on her memoir, The Absolute Elsewhere, in which she describes in luminous prose her private meeting with Albert Einstein to discuss the ethics of the atomic bomb.
The Elements of Style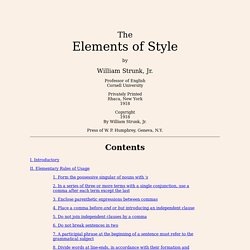 TheElements of Style by William Strunk, Jr. Professor of English Cornell University Privately Printed Ithaca, New York 1918 Copyright 1918 By William Strunk, Jr.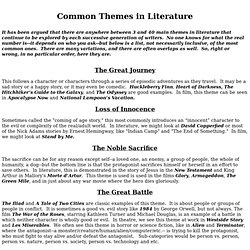 Common Themes in Literature It has been argued that there are anywhere between 3 and 40 main themes in literature that continue to be explored by each successive generation of writers. No one knows for what the real number is--it depends on who you ask--but below is a list, not necessarily inclusive, of the most common ones. There are many variations, and there are often overlaps as well. So, right or wrong, in no particular order, here they are.