Many methods...
Catégorie:Militantisme par méthode
Slacktivism (sometimes slactivism or slackervism) is a portmanteau of the words slacker and activism. The word is usually considered a pejorative term that describes "feel-good" measures, in support of an issue or social cause, that have little or no practical effect other than to make the person doing it take satisfaction from the feeling they have contributed. The acts tend to require minimal personal effort from the slacktivist. The underlying assumption being promoted by the term is that these low cost efforts substitute for more substantive actions rather than supplementing them, although this assumption has not been borne out by research.[1] The Joint United Nations Programme on HIV/AIDS describes the term "slacktivist", saying it "posits that people who support a cause by performing simple measures are not truly engaged or devoted to making a change".[4]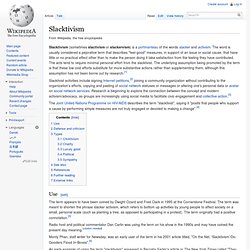 Slacktivism
Category:Revolutionary tactics
My Life Is My Message
Category:Protest tactics
Category:Culture jamming techniques
s Activism Resource Page
Portal:Social movements
Category:Methodology
Bunker Roy: Learning from a barefoot movement
How to Overthrow Corporate Rule in 5 Not-so-easy Steps
Resources and information on fighting corporate power, democratizing our government and freeing people's time. Many people are spending a lot of their time volunteering to stop specific environmental threats, to address a specific labor issue, or to stop various other corporate abuses to our communities. The number of problems seems endless. Isn't there a faster way to save the world?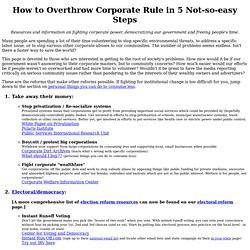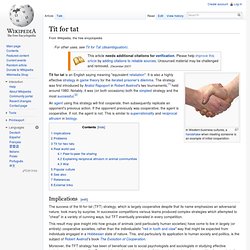 Tit for tat
In Western business cultures, a handshake when meeting someone is an example of initial cooperation. Tit for tat is an English saying meaning "equivalent retaliation". It is also a highly effective strategy in game theory for the iterated prisoner's dilemma. The strategy was first introduced by Anatol Rapoport in Robert Axelrod's two tournaments,[1] held around 1980. Notably, it was (on both occasions) both the simplest strategy and the most successful.[2]
Civilisation 2.0 - Une approche positive de l'actualité scientifique
Jeudi , 17 avril 2014 Informations Lire la suite »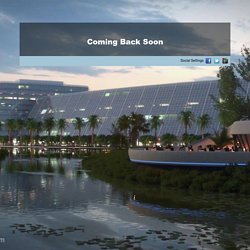 Pay it forward
Pay it forward is an expression for describing the beneficiary of a good deed repaying it to others instead of to the original benefactor. The concept is old, but the phrase may have been coined by Lily Hardy Hammond in her 1916 book In the Garden of Delight.[1] "Pay it forward" is implemented in contract law of loans in the concept of third party beneficiaries. Specifically, the creditor offers the debtor the option of paying the debt forward by lending it to a third person instead of paying it back to the original creditor.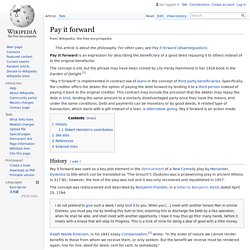 6 milliards d'autres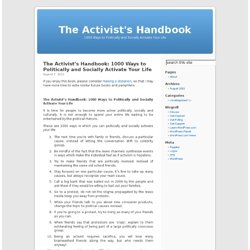 The Activist's Handbook
August 7, 2011 If you enjoy this book, please consider making a donation , so that I may have more time to write similar future books and pamphlets. It is time for people to become more active politically, socially and culturally. It is not enough to spend your entire life waiting to be entertained by the political rhetoric. These are 1000 ways in which you can politically and socially activate your life: The next time you're with family or friends, discuss a particular cause, instead of letting the conversation drift to celebrity gossip.
In social dynamics, critical mass is a sufficient number of adopters of an innovation in a social system so that the rate of adoption becomes self-sustaining and creates further growth. It is an aspect of the theory of diffusion of innovations, written extensively on by Everett Rogers in his book Diffusion of Innovations.[1] Social factors influencing critical mass may involve the size, interrelatedness and level of communication in a society or one of its subcultures. Another is social stigma, or the possibility of public advocacy due to such a factor. Critical mass may be closer to majority consensus in political circles, where the most effective position is more often that held by the majority of people in society. In this sense, small changes in public consensus can bring about swift changes in political consensus, due to the majority-dependent effectiveness of certain ideas as tools of political debate.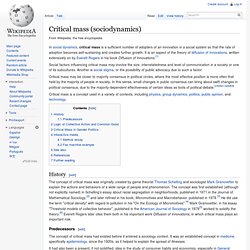 Critical mass (sociodynamics)
L'ancien maire de Londres propose de «pendre un banquier par semaine»
La finance manque de moralité? Les banquiers sont des irresponsables qui mettent en péril notre économie? Ken Livingstone a la solution. Maire de Londre de 2000 à 2008 et candidat à l'élection municipale de 2012 face au conservateur Boris Johnson, il aurait déclaré lors d'un dîner qu'il faudrait «pendre un banquier par semaine jusqu'à ce que les autres s'améliorent», rapporte le Sun.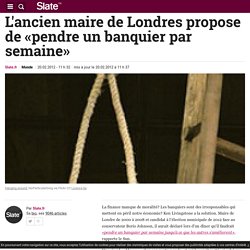 Bankers Anonymous
10 tactics
Les atouts des citoyens
Ces 3 grèves sont individuelles. Vous pouvez commencer à y participer dès maintenant, et c'est vous-même qui déciderez d'arrêter, lorsque vous estimerez que les changements que vous souhaitez auront eu lieu. C'est un mouvement de résistance individuel, sans organisation centralisée, basé sur l'intelligence et le libre-arbitre des participants. Les 3 grèves correspondent à trois niveaux d'engagement croissant. Chaque niveau est plus puissant, mais demande aussi davantage d'efforts que le précédent.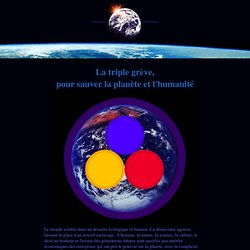 La Triple Grève, pour sauver la planète et l'humanité
Viktor Frankl: Why to believe in others
Personal Alignment Precedes Group Flow
I spent last week in an immersive personal development / coaching / business development retreat with a colleague, which spurred me to some new insights and opinions about collective intelligence, co-creation, and the general pursuit of goals and growth in life. The hosts were the same team that ran a culture-hacking bootcamp at Agile Boston a few months back, who were kind enough to invite us to Seattle to be facilitated through a longer team alignment process together. I went in with curiosity moreso than expectations, having a general understanding that we would do some kind of work that would clarify our agreements as well as sketch potential business models and strategies. I found myself a bit surprised by the deep dive we took into exploring emotions and desires as the entrypoint for the sessions.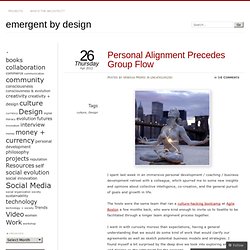 Introduction Today's children need not only basic education, but also the ability to deal with an increasingly complex and connected world. We need to create inclusive educational solutions that address all sections of society and help transform them.
Hole-in-the-Wall
Home | Global Citizen
Free Card The above is a depiction of the free card that can be printed off and laminated by anyone. Click on the card to reach a printable version with instructions for trimming and lamination. A French version will be posted shortly, and then other languages as they appear. Giving your card away over and over is encouraged. Will Keepen Describes Twelve Principles
Individual Membership
TrendHunter Activism (th_activism) on Twitter
Viktor Frankl on the Human Search for Meaning
by Maria Popova "Live as if you were living already for the second time and as if you had acted the first time as wrongly as you are about to act now!" Celebrated Austrian psychiatrist and Holocaust survivor Viktor Frankl, born on March 26, 1905, remains best-known for his indispensable 1946 psychological memoir Man's Search for Meaning (public library) — a meditation on what the gruesome experience of Auschwitz taught him about the primary purpose of life: the quest for meaning, which sustained those who survived. For Frankl, meaning came from three possible sources: purposeful work, love, and courage in the face of difficulty. In examining the "intensification of inner life" that helped prisoners stay alive, he considers the transcendental power of love: Love goes very far beyond the physical person of the beloved.
100,000 Monks meditate for a better world. | Spiked Nation
Solutions / Critical Mass Actions - Would you take part in a social change if 100,000 others joined you?
What Critical Mass Actions are taking place? This, to a great extent, is up to you. Following are a list of actions we believe are most essential, and below is the place for you to suggest others. We will be partnering with other organizations to help mobilize what is necessary to achieve an effective critical mass action when the issues you value most become evident. Actions will be organized with integrity, transparency, and always designed to be non-violent.
PcqvG.jpg (Image JPEG, 960x639 pixels)
DE LA DICTATURE A LA DEMOCRATIE, UN OUVRAGE INDISPENSABLE DE GENE SHARP - MBKM sur LePost.fr
198 méthodes d'action non violente | Contrepoints
Tom Feeds the Homeless - Tom Mabe
"Don't tell people how to do things, tell them what to do and let them surprise you with their results"
Solving the World's Problems Differently
Gene Sharp: Author of the nonviolent revolution rulebook
Gene Sharp - Trois livrets pratiques
101 tactics for revolutionaries
Challenging the Public To Do Good | InnoCentive
75 Boycott and Protest Innovations - From iTunes Boycotts to Profane Protests (CLUSTER)
Leaderless resistance
United States Department of Fear
DENONCIATION.com :: La dénonciation civique sans calomnie ni délation.
10 Steps to Defeat the Corporatocracy
Le blog du C.L.A.P33
Actipedia | Actipedia
3 Things That Must Happen for Us To Rise Up and Defeat the Corporatocracy
AGIT-POP Communications | Viral Videos, TV ads, and Campaigns that Pop
Activist Rights | Online resources for activists, organisers, lawyers and legal support teams in Victoria.
How to Identify an Agent Provocateur
Kettling
Smart mob
The Yes Men
We Are Change | Be the change you wish to see in this world
Yes Lab
TEDxParis - Mathieu BAUDIN - Les conspirateurs positifs
Les conspirateurs positifs sont parmi nous
The Pirate Wheel
Accueil | La Taxe Robin des Bois
Coalition of Resistance Against Cuts & Privatisation | A coalition of groups fighting cuts and privatisation
5 Trust Builders & 5 Trust Destroyers
Nobel Women's Initiative
Video Activist Network
Mouvement Zeitgeist Francophone - Site officiel
Activism | The Creativity Post
Center for Story-based Strategy
Les trucs d'un journaliste pour faire parler de vous dans les médias
Beautiful Trouble | A toolbox for revolution
Get Up, Stand Up: Uniting Populists, Energizing the Defeated, and Battling ... - Bruce E. Levine - Google Books
R-éveillez vous : Etat des lieux - une vidéo Actu et Politique
Forum Appel au sans voix Paris CICP 28/03 - une vidéo Actu et Politique