Databases Dicos & Encyclos
Merci de veiller à ne pas être hors sujet si vous désiré ajouté du contenu. Le but n'est pas d'avoir un annuaire exhaustif mais plutôt une sélection de ce qui vous parait le meilleur...
Thank you to be careful to be not off topic if you wish to add content. The goal is not to have a comprehensive directory but a selection of what you think is the best ...
Salut, content de l'intérêt suscité par cette perle...Vous proposez, je dispose... En règles générales je préfère m'associer avec des personnes ayant un Pearltree un minimum construit....
*ne pas changer les photos, faites une proposition...
* Ne pas créer de nouveaux pearltrees pour moins de 5 perles...
*respecter l'harmonie visuelle...
* plutôt arbo fermé (poupées russes) que dévellopé en flowchart (organigramme)...
*Garder l'essentiel, éviter les répétitions...
*réduire les url youtube j'usqu'au &...
Merci d'avance Jul 7
knowledge & deep Search engine
welcome n. the state of being welcome; "don't outstay your welcome" n. a greeting or reception; "the proposal got a warm welcome" v. receive someone, as into one's house v. accept gladly; "I welcome your proposals" There are no items for this category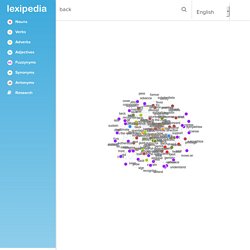 Database.com
As we approach the end of 2011 and look forward to another year, we pause to reflect on the long history of data storage. Mankind's ability to create, process, store, and recall information is light years ahead of the days of cave paintings and engravings on stone tablets. Vast amounts of information can be stored on drives smaller than your thumb, and data centers are cropping up at an increasingly high rate. What does the future of data storage hold? Are we really that close to holographic drives? Is 2012 the year SSDs become mainstream?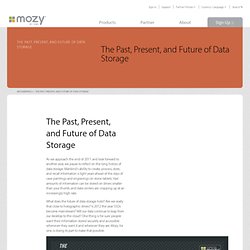 Standards for Web Content Interoperability The Open Archives Initiative develops and promotes interoperability standards that aim to facilitate the efficient dissemination of content. OAI has its roots in the open access and institutional repository movements. Continued support of this work remains a cornerstone of the Open Archives program.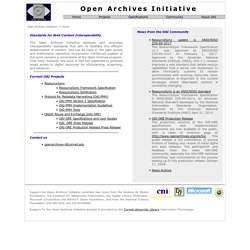 Visuwords™ online graphical dictionary — Look up words to find their meanings and associations with other words and concepts. Produce diagrams reminiscent of a neural net. Learn how words associate. Enter words into the search box to look them up or double-click a node to expand the tree.