Around Pearltrees...
With its slick visual interface for bookmarking content, Pearltrees is unique enough that I've been both impressed and slightly skeptical that a mass audience will actually use it. But it looks like the site has found plenty of users. The French startup just announced that it crossed two big milestones in March: It has more than 100,000 users curating links, and it received more than 10 million pageviews. Not only does that show the concept is resonating, but it also suggests Pearltrees could reach the scale where it can build a real business around advertising or by offering premium accounts for publishers.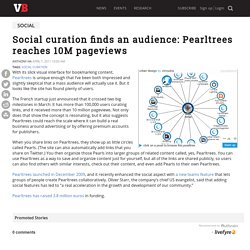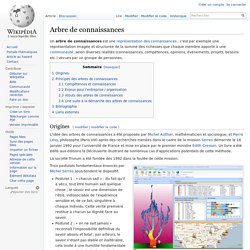 Un article de Wikipédia, l'encyclopédie libre. Un arbre de connaissances est une représentation des connaissances ; c'est par exemple une représentation imagée et structurée de la somme des richesses que chaque membre apporte à une communauté, selon diverses réalités (connaissances, compétences, opinions, événements, projets, besoins etc.) vécues par un groupe de personnes. Origines[modifier | modifier le code]
The map of the Internet Like any other map, The Internet map is a scheme displaying objects' relative position; but unlike real maps (e.g. the map of the Earth) or virtual maps (e.g. the map of Mordor), the objects shown on it are not aligned on a surface.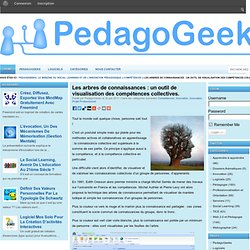 Publié par PedagoGeeks le 30 juin 2011 | Dans les catégories suivantes Compétences, Innovation, Innovation, Projet Professionnel
Les arbres de connaissances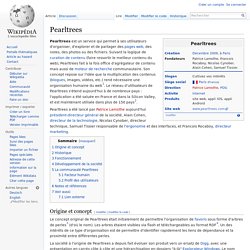 Un article de Wikipédia, l'encyclopédie libre. Pearltrees Pearltrees est un service en ligne apparu en décembre 2009, développé par une société basée à Paris.
forum feedback pearltrees
What is similar to PearlTrees Website - ThisIsLike.com
Rhizi