Around Pearltrees...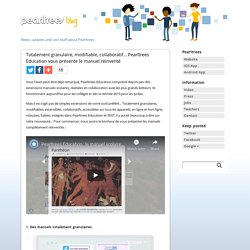 Maintenant, vous pouvez tout organiser dans Pearltrees : documents, photos, musiques, films… Votre bibliothèque devient universelle et vous pouvez retrouver et partager tous vos contenus, où que vous soyez. Organisez TOUS vos fichiers Pour télécharger un fichier dans votre bibliothèque, cliquez sur le bouton "+" pour ajouter des perles et sélectionnez "fichiers". Vous pourrez alors choisir n'importe quel fichier sur votre ordinateur : document, musique, vidéo…
With its slick visual interface for bookmarking content, Pearltrees is unique enough that I've been both impressed and slightly skeptical that a mass audience will actually use it. But it looks like the site has found plenty of users. The French startup just announced that it crossed two big milestones in March: It has more than 100,000 users curating links, and it received more than 10 million pageviews. Not only does that show the concept is resonating, but it also suggests Pearltrees could reach the scale where it can build a real business around advertising or by offering premium accounts for publishers.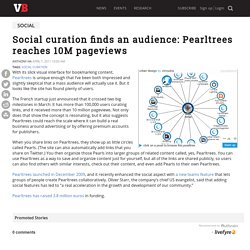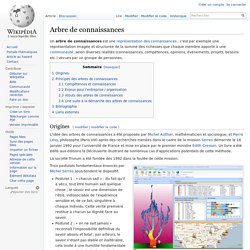 Un article de Wikipédia, l'encyclopédie libre. Un arbre de connaissances est une représentation des connaissances ; c'est par exemple une représentation imagée et structurée de la somme des richesses que chaque membre apporte à une communauté, selon diverses réalités (connaissances, compétences, opinions, événements, projets, besoins etc.) vécues par un groupe de personnes. Origines[modifier | modifier le code]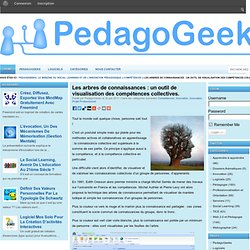 Publié par PedagoGeeks le 30 juin 2011 | Dans les catégories suivantes Compétences, Innovation, Innovation, Projet Professionnel Tout le monde sait quelque chose, personne sait tout ! C'est un postulat simple mais qui plaide pour les méthodes actives et collaboratives en apprentissage : la connaissance collective est supérieure à la somme de ses partie. Ce principe s'applique aussi à la compétence, et à la compétence collective en particulier. Une difficulté vient alors d'identifier, de visualiser et de valoriser les connaissances collectives d'un groupe de personnes, d'apprenants.
Les arbres de connaissances
The map of the Internet Like any other map, The Internet map is a scheme displaying objects' relative position; but unlike real maps (e.g. the map of the Earth) or virtual maps (e.g. the map of Mordor), the objects shown on it are not aligned on a surface. Mathematically speaking, The Internet map is a bi-dimensional presentation of links between websites on the Internet. Every site is a circle on the map, and its size is determined by website traffic, the larger the amount of traffic, the bigger the circle. Users' switching between websites forms links, and the stronger the link, the closer the websites tend to arrange themselves to each other. Charges and springs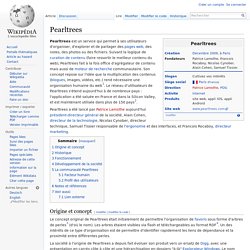 Un article de Wikipédia, l'encyclopédie libre. Pearltrees Pearltrees est un service qui permet à ses utilisateurs de collectionner, d'organiser et de partager des pages web, des notes, des photos ou des fichiers.
forum feedback pearltrees
Rhizi