Cooking
The best new recipes from The Kitchn | punchfork.com - StumbleUpon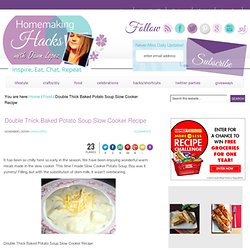 Baked Potato Soup Slow Cooker Recipe
8 Flares Twitter 0 Facebook 0 StumbleUpon 0 Pin It Share 2
TasteSpotting | a community driven visual potluck - StumbleUpon
penniesonaplatter | foodgawker - StumbleUpon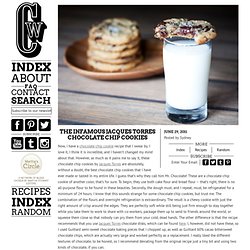 The Infamous Jacques Torres Chocolate Chip Cookies - StumbleUpon
Now, I have a chocolate chip cookie recipe that I swear by. I love it, I think it is incredible, and I haven't changed my mind about that. However, as much as it pains me to say it, these chocolate chip cookies by Jacques Torres are absolutely, without a doubt, the best chocolate chip cookies that I have ever made or tasted in my entire life. I guess that's why they call him Mr.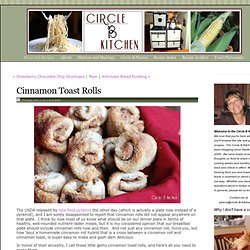 The USDA released its new food pyramid the other day (which is actually a plate now instead of a pyramid), and I am sorely disappointed to report that cinnamon rolls did not appear anywhere on that plate. I think by now most of us know what should be on our dinner plate in terms of healthy, well-rounded nutrient-laden meals, but it is my considered opinion that our breakfast plate should include cinnamon rolls now and then. And not just any cinnamon roll, mind you, but how 'bout a homemade cinnamon roll hybrid that is a cross between a cinnamon roll and cinnamon toast, is super easy to make and gosh darn delicious. In honor of their ancestry, I call these little gems cinnamon toast rolls, and here's all you need to make them…
Cinnamon Toast&Rolls - Circle B Kitchen - Circle B Kitchen - StumbleUpon
This beautiful swirled torte is almost too pretty to eat. Almost. Photography:
Strawberry Torte - StumbleUpon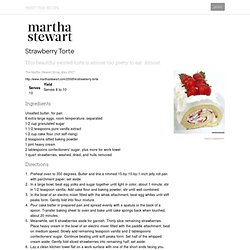 Posted on July 12, 2011 by Christina I made these S'mores cookies a few days ago – 32 of them to be precise. And guess what? They are ALL gone.
Smores Cookies Recipe | Intimate Weddings - Small Wedding Blog - DIY Wedding... - StumbleUpon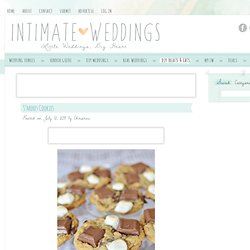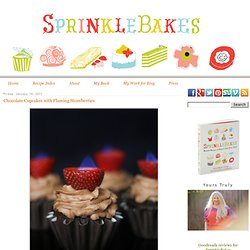 Chocolate Cupcakes with Flaming Strawberries - StumbleUpon
Call me easily amused, but these little torch-topped cupcakes delight me. Besides being a cute novelty item for a party, I think they would add a little drama to the end of a romantic meal. I've been looking for something different to serve for Valentine's dessert, and this is definitely different. The strawberries are hollowed out and filled with a bit of liquor, then ignited with a match. For the cake portion, I chose a One Bowl Chocolate Cupcake recipe because 1. it's quick 2. it is easy, and 3. it fits my prerequisite for a light ending on date night.
Nutella Mug Cake | Family Kitchen - StumbleUpon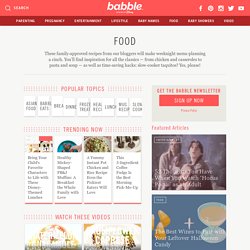 I have been experimenting with different mug cakes every since I heard about them about a year ago. None of them have been winners. They were either too chewy, too dry, or not sweet enough.
On my first trip to Sweden in 1998 I fell in love with prinsesstårta (PRIN-sess-TOHR-tuh). The spongy layers of cake alternating with jam, vanilla custard and whipped cream topped with a thin layer of bright green marzipan had me hooked from the first bite. But it wasn't until recently that I really started to wonder about this cake and it's origins.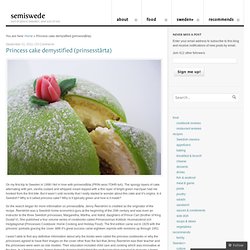 Princess cake demystified (prinsesstårta) | semiswede