nguyenthai
Get flash to fully experience Pearltrees
ISTJ - The Duty Fulfiller Serious and quiet, interested in security and peaceful living.
Generalized anxiety disorder ( GAD ) is an anxiety disorder that is characterized by excessive, uncontrollable and often irrational worry about everyday things that is disproportionate to the actual source of worry.
15 styles of Distorted Thinking Filtering: You take the negative details and magnify them while filtering out all positive aspects of a situation. Polarized Thinking: Things are black or white, good or bad.
Throughout history it has been an advantage if an individual can read body language. Body language helps in everyday life from closing a business deal or trusting someone with your life, to recognising when someone is upset.
Interesting Info -> Lying Index -> How to Detect Lies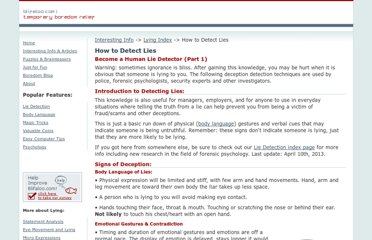 When it comes to body language, it does not matter whether she is interested in you.
Get anyone to like you - Instantly - Guaranteed If you want people to like you, make them feel good about themselves.
Top 10 Banned Books of the 20th Century #10 - The Grapes of Wrath "Before I knowed it, I was sayin' out loud, 'The hell with it!
YOU ARE HERE: The Daily What / TDW Geek / Mind Game Of The Day Newest Cheezburger Content Share: Share on twitter Share on google_plusone_share Share on pinterest_share Share on stumbleupon Share on email